Enterprise Reporting
Coastal Connecticut Times' Year in Review
A look back Coastal Connecticut Times' 2022 (and a look ahead to 2023!)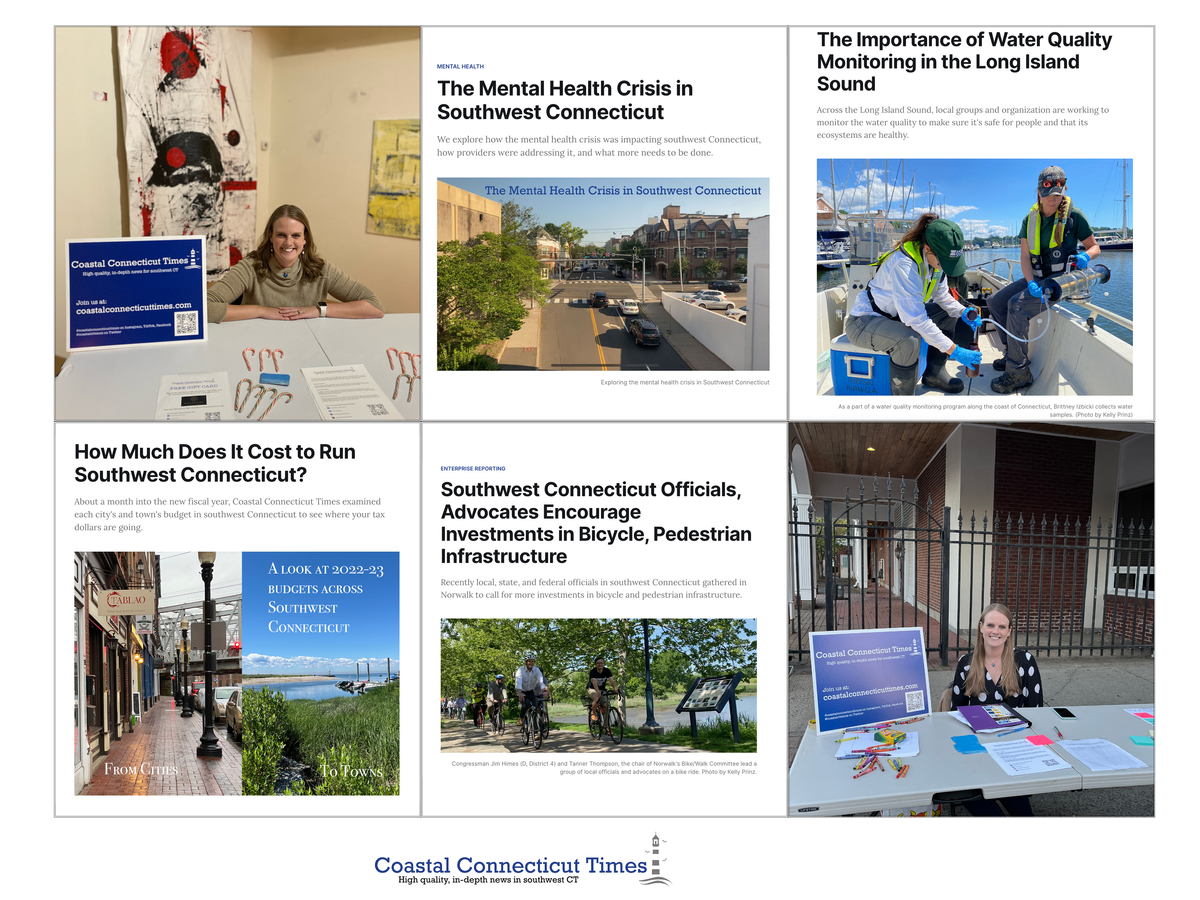 2022 was a big year for the small, but very mighty team at Coastal Connecticut Times. For starters, well, we launched our new regional news site! Throughout the last few months, our work has provided southwest Connecticut with information about what was happening in their communities each week and in-depth articles about issues and topics that crossed town lines.
Here's a look back at some of what we accomplished this year.
We published 40 issues of The What, our free weekly newsletter that provides a rundown of what's happening in the six communities in southwest Connecticut each week.
We published 15+ in-depth articles into topics ranging from the mental health crisis and response to pedestrian infrastructure, from the water quality in Long Island Sound to road paving across the region.
Here are some of our top pieces from the year:
We edited and published 7 videos that aimed to bring our reporting to life in new ways.
We connected with so many of you at 5+ community events, including Sustainable Streets Happy Hours; Family and Children's Agency's 80th Anniversary and Community Fair; National Night Out; and the Local Artisan Market.
And connected with even more of you online through our 5 social media platforms. Give us a follow if you haven't already!
Instagram | TikTok | YouTube | Facebook | Twitter
It's been an exciting first year, but we see this as just the start of Coastal Connecticut Times and a new way of providing our community with high-quality, in-depth reporting that can help make a difference.
We like to think of this year as our "pilot"—putting our names out there, starting to publish, and connecting with our community. We're excited to continue our growth next year, with more pieces on real issues that matter, more videos and social media posts to help reach new audiences, and more events to meet even more of you!
But we can't do any of that without your help. We'd love for you to get involved with us and help us continue to grow. Here are a few ways you can do just that.
Support us financially. We both have other jobs in addition to Coastal Connecticut Times and rely on your support to help us attract new members—and ideally sponsorships!—next year. If you're interested in sponsorships or advertising, please reach out at coastalconnecticuttimes@gmail.com
Share our website and social media channels with your networks of family, friends, and coworkers to help us reach more people.
Shoot us an email at coastalconnecticuttimes@gmail.com to let us know you're interested in being more involved next year. We're hoping to set up an advisory board in the early half of the year, and we'll be sending more information about that in the next few months, but if you're interested, let us know now and we'll add you to the list!
From the bottom of our hearts, we can't thank you all of enough for all the support, love, and encouragement you've all given us throughout these first few months! We're so excited for what the future of Coastal Connecticut Times looks like.