Enterprise Reporting
Southwest Connecticut Officials, Advocates Encourage Investments in Bicycle, Pedestrian Infrastructure
Recently local, state, and federal officials in southwest Connecticut gathered in Norwalk to call for more investments in bicycle and pedestrian infrastructure.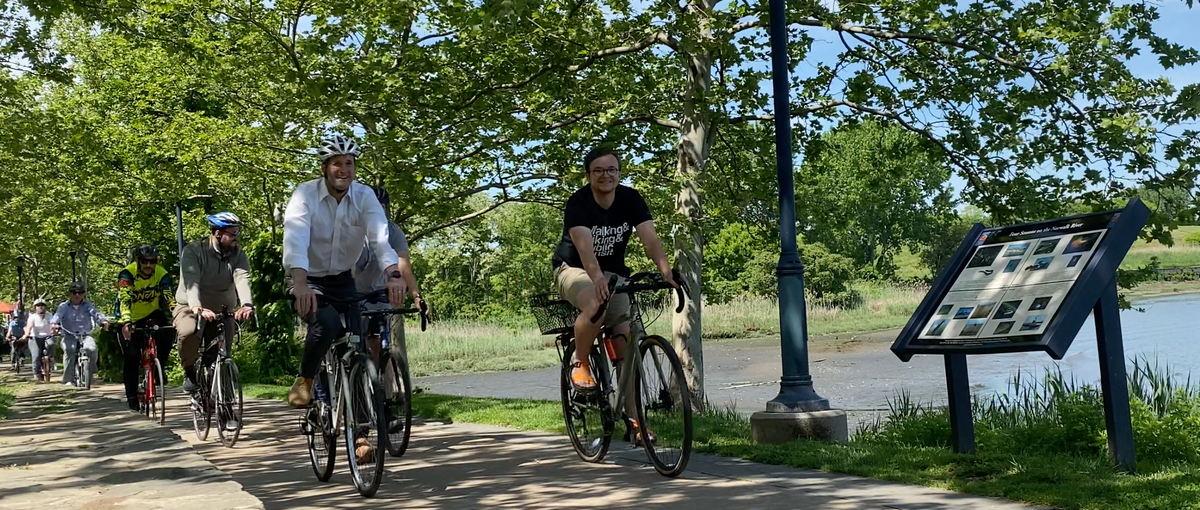 How do most people in southwest Connecticut get around? According to census data of the region, driving and public transportation make up a large majority of transit preferences. However, bicycle and pedestrian advocates are hoping that investments in sidewalks and bike lanes across the region might change that.
In late May, Congressman Jim Himes (D, District 4) visited Norwalk along with state and local officials to bring visibility to investments in bike and pedestrian infrastructure and call for more support for these efforts.
"The truth is that our area of Connecticut down here, we don't do nearly as well as we can," he said. "We've got areas that are beautiful to bike, but you ought to be able to start in Greenwich on the New York line and be able to go all the way up to Bridgeport along the coastline on beautiful bike trails, run north and south along the rivers and stuff, and we're just not there yet."
The group, which was organized along with Norwalk Common Council member Joshua Goldstein, took a two-mile ride along part of the Norwalk River Valley Trail, which is a planned 30+ mile trail that extends from Calf Pasture Beach in Norwalk along the Long Island Sound, all the way up to Danbury.
Tanner Thompson, the chair of Norwalk's Bike/Walk Commission, said that he and others hope this trail will be used for more than just fun.
"The vision is, going up to Danbury, that this will be not only a recreation trail, but a transportation corridor," Thompson said. "So people, for example, commuting from South Norwalk up to Merritt 7, or up to other employment centers in Wilton, or vice versa will have a very safe, convenient way for people to get to work without driving a car."
Recent Investments
The Norwalk River Valley Trail is being completed in pieces. Some sections have been done for years, such as the part the group biked, which started at the Maritime Aquarium in Norwalk and ran up to Union Park, near the Norwalk Library, while other parts are currently under construction, or work has yet to begin.
The trail has benefitted from recent investments that have helped kickstart projects along the route including in Wilton, Ridgefield, and Redding. For example, in late 2020, the NRVT raised more than $274,000, which it needed to qualify for a $1.3 million Connecticut DEEP construction grant to fund the "WilWalk" section of the trail, a 4-mile stretch that connects Norwalk and Wilton. In June 2021, the NRVT received a $3 million construction grant from the Local Transportation Capital Improvement Program to cover the cost of building the 1.5 mile stretch called the "Ridgefield Ramble."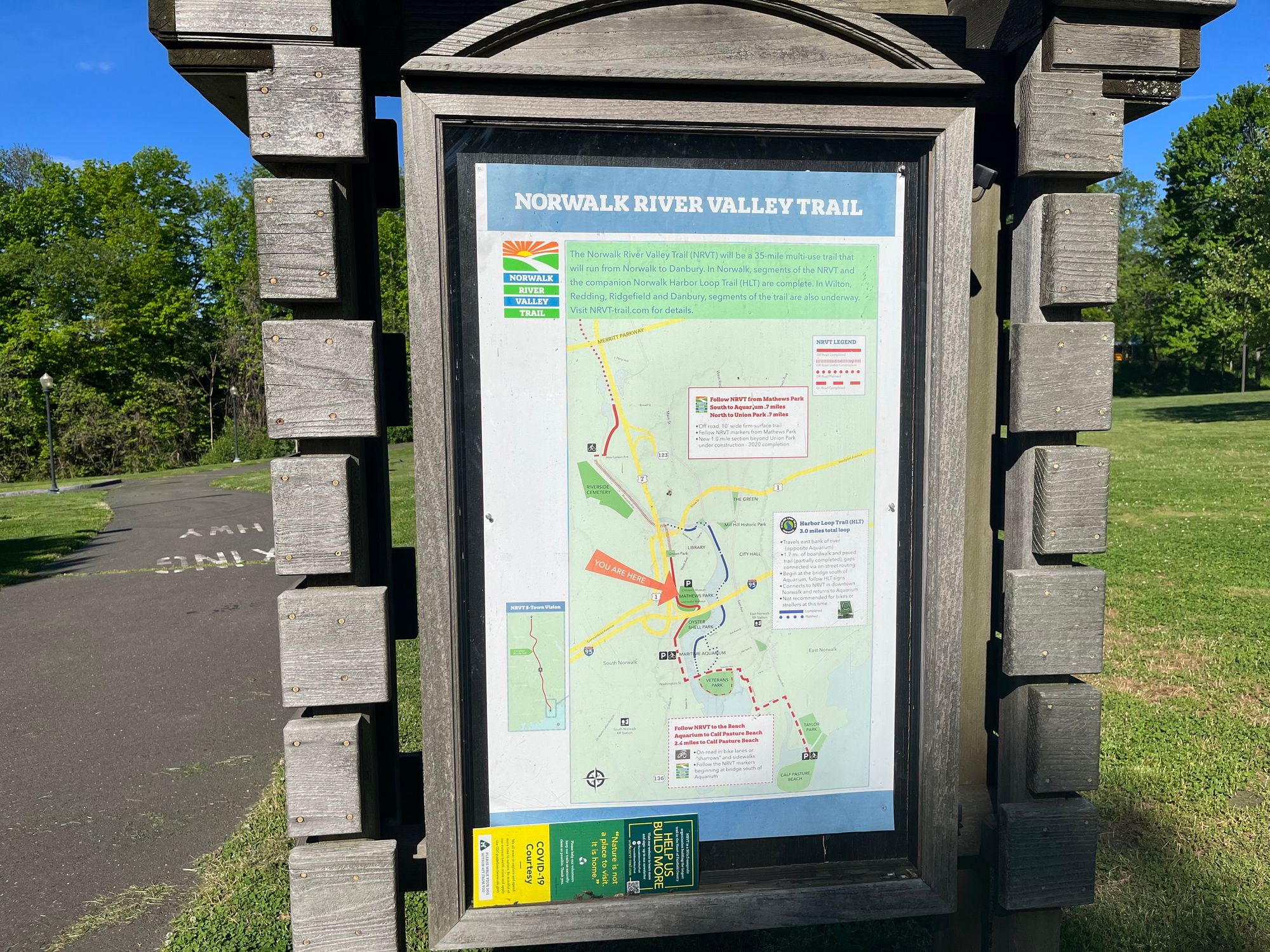 The push to invest in the trail comes on the heels of record-high usage during the COVID-19 pandemic, with visits up 260% in the early months of the pandemic, compared to the years prior, according to the NRVT.
Adding bicycle lanes and improving sidewalks in general, including those not part of specific trails, has also been happening across the region. One of the benefits of improving bicycle and pedestrian infrastructure is safety. From Jan. 1, 2022 to May 31, 2022, there have been at least 17 crashes involving bicyclists and 59 involving pedestrians, according to data from the Connecticut Transportation Safety Research Center. A report from The Connecticut Mirror noted that "2022 could become one of the more deadly years for pedestrians in the state, continuing a troubling trend."
Some municipalities dedicated portions of their American Rescue Plan Act funds to these efforts. In Fairfield, $700,000 was set aside to improve sidewalks in town including Stratfield Road & Fairfield Woods Four Corner Installation and the Southport Connectivity Project. Both projects currently are in the design phase.
Others are using capital funds, or projects the municipality bonds for, to make improvements to their infrastructure.
In Westport, the Public Works Department has requested $10,000 to put together a town-wide bike plan. Right now, the funding is proposed as a part of next year's capital budget.
In Norwalk, more than $2.5 million was set aside for improving city sidewalks, curbs, and crosswalks in an effort to "encourage active mobility among residents." The capital budget also allocated an additional $50,000 for work on the Norwalk River Valley Trail.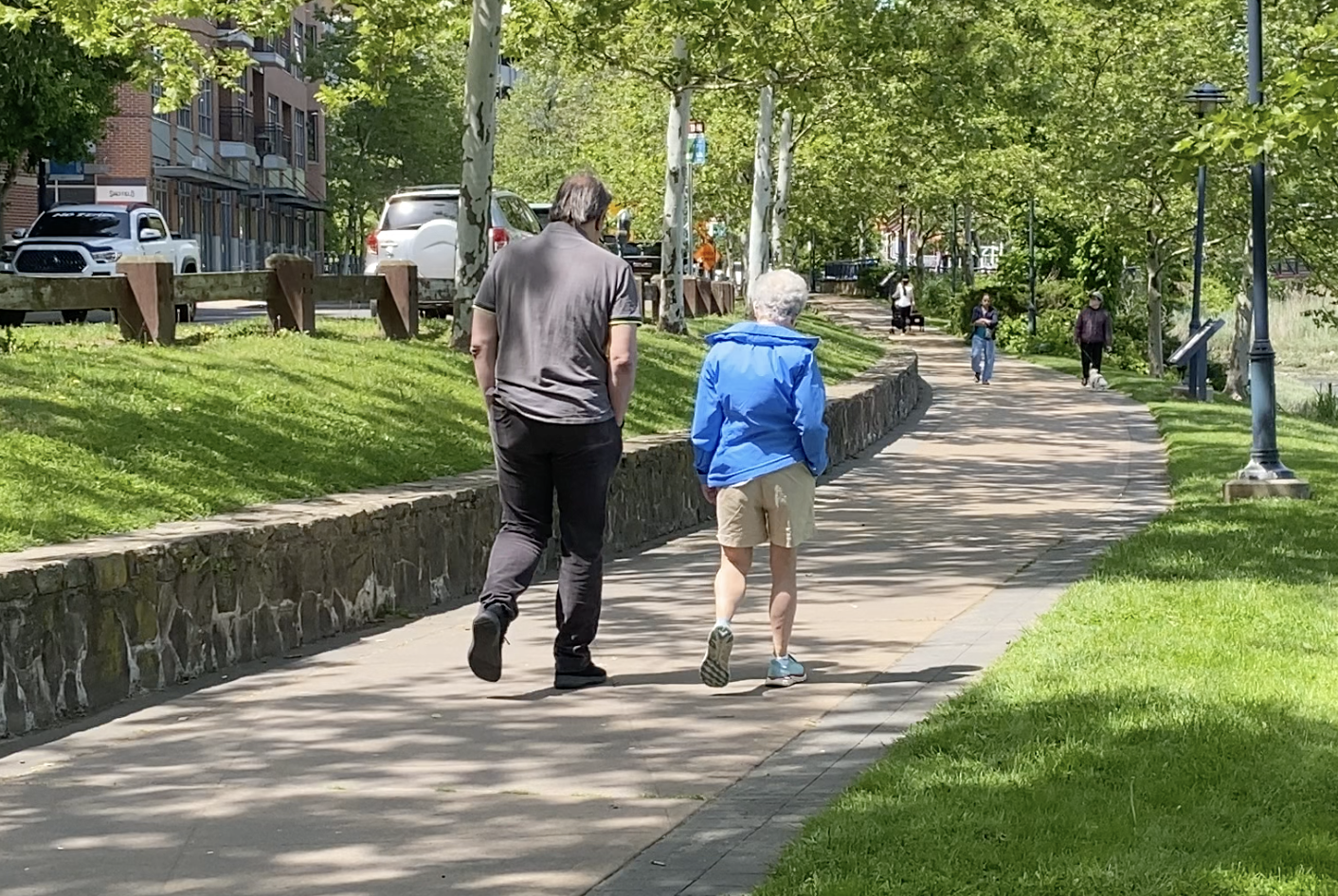 In Darien, almost $1 million was set aside in the capital budget to construct new and improve existing sidewalks.
In Stamford, this year's capital budget included requests for multiple items related to pedestrian and bicycle improvements, including $75,000 for multi-use trails; $250,000 for sidewalk extensions; and $250,000 for implementing parts of the master bicycle and pedestrian plan, adopted in 2019, that aims to serve as a "roadmap for improving the safety, convenience and practicality of walking and bicycling through a wide range of changes to the physical environment, as well as a series of education, enforcement and encouragement strategies that will help establish a stronger culture of active transportation in the community."
In 2020, city officials told The Stamford Advocate that there were more than 11 miles of bike lanes throughout the city and the goal was to add about six miles of bike lanes per year.
Mayor Caroline Simmons also announced this week that the city received $2.25 million from the state's Open Space and Watershed Land Acquisition Grant Program to acquire two parcels located about 5 miles north of the city center that contain wooded areas and trails for hiking, walking, and nature observation.
In Greenwich, since late 2021, the town has been working on improving bicycle and pedestrian safety with an infrastructure project along Frontage Road, Delavan Avenue, and Ritch Avenue. The project includes a "new eight-foot-wide multi-use trail connecting to Byram Park."  
Pedal Greenwich, a local advocacy group, said it "welcomes infrastructure improvements such as this, which tackle Greenwich's numerous, busy, connecting corridors that are often too intimidating for anyone other than motorists to cross."
Ongoing Work
Still, Pedal Greenwich called the improvement plan just "a first step."
"At Pedal Greenwich our mission is to make the town safe, friendly and connected," the group wrote in a statement. "We should also be connecting the great investments we have in both the Byram Pool and new housing units at Armstrong Court with a safer bike and pedestrian path."  
That call for more investment, community outreach, and work is being made throughout the region, both by advocates and some local officials.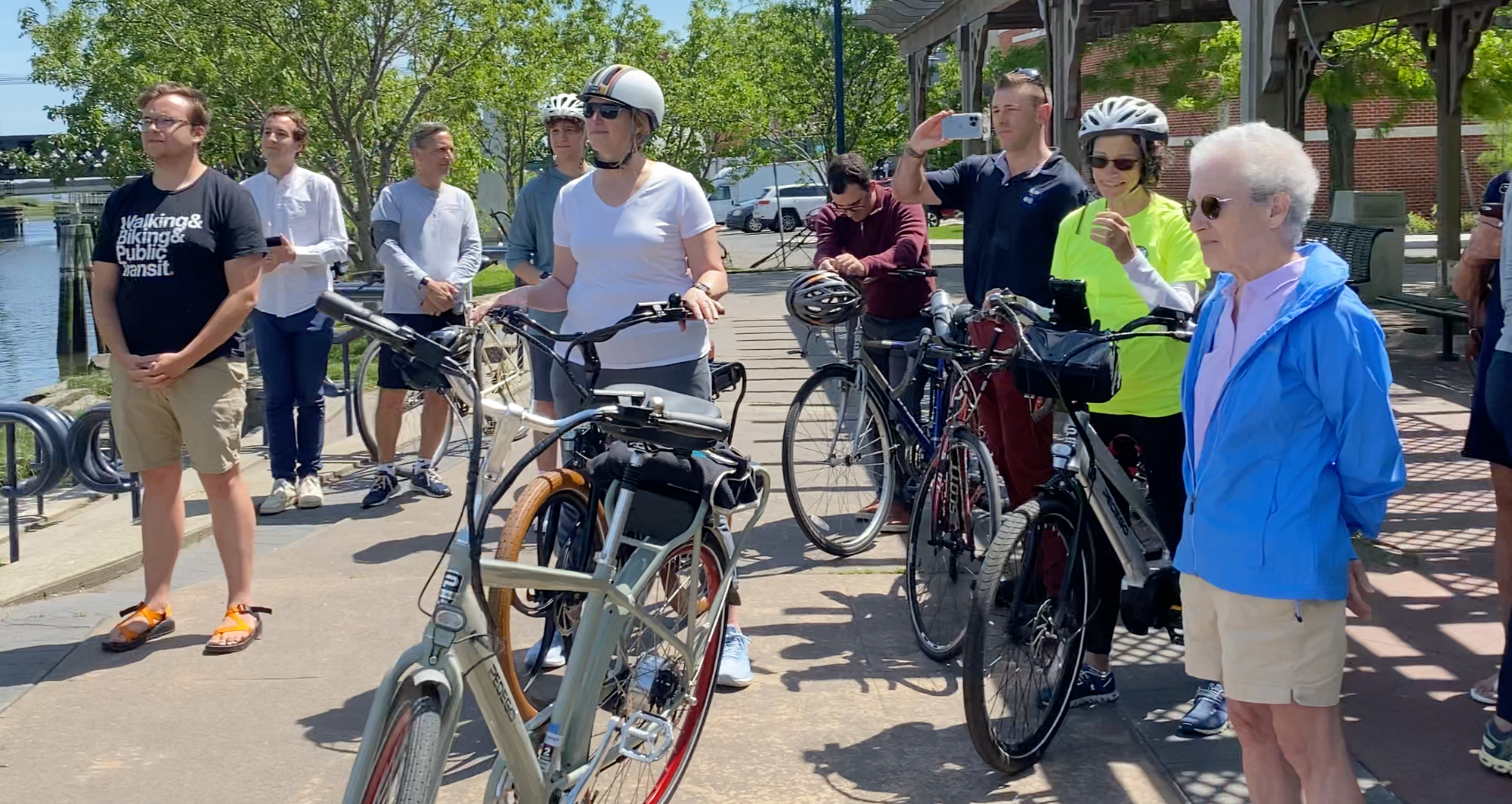 In some municipalities, bicycle and pedestrian committees are working on providing recommendations to the local governments, advocating on behalf of needed improvements, and helping identify grants and other potential sources of revenue.
For example, in Greenwich, First Selectman Fred Camillo partnered with the town's Bicycle Task Force to host a "Ride a Bike" week at the end of May "to raise awareness about the convenience, fun, and health benefits of two-wheeled transportation and recreation."
"The pandemic has seen a sharp increase in the numbers of people taking to our local roads on bikes, scooters and the like," Vince DiMarco, co-chair of the task force, said in a statement. "It's a credit to our First Selectman that he is recognizing the value in developing more complete streets and infrastructure for all these forms of micromobility."
In Fairfield, the Bicycle and Pedestrian Committee is charged with implementing the Fairfield Bicycle and Pedestrian Plan. Fairfield also has developed a map laying out more than 20 miles of "approved, signed, and striped" bike routes in town.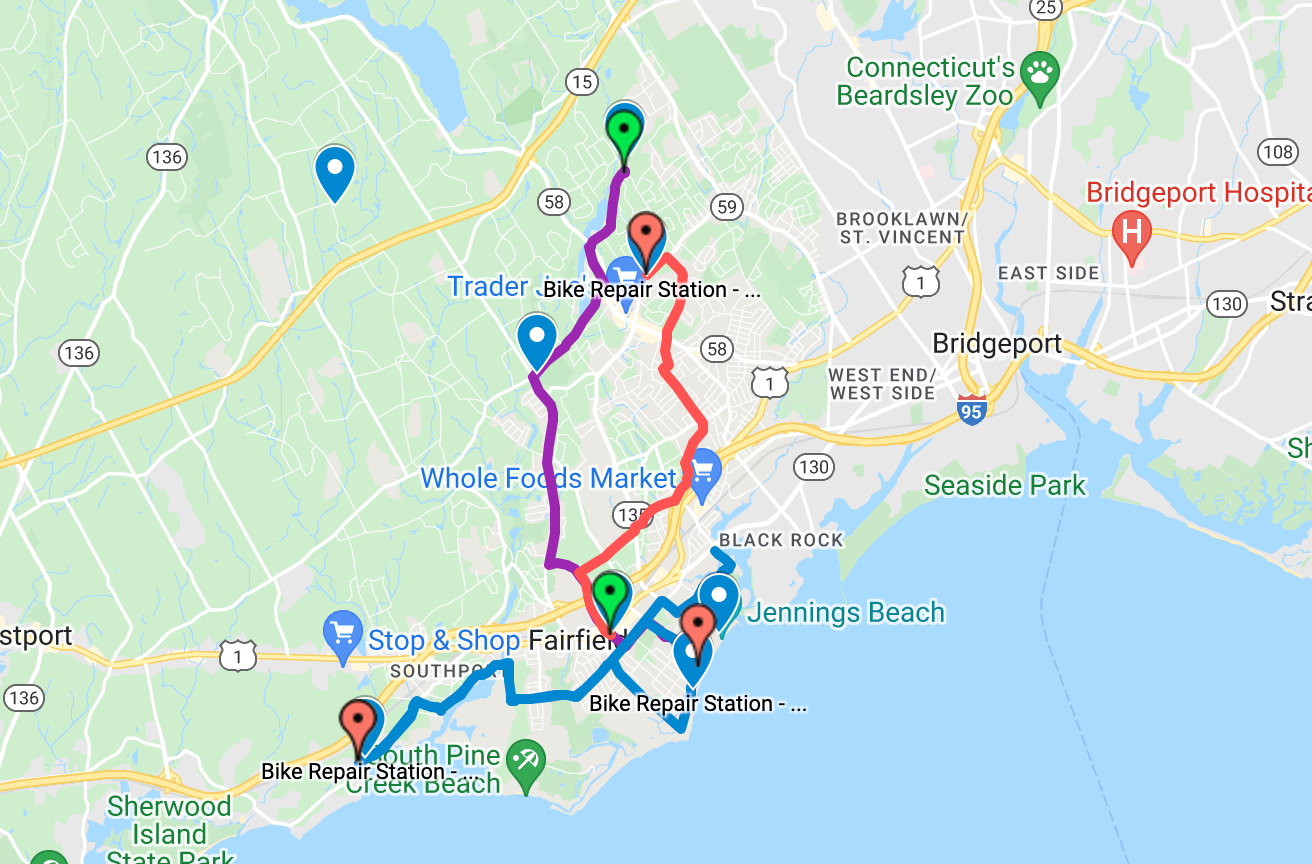 In Norwalk, the Bike/Walk Commission has worked to add bicycle racks throughout the city, including a new one added to Washington Street in May.
In other communities, such as in Westport, local leaders have been hosting community outreach sessions to hear from residents about these issues. First Selectwoman Jen Tooker has hosted Traffic and Safety meetings over the past few months for each district of town, where residents could share their concerns related to "traffic, pedestrian and bicycle safety, and the steps Town officials are taking with respect to those issues."
Town officials said that "a comprehensive list of the priorities and discussion items, as well as documents and procedures relative to the maintenance and safety of public roadways, will be organized and updated on a dedicated Town website page in the upcoming weeks," as a result of those meetings.
Taking the Next Steps
In order to accomplish the goal of Himes and others to be able to bike along the coast from Greenwich to Bridgeport, more investments will be needed to build and enhance bike lanes and sidewalks, something Himes himself acknowledges.
"To get there we're going to need to have federal help," he said. "This is really going to be a federal state and local effort, and it's going to be driven by you—I know we have a lot of bike advocates here."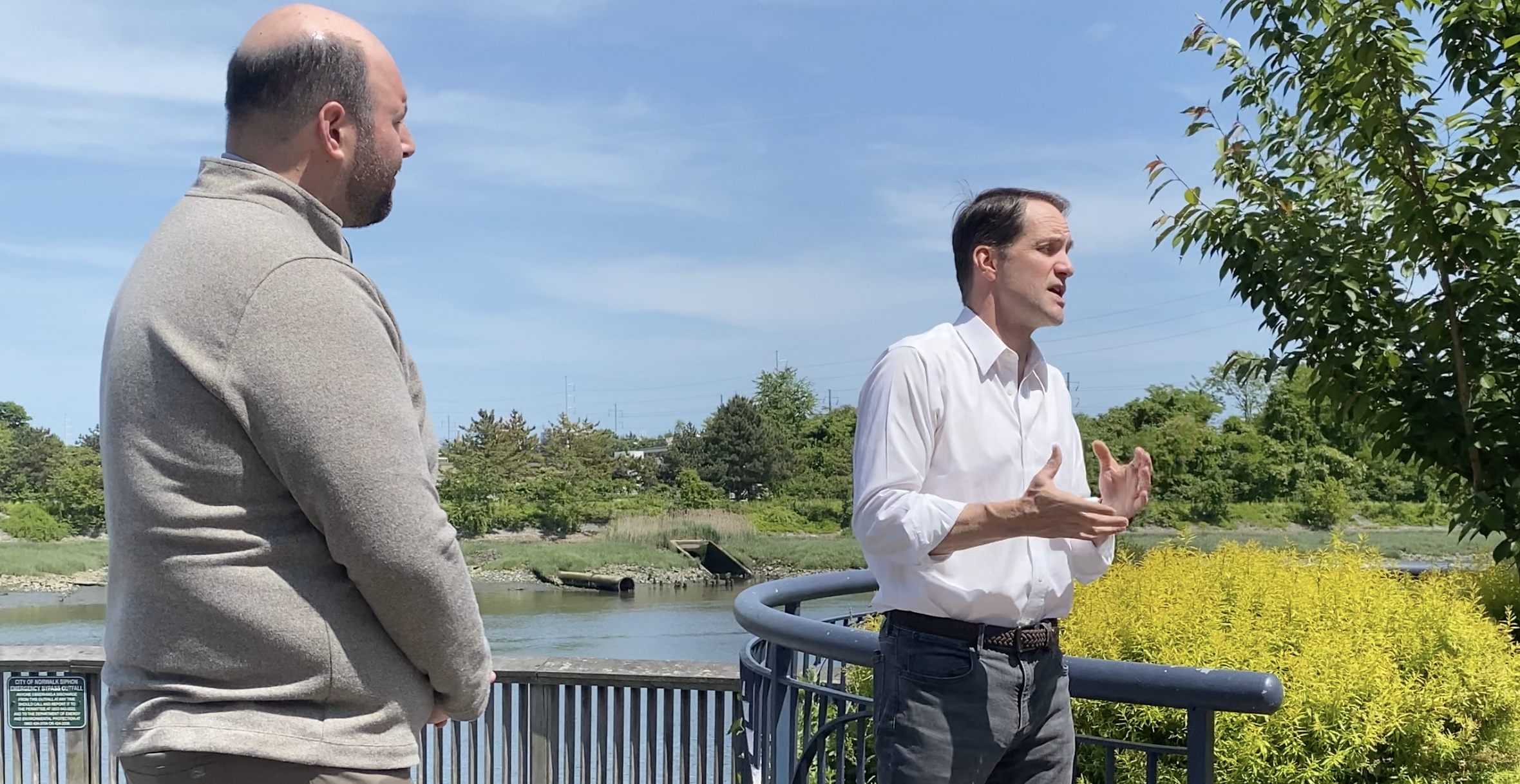 Thompson added that more than just funding is needed in some cases to help connect areas, including along the planned route for the Norwalk River Valley Trail.
"There's some gaps that need to be filled that we are leaning on Senators Duff and Haskell to help," he said. "We need their help to liaise with DOT because there's a big interchange going in at the Merritt Parkway and Route 7, and the NRVT still doesn't have a connection across that interchange so we're looking forward to solving that problem."
That plan, called the Route 7/15 Norwalk Project, aims to "complete and improve connections, safety, and traffic flow between Route 7, Route 15, Main Avenue, and (Merritt Parkway) in Norwalk." While construction isn't projected to start until 2025, design and planning work to rebuild and reconstruct those interchanges is ongoing.
Still, Himes, Thompson, and other local officials, including members of the Norwalk Common Council, said they'll continue to push for investments to make it safer and more convenient to bike and walk around the southwest Connecticut region.
"It's about health—imagine the health benefits if you could ride your bike two miles to work as I do in D.C. relative to climbing in the car," Himes said. "It's about reducing congestion in our cities. It's about creating livability."
Update (6/15): This article was updated to clarify that in Fairfield there are 20 miles of bike routes, not lanes, that are marked throughout town and to make it clearer that the Stratfield Road & Fairfield Woods Four Corner Installation and the Southport Connectivity Project are not complete. Thank you.