Enterprise Reporting
This Story Is About Trees.
Cities and towns across southwest Connecticut are working to increase the number of trees in their communities, due to their many benefits.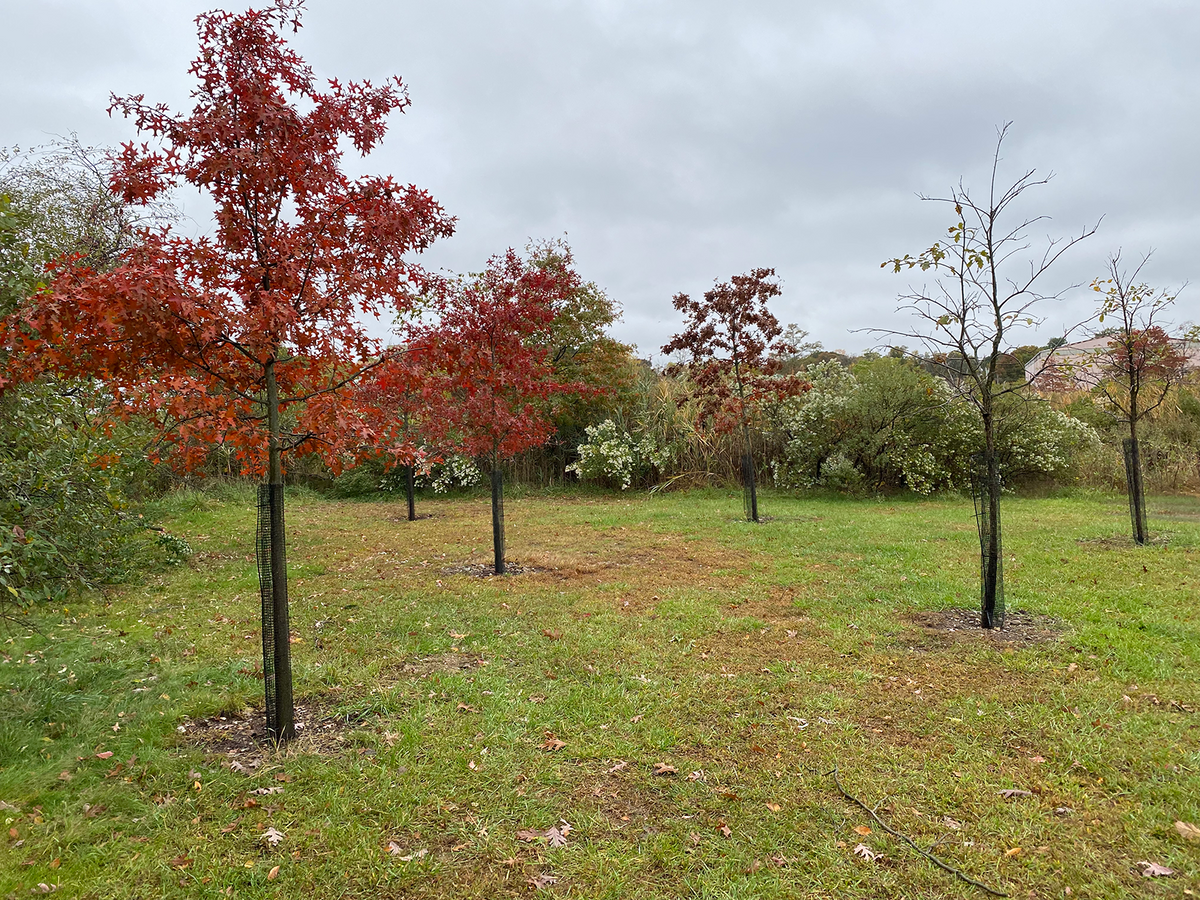 What can help improve air quality, provide shade and cooling benefits during heat waves, help mitigate the impacts of flooding, and enhance the social, economic, and community value of a neighborhood? That's right—trees.
"Trees are key to a healthy city," according to a 2018 report on the tree canopy in the Western Connecticut Region from WestCOG, a regional planning association. The report found that trees provide benefits in three main categories:
Environmentally: Trees help to: mitigate stormwater before it flows into bodies of water, like the Long Island Sound; improve air quality; and provide cooler air and shade from the heat.
Socially: Trees help improve people's health and make them feel more comfortable and safe walking and moving around.
Economically: Tree-lined streets add property values to homes and commercial properties.
That's why communities across southwest Connecticut are investing time, resources, and effort into improving their tree canopies, maintaining existing trees, and working to add to their tree inventories.
"Trees have become a movement," said Norwalk Councilman Tom Livingston at an October 2021 meeting.
In our region, Norwalk passed a tree ordinance that helps enhance the city's planting of new trees and protections for existing ones. The Stamford Board of Representatives approved a resolution calling on the mayor to add funding for tree-related efforts to her budget this year. And Fairfield is in the middle of updating its forestry management plan to continue to expand its tree efforts.
"What became apparent," Stamford Representative Nina Sherwood told the Operations Committee in October, "[is] we could be doing a lot more to fund tree replacement and tree health in the city."
[Learn more about those communities' efforts: Stamford | Norwalk | Fairfield]
But even more support is likely needed. According to the 2018 WestCOG study, many areas of southwest Connecticut are severely lacking in their tree coverage. Norwalk in particular was called out for having the least amount of tree canopy in all of the WestCOG region, which includes 18 communities in Western Connecticut.
"The city of Norwalk has the lowest canopy coverage of any municipality in the Western Connecticut Region," the 2018 report found. "The City's canopy has a U-like shape, dense along the borders of the City, but sparser in the center of Norwalk, around the harbor, and Long Island Sound. Certain tracts have less than 15% coverage."
There are also issues around equity, as the area's poorest neighborhoods tend to have the fewest trees. Those neighborhoods often have higher rates of asthma due to air pollution, higher heat indexes due to impervious surfaces, and greater challenges and flooding during storms.
Livingston acknowledged that he was looking forward to getting the city's tree study complete so it could let the city know where it needed to plant.
"A lot of them need to be in the urban core," he said. "This is a matter of environmental justice."
Environmental Benefits
Officials said that the benefits of trees have become more apparent in recent years, particularly their impact in areas with a lot of impervious surface, or more urban areas.

As the graphic shows, the areas with the lowest tree canopy and therefore, least amount of benefits from existing trees, are the more urban parts of the region.
"The three cities in the region, Danbury, Norwalk, and Stamford, predictably have lower canopy coverage. Westport, Darien, and Greenwich also have low canopy coverage as they are also urbanized areas," according to the report.
Urban areas are especially prone to "heat islands," flooding due to a large amount of impervious surfaces, and poor air quality due to traffic. Trees can help mitigate these effects by providing shade, enhancing the air quality by collecting carbon dioxide, and capturing some of the stormwater runoff.
"Healthy tree coverage can reduce stormwater runoff and peak flows in local waterways, resulting in substantial savings on drainage infrastructure, water treatment costs, and the need for flood controls," the study found.
That's why officials said they'd like to see more trees added to the tree canopy, particularly in urban areas, across the region.
"Ramping up tree planting would only benefit the city of Stamford," Ron Markey, Stamford's Tree Warden, told the Operations Committee in October, adding that trees are one of "Stamford's most precious natural resources."
This is particularly true for areas along the waterways of the Long Island Sound, as stormwater runoff is one of the main pollutants of the waters.
"Healthy tree coverage can reduce stormwater runoff and peak flows in local waterways, resulting in substantial savings on drainage infrastructure, water treatment costs, and the need for flood controls," the WestCOG report said. "Trees, particularly larger ones, are a cost-effective way to manage stormwater and lessen infrastructure and water treatment expenses. Trees also improve water quality."
Adding trees to areas with "high concentrations of traffic and industry" can also improve the local air quality and issues that stem from that.
"Pollution-related illnesses, which include upper and lower respiratory symptoms, bronchial asthma, lung function deficits, and air pollution related cancers, are more prevalent in urban areas," according to the report. "Trees improve urban air quality by removing these harmful pollutants from the air and preventing the formation of compounds. Trees remove air pollution in two ways, through uptake and interception."
Fairfield's Forest Management Plan, which guides the town's tree maintenance, planting, and preservation program, noted that their trees "absorb pollution, provide cooling shade, and by holding soil in place they reduce erosion and allow storm water to filter into the ground."
The cooling benefit of trees is one that Jeff Scherr, the president of the Norwalk Tree Alliance has used when he speaks with property owners in the city's central and downtown areas as an incentive to put trees in. This worked in central Norwalk, where along Elm Street, just off of West Avenue, Scherr and the alliance planted trees all down the street.
"We want to reduce the heat island effect, which is basically unshaded, paved areas that create warmer temperatures," he said. "That creates higher air temperatures, so if we can shade them, we can help in reducing the air temperature and the warming."
He said that as these trees continued to grow they would be a "good example of the success of planting in a small area and having a big impact."
Social and Economic Benefits
Trees also provide a boost to the community—providing it with health benefits, a better sense of safety, and even an uptick in property values.
That's part of why Stamford Downtown Special Services District, a business improvement district, has taken an interest in improving its tree canopy. The district, also known as Stamford Downtown, has recently done a tree study of the downtown area, which David Kooris, president of Stamford Downtown, said would help them "ramp up planting in the near term."
"I think we all understand the value of trees—we've worked very hard to build out the canopy downtown," he said to the Operations Committee in October, adding they hope to help the city "get the urban forest to a state of maturity."
Kooris said that the inventory has given them a blueprint in three main areas—identifying the health of the existing trees; learning what tree pits/planting beds need to be addressed to replant a tree there; and finding out what areas need more trees. The inventory also helps give recommendations about what types of trees are recommended for the area.
According to the WestCOG report, "a 2015 study of New Haven, Connecticut found that greater tree canopy cover was associated with lower rates of violent, property and total crime, independent of [other confounding variables.]"
Fairfield's Forestry Plan also highlighted the impact that trees can provide economic and lifestyle benefits.
"Their presence can increase the value of residential and commercial properties. More subtle benefits are also possible as some research has shown that trees can help reduce stress and increase the sense of well-being in everyday life," the plan reads.
Scherr said that adding trees, particularly to neighborhoods where people walk to get around, can really make a difference for the people traveling through.
"Having tree-lined streets are just more enjoyable for people to walk, so being that a lot of people walk in urban areas, and the car is not necessarily their main mode of transportation, we want to make walking more enjoyable for people, so that more people do it," he said.
Bringing People Together
Officials have also found that trees can help create community—and help make a neighborhood safer. Along Wilton Avenue, just north of Wall Street, the city added trees to both sides of the street this past planting season.
Jim Travers, Norwalk's director of transportation, mobility and parking, said that he sees trees as traffic calming measures, as studies have shown that people tend to drive at lower speeds in areas that are tree-lined.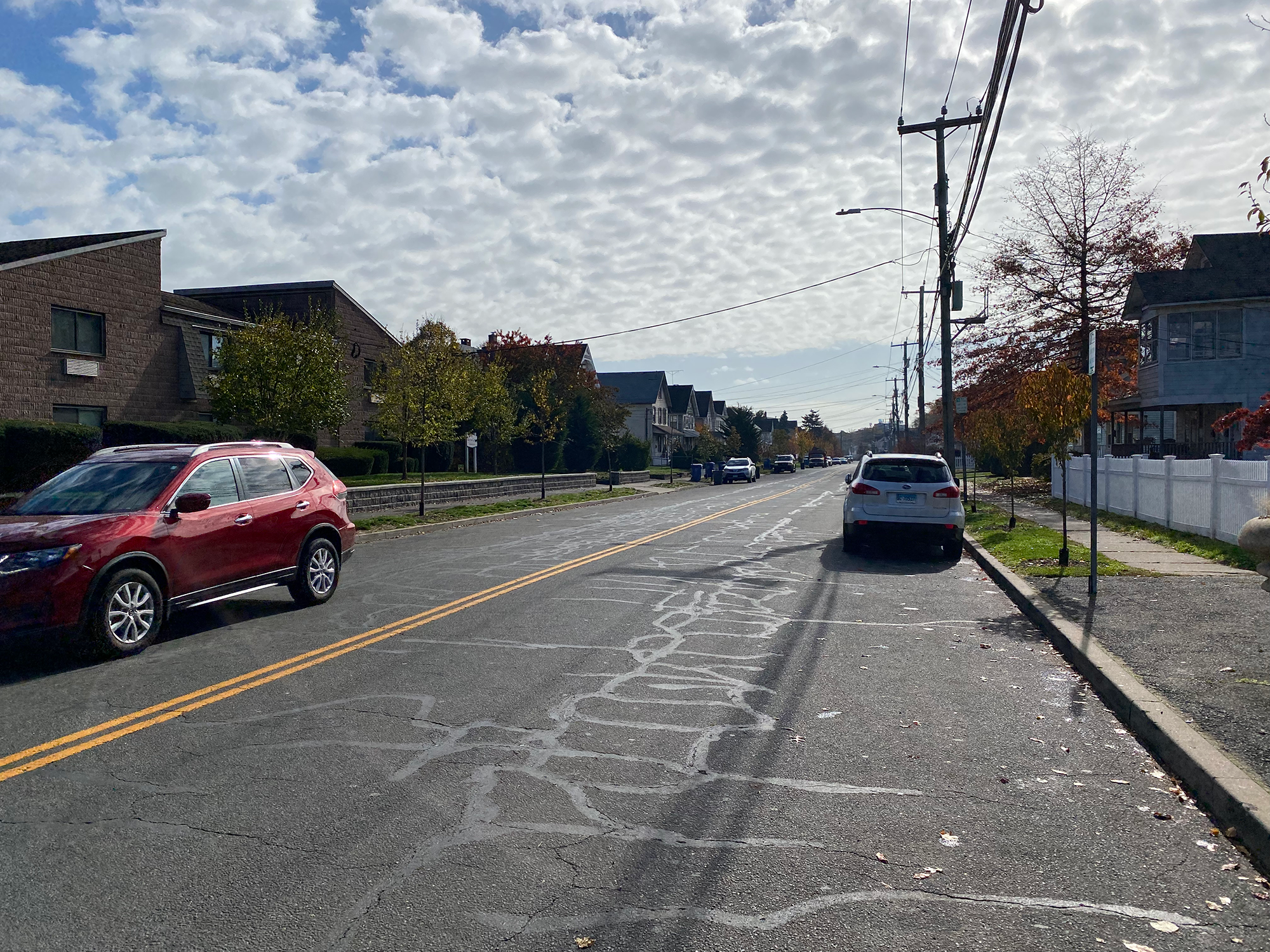 "I've done, for my career, trees as an integral part of traffic," he said, citing his previous experience in Stamford and particularly New Haven, where he worked with the Yale School of Forestry. "We did one project, where people complained of speeding, and we looked at various options, like hardscape that we could put in, education campaigns that we could run, or changing the environment, so we did street trees."
He added that trees also absorb particulates from vehicle emissions.
"When these trees start to mature, they're going to create a visual narrowing of the road, which studies show, helps to reduce the speed," he said. "We do it from traffic, because more people walk on tree-lined streets than not. There's these values that we have that go beyond the traditional roles of traffic engineering."
In addition to the traffic and environmental benefits, this project, Travers said, also showed the general neighborhood benefits. People were so excited to get the trees in their neighborhood, they had a block party to celebrate at the planting.
"We had the ribbon cutting here—it wasn't the greatest day—but people still showed up," he said.
Travers said that he walked by a group of people as he was leaving the ribbon cutting who were saying, "I can't believe it took something like this to come together."
"These are things—more people walk on tree-lined streets, so they really connect you to your community. They also will work at absorbing some of the sound from vehicles that are going down a street, but they create a community," he said.
Maintaining and Enhancing the Tree Canopy
But it's not just about adding more trees. Officials acknowledge that their communities also need to have a better understanding of their existing tree canopy so it can be properly maintained, so trees can be planted in the areas that need it most, and so that trees in risk of falling or causing damage during storms can be addressed proactively.
One of the items laid out in the tree ordinance was a master tree plan, which Norwalk is in the midst of putting together. The city dedicated about $1 million of American Rescue Plan Act funds to be put toward tree-related initiatives, including planting and maintenance efforts, and funding for the tree study, particularly in areas that are more urban.
The plan will also help the city determine the "right tree for the right place," so that the tree fits the area it's going into. Scherr also emphasized the importance of planting native trees to help restore the city's tree canopy and make sure the trees can survive the weather and climate of the region.
The Stamford resolution specifically calls for funding to go to a citywide tree inventory, a water tank truck, new trees, and a parks maintenance person to help the city "better manage and care for this valuable resource and asset."
Erin McKenna, senior parks planner for Stamford, told the Operations Committee that a tree inventory would allow the city to do "preventative maintenance" on trees that need it before they cause problems, and help the city strategize how to prevent storm damage caused by trees.
"If we really value our trees, we need to manage them," she said.
McKenna said the inventory also does a summary of some of the ecological benefits, such as calculating how much stormwater is absorbed by the trees.
In Fairfield, the town is updating its forestry management plan by spring 2023, which serves as its guide for maintaining, preserving, and adding to its tree canopy.
According to Geoff Steadman, an environmental planning consultant who is part of the Fairfield Forestry Committee that oversees the town's trees, the first priority in the plan is "public safety" or dealing with hazardous trees. Steadman said that the tree warden has a difficult job of "balancing the need for storm resiliency and benefits of the tree canopy."
Still, officials from across the region note that the benefits of trees outweigh the costs, something that the WestCOG study also found.
That's why WestCOG recommends that communities focus on "planting trees along streets," which "could provide the largest return on investment." The study estimated that "if trees covered all available street tree space, the region would gain nearly 10,000 acres of canopy, an increase of almost 3%."
How Can You Get Involved?
For starters, you can get involved with local organizations, such as the Norwalk Tree Alliance or the Fairfield Forestry Committee, and see if they need volunteers for their efforts, which involve more than just planting, according to Jeff Scherr, the president of Norwalk Tree Alliance.
"We plant trees as a normal tree alliance, but we also educate about the importance of trees," he said.
Even if you don't want to get involved in planting, but you'd like a tree on your property, Scherr said that the tree alliance is a great place to start.
"We're always looking for places to plant trees," he said. "So if somebody reaches out and has a great place for trees, absolutely, we'll plant them."
If you're interested in seeing more trees in your community, you can speak out in support of tree-related efforts during the upcoming budget cycle or write letters of support to your local government.