The What
The What: This Week in Coastal Connecticut
The What is your look around southwest Connecticut, from Greenwich to Fairfield, for the week of April 11.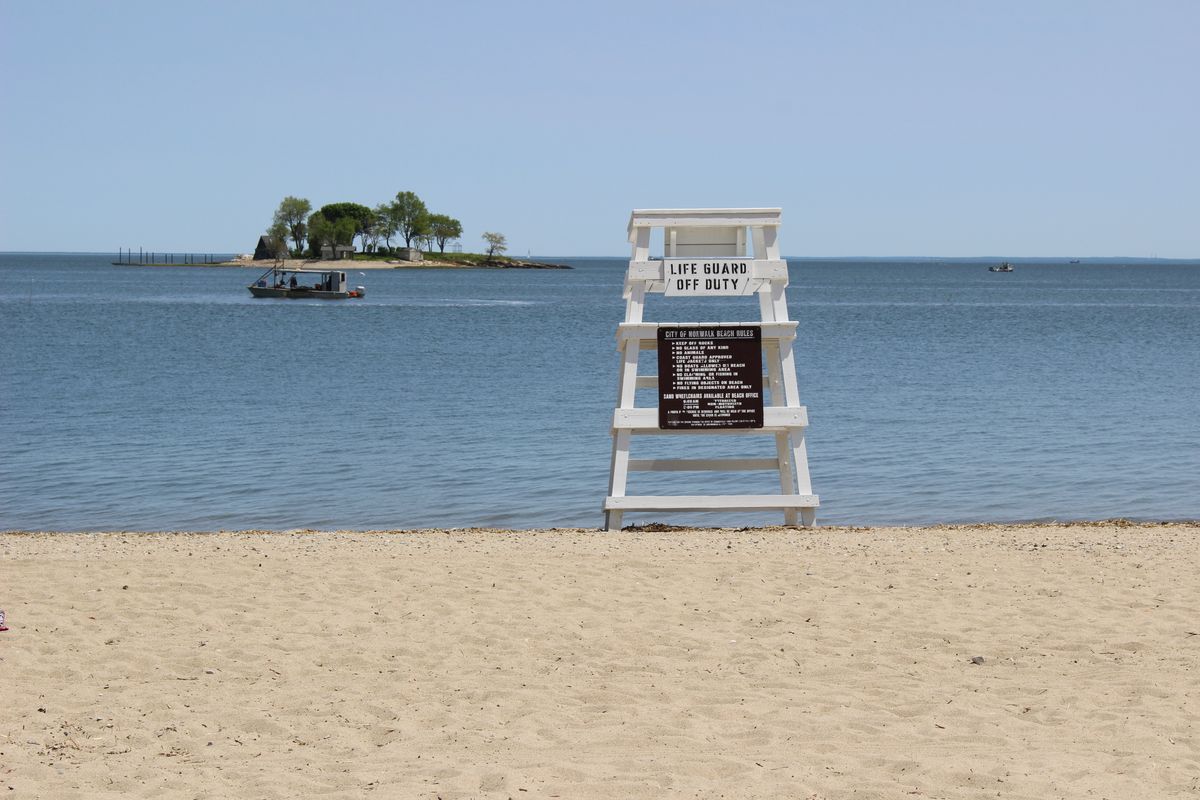 April 11
Happy Monday!
This week we have an update for you on the Walk Bridge project, which although it's based in Norwalk, will impact commuters throughout the region.
While two pieces of the construction project are almost done, the overall project is running a bit behind schedule, according to Vanessa Valadares, principal engineer for Norwalk who serves as a liaison between the project and the city. Valadares, who gave the update to the Common Council's Public Works Committee, said that this was the most up-to-date information that she had, but noted that things do change often with this project.
The Walk Bridge construction project encompasses more than $1 billion in spending to replace the Walk Bridge, an interlocking MetroNorth train bridge that crosses the Norwalk River, as well as bridge replacements along the New Haven line, updates to the Danbury Branch, and utility updates.
The current schedule, which Valadares stressed can change at any time, has some early work on the actual Walk Bridge itself taking place in 2023. In 2024, the local roadway bridges will begin to be upgraded and replaced and the lift tower piers on the Walk Bridge will be constructed. The lift tower structure of the Walk Bridge and abutments and span work will begin in 2025 and work will continue through 2028, with a plan to finish all of the work by 2029.
Let's take a look at what else is happening around our communities.
Stamford
As the Board of Finance and Fiscal Committee of the Board of Representatives continue their budget reviews, members of the public asked their elected officials to keep the Board of Education budget whole.
Parents, educators, and community members said that the pandemic has impacted students academically, socially, and emotionally, and they need all the support they can get to help them recover from the last two years.
Cami Murace, an elementary school teacher, said that she's supportive of the $308 million ask from the Board of Education.
"Even before the pandemic, we were facing many challenges," she said, noting that there's "an incredible demand" to make up for lost learning and deal with the children's social and emotional needs. "Sadly, the pandemic has exacerbated many of these challenges and our needs are greater than ever."
The Fiscal Committee of the Board of Representatives and Board of Finance are continuing their budget review this week. On Tuesday, April 12 at 5:30 p.m., the Fiscal Committee will hear from some outside organizations that receive funding from the city including Inspirca, Liberation Programs, and Pacific House; as well as city departments including human resources and risk management. At 7 p.m., a joint meeting of the two, will include a review of the pensions and employment retirement fund. On Wednesday, April 13, at 5:30 p.m., the committee will hear from the land use bureau, engineering, and building department.
The Board of Finance is scheduled to vote on the budget on Tuesday, April 19 at 7 p.m. The Board of Representatives is scheduled to vote on the budget on Tuesday, May 3 at 8 p.m.
Other meetings this week include:
Norwalk
Norwalk's financial board, the Board of Estimate and Taxation, passed a tentative $414 million operating budget for the upcoming 2022-23 fiscal year.
The tentative budget calls for $217 million to fund schools and $196 million to fund the city. Of that $414 million, $367 million comes from local taxes, and the remainder comes from grants and other sources of revenue.
Even as the city plans for its capital budget this year, Chief Financial Officer Henry Dachowitz has issued a warning about the city's financial future as it relates to its debt.
"I don't think the problem is the operating budget, it's the capital side," he said.
The city has many projects that have been authorized previously, but not yet bonded—due to construction delays or other reasons, along with additional school construction needs in the future, he said.
The $40.9 million capital budget, which usually include one-time investments, such as infrastructure projects, is before the Common Council on Tuesday, April 12 at 7:30 p.m.
——
Following the recommendation of the Board of Education, the Land Use and Building Committee of the Common Council voted to approve design "Option B" for Norwalk High School.
The committee was presented with two options by Alan Lo, the city's buildings and facilities manager. The first would be to rebuild the high school basically in its current location and stage construction so that students could be moved to one part of the building, while work was being done on the other.
Lo said that option would be "very disruptive in terms of education" and a "very complex process" for construction that might have limited the contractors willing to bid on the project.
The second choice, Option B, will be constructed on the current football and track complex, allowing students to remain in the existing building while the new structure is being built.  
——
Community groups in Norwalk are preparing for an "Earth Day Celebration on the Green" on Saturday, April 23 running from 11:30 a.m. to 2:30 p.m. All are invited to this free, family-friendly event. At 12 p.m., the program will officially kick off with remarks from city officials, a community song, and a Native American reading. The event will also feature a children's nature activity, a tree planting by DPW, and a drum circle. There will be food trucks, a mobile bike repair station, and a giant heron sculpture at the event.
There will also be three guided tours:
The Wall Street Walking Tour at 11 a.m. This tour leaves from Norwalk Public Library at 1 Belden Avenue and will be led by Jim Travers, director of Norwalk's transportation, mobility, and parking department.
The Historic River Walking Tour at 10:30 a.m. This tour leaves from City Hall and will be led by Norwalk River Valley Trail board member Nancy Rosett.
The SONO Bike Tour departs at 11 a.m. This biking tour leaves from South Norwalk Library, 10 Washington Street and will be led by Tanner Thompson, chair of Norwalk Bike/Walk Commission and Mike Mushak, vice chair of Norwalk Planning and Zoning Commission.
For more information, visit norwalkgreen.com/earthday.
Other meetings this week include:
Fairfield
The Board of Education will hear a presentation at its meeting on Tuesday, April 12 at 7:30 p.m. on student achievement data. The goal of the presentation is to give the board an update on students' performance on the STAR tests for grades K-8 and the PSAT at the high school level. It will also examine how students of different subgroups, such as students special education, are progressing.
Other meetings this week include
Greenwich
On Tuesday, April 12 at 4 p.m., the Planning & Zoning Commission will hear the Church Sherwood LLC application to build 192 units along Church Street, Sherwood Place, and Putnam Court. At least 30% of the units would be considered affordable, as the application has come in under the state's 8-30g statute. The goal of the statute is to increase affordable housing, particularly in areas outside of the cities, which tend to have the most affordable housing options. Local officials across the state and in Greenwich have cited some of the negative impacts of the developments, including a strain on infrastructure.
Residents and community leaders have been speaking out against the statute, with the Representative Town Meeting passing a resolution in March, calling on their state delegation to amend the state statute.
According to the state's statute on affordable housing 8-30g, if towns have fewer than 10% of their housing units deemed "affordable," developers who want to build affordable units do not have to follow all of the local zoning regulations. Towns like Greenwich have seen an increase in 8-30g applications, which has caused the backlash.
Other meetings this week include
Darien
The Darien community grieved together this week after a 17-year-old high school student died by suicide on March 31.
Darien community leaders organized additional counseling services last weekend, held a community conversation on grief and loss, and encouraged those who were struggling to reach out for help.
"Last week, the Darien community experienced immeasurable tragedy and loss," First Selectwoman Monica McNally said at the Board of Selectmen's April 4 meeting. "My heart is broken for the families. On behalf of myself and the board, I express my sincere condolences."
Mental health crisis intervention services can be accessed at www.211.org or by dialing 2-1-1
The Suicide Prevention Line can be reached at www.suicidepreventionlifeline.org or by dialing 800-273-8255.
The Hub has put together a local resource guide at https://www.thehubct.org/greenwich-to-westport for those looking for local resources.
Meetings this week include
Monday, April 11: Advisory Commission on Coastal Waters at 7:30 p.m.
Wednesday, April 13: Beautification Commission at 10 a.m.
Wednesday, April 13: Ox Ridge Building Committee at 10 a.m.
Westport
The Board of Finance unanimously approved $400,000 in American Rescue Plan Act funds for the planning, design work, and permitting for the redevelopment of Parker Harding Plaza, Jesup Green, and the Imperial Lot.
Pete Ratkiewich, the town's director of public works, said that these projects which are adjacent to the downtown area are covered by ARPA because they help bring "business into town to stimulate the economy and stimulate it permanently by making these improvements."
"This project is in the capital plan in many line items, so we combined them all to get a conceptual plan that's consistent with the entire downtown area," he said.
Members of the Board of Finance said that they were glad to see this project moving forward.
"This is an extremely important project for downtown—we've been waiting for this for a long time," said Board of Finance Member Brian Stern.
——
The town's Planning & Zoning Commission Affordable Housing Subcommittee will meet on Wednesday, April 13 at 12 p.m. to discuss the plan for drafting the housing affordability plan that is required by the state starting this June. The committee will also hear from Lynn Brooks, New Canaan's co-director of land use to learn how the town established an affordable housing trust fund.
On Wednesday, April 13 at 7 p.m., Finance Committee of the RTM will meet to discuss and make recommendations to the full Representative Town Meeting on the 2022-2023 Board of Education budget.
Other meetings this week include
Please note: All of these agendas and information here are current as of Sunday evening. Meeting times and agendas may get adjusted throughout the week.
Thank you for reading!
With spring and summer almost here, Coastal Connecticut Times is looking to get out on the road and meet with community members. If there's an event, meeting, group, or fair you think we should be at, shoot us an email at coastalconnecticuttimes@gmail.com. We'd love to start meeting many of you in person.
Hope you all have a safe and healthy week, and as always, feel free to leave us some feedback using this short survey, which will help inform our work.
Have a great week,
Kelly Prinz
Founder, Reporter at Coastal Connecticut Times