Stamford
Stamford Administration Lays Out Priorities
Stamford Mayor Caroline Simmons' administration gave an overview of their legislative priorities to the Board of Representatives on March 2.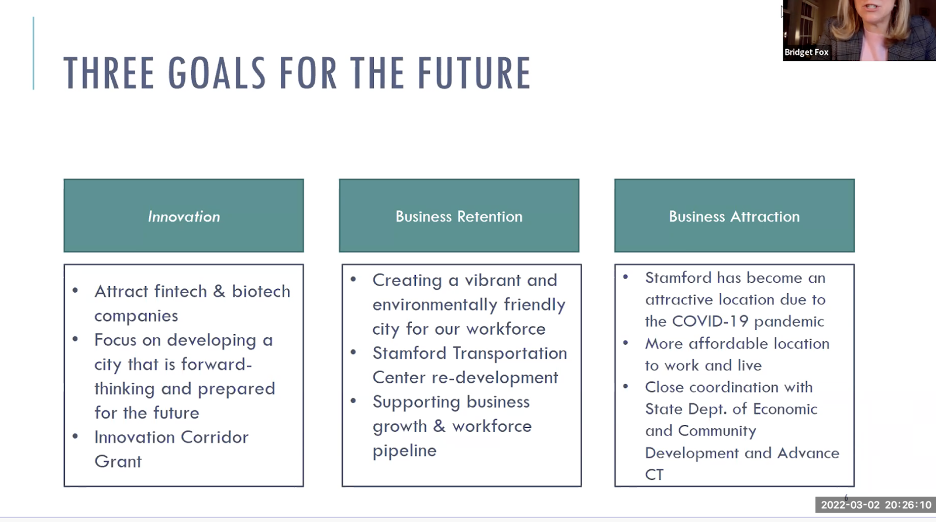 Now that Mayor Caroline Simmons has been in office for about three months, her chief of staff, Bridget Fox gave a "Legislative Priorities" overview to the Board of Representatives' State and Commerce Committee on March 2.
Some of those top priorities included investing in innovation, retaining businesses and attracting new ones, and addressing infrastructure needs.
Fox emphasized that the city's location between New York and Boston meant that "we have a really unique opportunity to retain talent and companies here in Stamford."
All of these include a "focus on developing a city that is forward-thinking and prepared for the future."
One way the administration says it's looking to accomplish some of these goals is through an innovation corridor grant from the state that the city has applied for, Fox said. She also noted the work going on at the transportation center (side note: there's a meeting on Monday, March 7 to discuss these plans) as a way to make the city "as welcoming and efficient as possible."
So far, the city has been continuing to recover from COVID, but it's still seen interest and investment from companies.
Fox in particular noted GE's "Co-Creation Center" as something they're looking forward to since GE has plans to "bring the community into their makerspace."
Looking ahead, Fox said the city wants to work on easing its permitting process to make it easier for small businesses in particular, providing funding to some small businesses through COVID-19 federal funds, and creating a small business welcoming committee.
In addition to business-related priorities, Fox noted that they were looking to use federal dollars, including the American Rescue Plan Act funds and upcoming funds from the bipartisan infrastructure bill to address roads and bridges in need as well as stormwater resiliency projects.
Overall, Fox said that Simmons would like her administration to be a "responsive government" that is listening to its residents to understand their needs and concerns.