Enterprise Reporting
Potential Cuts to Metro North Service Could Affect Southwest Connecticut
If the current proposed state budget is adopted, Connecticut Metro North users could see cuts in service starting this summer.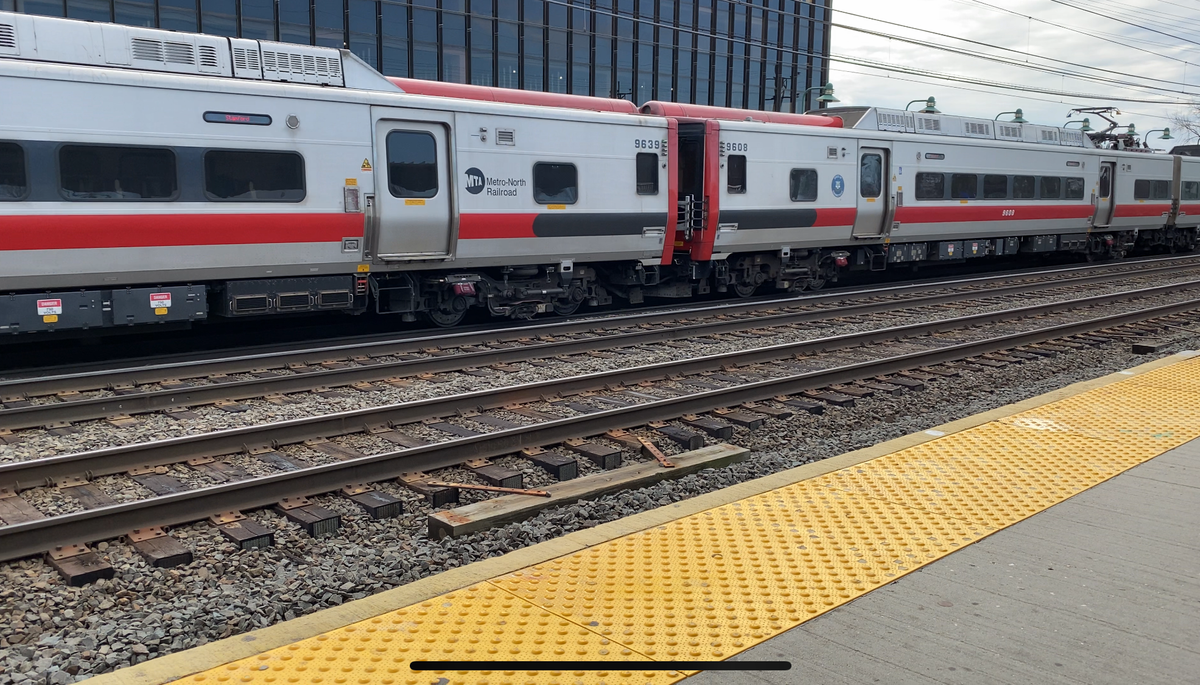 Metro North officials and transportation advocates are warning that Connecticut's proposed budget includes cuts to New Haven Line service that will affect residents across southwest Connecticut—both those who use the train and those who don't.
"If those Connecticut budget cuts, which are being discussed in Hartford do go through, there would be consequences to how much service is run at least in the Connecticut portion of the New Haven Line and it would be felt in the peak as well as throughout the day," said Janno Lieber, chair and CEO of the Metropolitan Transportation Authority (MTA) at the May meeting of the MTA.
In Governor Ned Lamont's proposed budget, his administration plans to increase funding for rail transit, but not enough to cover 100% of the train service that existed before COVID-19 hit and disrupted both ridership—the number of people on trains—and the train service, or the number of trains that are run.
The proposed budget calls for $226.9 million in funding for all rail transit in the state in fiscal year 2024, which starts July 1, and $238.6 million in fiscal year 2025. According to the state, this funding would cover:
New Haven Line: The budget would support 60% ridership (compared to before COVID-19) with service at levels of 83%.
Hartford Line: The budget would support 81% ridership (compared to before COVID-19) with service levels of 100%.
Shore Line East: The budget states that, "after years of decline pre-dating the pandemic, ridership is at 30 percent of pre-COVID levels, and has averaged a 16 percent decline annually (beginning before the pandemic)." This budget proposes funding service at 44% of pre-pandemic levels.
The reasoning for this, according to statements in the budget documents, is to adjust for changing habits caused by the COVID-19.
"This key investment in rail funding seeks to match evolving demands and usage patterns," a statement from the governor's budget reads. "Rail ridership continues to recover from the COVID-19 pandemic at rates slower than bus service. Usage patterns on rail also continue to indicate a change and shift in workforce habits, including the increasing prevalence of remote and telework options, as evidenced by declining Monday and Friday ridership, particularly on the New Haven line."
But Catherine Rinaldi, president of Metro North and interim president of the Long Island Railroad, said in her report that ridership is back to more than 70% of where it was pre-COVID and continues to increase.
"On Tuesday, May 9, both Metro-North and Long Island Rail Road shattered their respective one-day post-pandemic ridership records, with Metro-North breaking through the 200,000 ceiling for the first time since March 6, 2020 with a tally of 205,069 riders," Rinaldi wrote in the report.
Edward Valente, a conductor and chair of the Association of Commuter Rail Employees, told the MTA board that right now service levels are close to 100% of where they were before the pandemic, so these cuts would have a dramatic impact.
"We will go from 309 trains daily to 260, both peak and off-peak trains will be affected. In fact, peak service will be cut to 60% of the current service level," he said. "Do you remember the old days of packed cars? Commuters and families standing in the aisles? Well unless something happens, it will be worse and add severe gaps in service as well."
"Worst Time" to Cut Rail Service
Valente said that he's seen how ridership has been "slowly but surely" returning and these cuts would dramatically impact that.
"Things have been going in the right direction recently with the New Haven Line—I've seen it with my own eyes," he said. "There could not be a worse time to make these kinds of cuts. The fact is more and more people are depending once again on commuter rail."
Rinaldi, speaking at the board meeting, called Lamont a "tremendous partner," but also said that they're speaking closely with his staff to make sure they know the impact this budget could have.
"He's a tremendous advocate for public transportation, has come out in favor of congestion pricing," she said. "We've worked very closely with his staff in terms of what might happen if these were to go ahead and these service levels were to be reduced. We're in constant contact with them."
The discussion around cutting service comes at a time when Connecticut has been advocating for more transit-oriented development, or development around train and bus stations so residents don't need to rely on cars. It also comes just a few weeks after Lamont and other state, federal, and local officials highlighted the importance of rail service at the start of construction at the Walk Bridge in Norwalk.
At that time, Governor Ned Lamont said that replacing the bridge will make "an enormous difference for our state."
"What this means is we're going to be able to get from Bridgeport to New York in the same time it takes right now from Stamford to New York," he said. "That opens up the whole ecosystem."
Congressman Jim Himes also specifically highlighted how the Walk Bridge could help in the state's efforts to have more people use public transportation.
"This is not just about stopping a broken bridge—it's about the next 100 years, where if we're going to grow, we're going to take cars off the highway," he said. "And of course, the way we do that is by putting more people on mass transit."
If the cuts do go through, in addition to packed trains, transportation advocates said that this could put even more people on already congested roadways like Interstate 95.
What's Next?
The state legislature is still working through the state budget, which is due by June 7. Transportation groups and advocates are urging Connecticut legislators to restore funding to the budget to keep service levels where they are.
"We are at a critical moment for the state of rail in Connecticut. After many election year promises— we are now facing historic and potentially crippling cuts to the New Haven line and Shoreline East," reads a letter from Jim Gildea, chair of the CT Commuter Rail Council, which is an advocacy group for rail commuters. "There is still time to reverse course. Connecticut's climate goals cannot be met without robust public transportation and cuts to service should never be on the table to balance a budget."
Gildea urges residents to write to Lamont and their state legislators asking them not to approve a budget with cuts to rail service.
Valente said that the state could use some of the additional $200 million in expected revenue to not reduce service.
"I can tell you there is some hope. In Connecticut, the recent consensus revenues from the legislators and executive branch offices have found an extra $200 million in available funds," he said. "Maintaining service on the New Haven line at 100% in the next fiscal year would cost $38 million or 19% of that windfall."