Enterprise Reporting
Work Begins on the Walk Bridge, a Major Train Bridge in Norwalk
Federal, state, and local officials gathered on May 12 to break ground on the start of the main construction work for the Walk Bridge.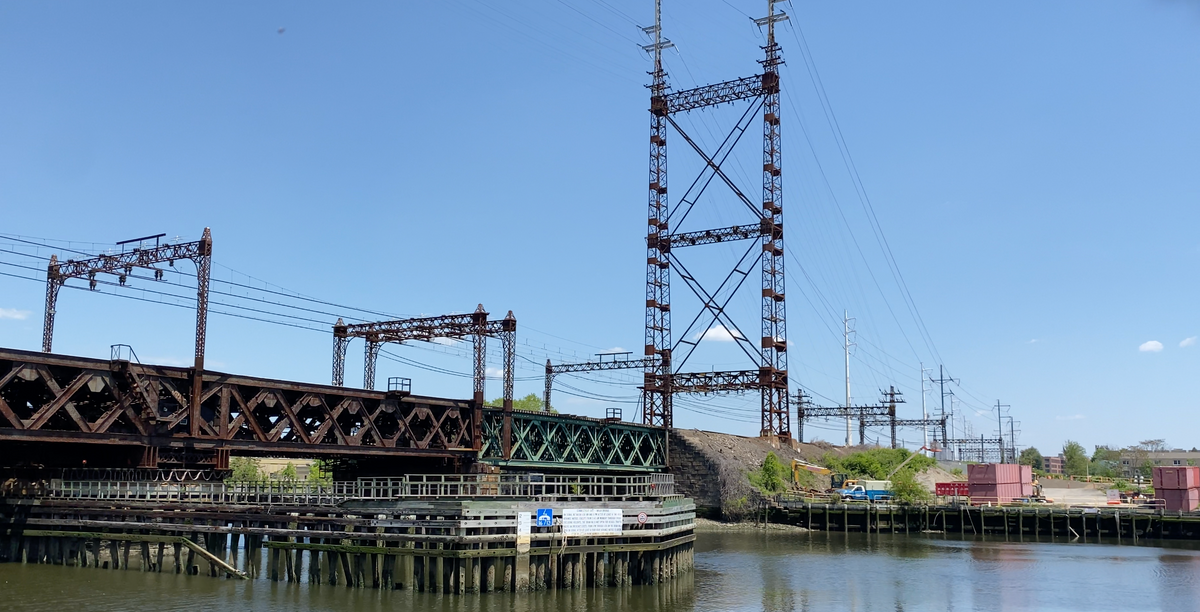 Whether you're traveling by train from Boston to New York, South Norwalk to New Haven, Bridgeport to Stamford, or anywhere along the coast of Connecticut, you have to cross over the Walk Bridge in Norwalk. Prior to the pandemic, more than 120,000 passengers traveled the bridge each day on Metro North and Amtrak trains. Now, construction work to replace the 127-year-old bridge is officially starting.
On Friday, May 12, with trains rumbling by in the background, state, federal, and local leaders gathered to officially break ground on the construction for the bridge and highlight the importance of replacing it.
"The day that we've all been waiting for is finally here," Mayor Harry Rilling said.
Governor Ned Lamont thanked President Joe Biden and the bipartisan group of lawmakers that passed the federal infrastructure bill, which he said "made an enormous difference for our state."
"What this means is we're going to be able to get from Bridgeport to New York in the same time it takes right now from Stamford to New York," Governor Ned Lamont said. "That opens up the whole ecosystem."
The project is estimated to cost about $925 million, with about 80% funded by federal money and 20% by the state. Officials said that behind-the-scenes work and smaller projects that are a part of the overall Walk Bridge program have been going on for years, but the work on the main section can now kick into full gear.
Garrett Eucalitto, the commissioner of Connecticut's Department of Transportation (CTDOT), said that the bipartisan infrastructure law's passage was critical to getting funding for this project.
"There were fits and starts at the federal level when it came to passenger rail investment," he said. "Now because of the bipartisan infrastructure law, there are billions of dollars allocated for rail improvements in the Federal Railroad Administration's (FRA) fed-state partnership program."
Eucalitto said that the Walk Bridge is listed "as one of their major backlog projects on its Northeast Corridor project inventory list."
"This shows it's a top priority for the entire nation, not just Connecticut," he said.
Senator Chris Murphy said that the bill was the reason that they were able to hold the event.
"If not, for the bipartisan infrastructure bill, we simply would not have the resources to start putting shovels in the ground," he said.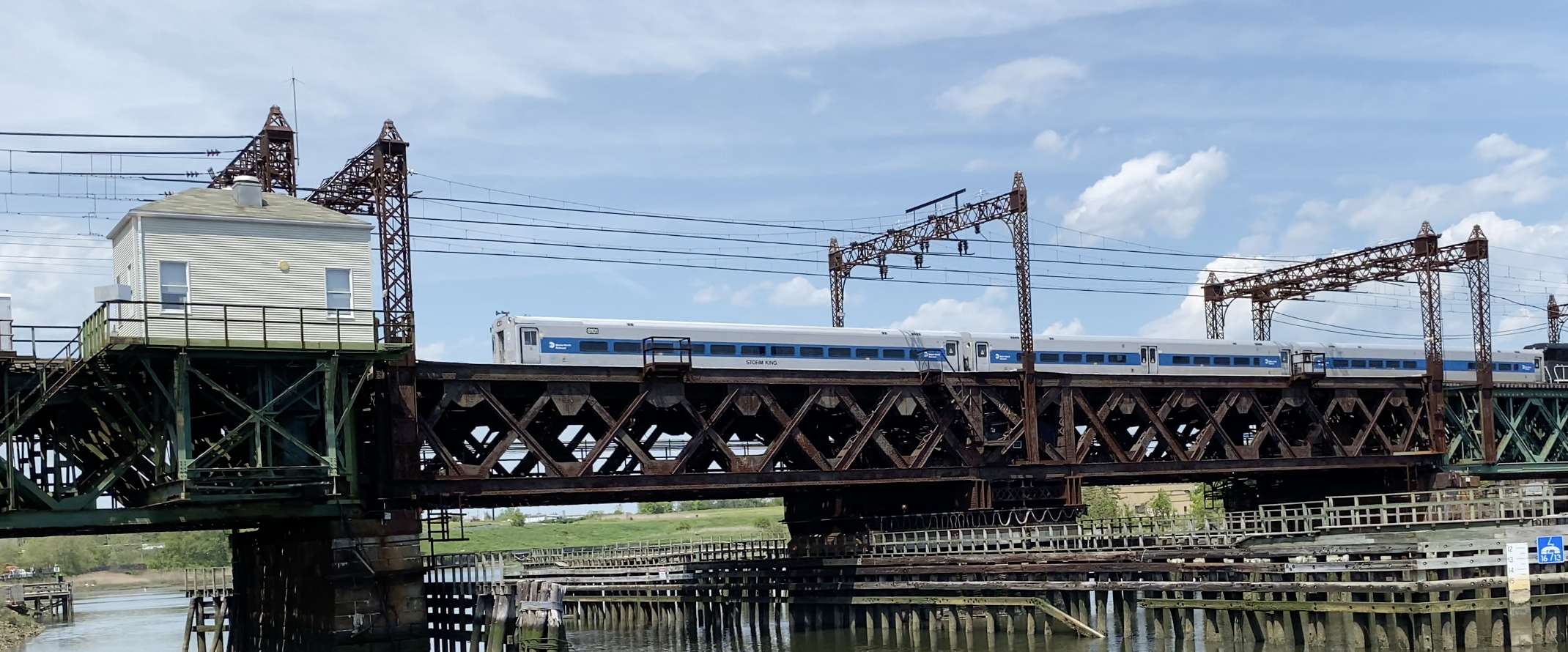 Why does the bridge need to be replaced?
The current bridge, which was built in 1896, is a swing bridge that rotates to allow for boats and barges to pass underneath it. It's been during openings, or rotations, of the bridge that most of the problems occur. Officials said that "by 2011, a pattern of failures became apparent." According to CTDOT, the bridge failed 12 times in 138 openings in 2011; 16 times in 271 openings in 2013; and twice within a two-week period in 2014 which prompted the CTDOT commissioner at the time to sign an Emergency Declaration for the bridge that July.
When it fails, service up and down the Northeast Corridor of the U.S. is impacted. Senator Richard Blumenthal said that he's personally experienced this.
"I have been on a train that was stuck," he said. "Let me tell you, to be stuck on a train because this bridge is open and stuck is not a great advertisement for rail travel, and it is intolerable because of the economic consequences, because of the human harms."
Catherine Rinaldi, the president of Metro-North Railroad, said that it's been a concern every time it has to open.
"We've made a lot of investments in the bridge over the last couple of years just to nurse it along, but I'm one of the people who, over many a summer weekend, is glued to my phone to make sure that the bridge is going to close up after we open it," she said.
State Senator Bob Duff, of Norwalk, estimated that it's "about $150 million per day to the regional economy when this bridge is not working properly."
Congressman Jim Himes called the region a "national artery of commerce."
"And when this bridge goes down, of course, it doesn't just affect all of us who represent the people of this area, but it's a huge tax on the economy of the United States and the well being of the people around this region," he said.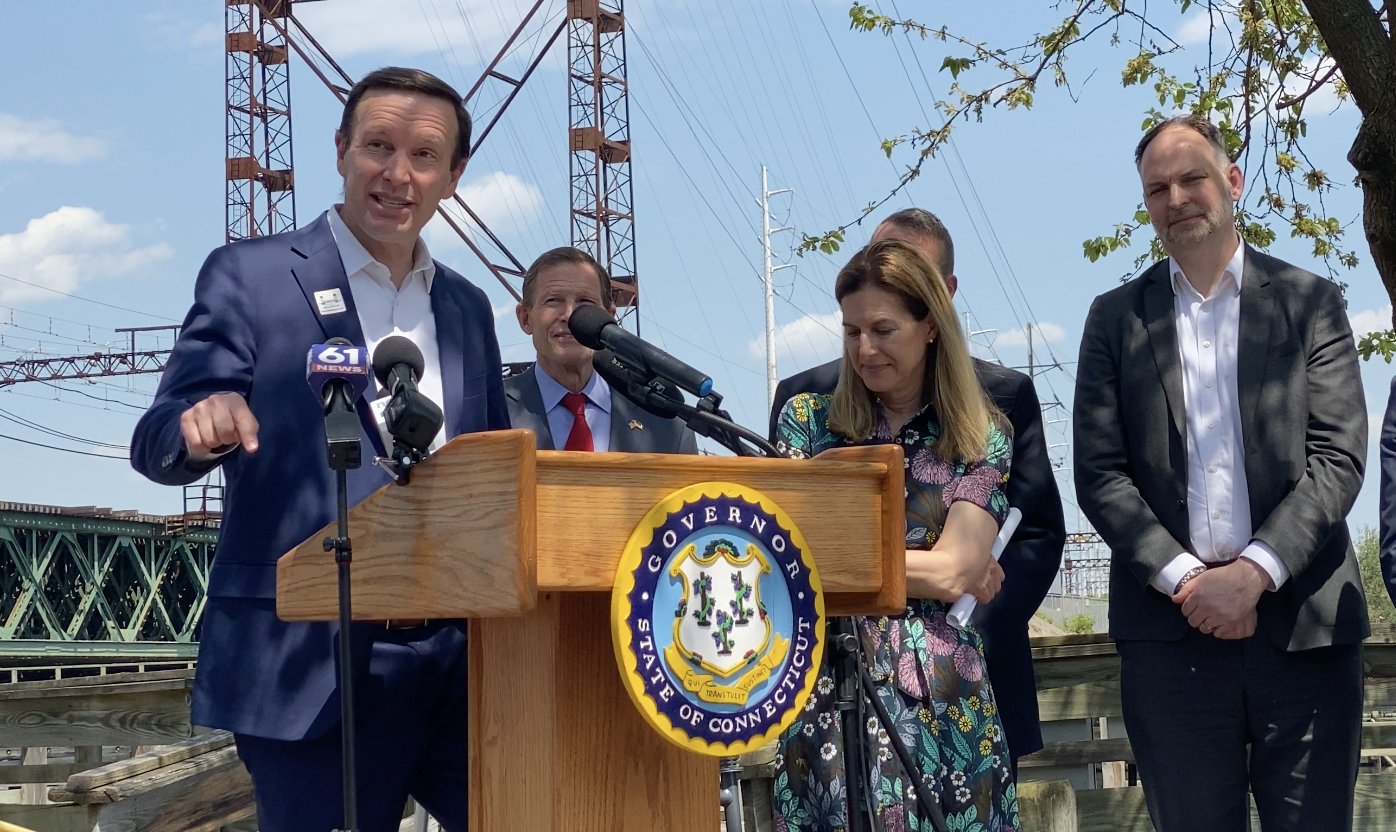 Murphy said that this rail line is both a strength, but has been a liability.
"This rail line behind us that defines Connecticut is both our greatest strength, but at times one of our greatest liabilities," he said. "It's our strength, because it's what attracts companies to Connecticut to Norwalk to the Northeast. But it's a liability because it takes longer today to get here from New York than it did 40 years ago."
While Eucalitto said that the bridge is currently structurally sound, particularly after some minor repairs were made in 2016 to address deterioration, the structure needs to be replaced.
"A new Walk Bridge is going to enhance safety and reliability for rail service here in Connecticut and across the Northeast Corridor," he said. "It is going to offer operational flexibility, increased speed, capacity and efficiencies of rail transportation between Boston and DC."
Amtrak's CEO Stephen Gardner said that this project will help "move more people by train."
"It's one of just many up and down the Northeast Corridor that's been in urgent need of replacement, so that we can have a 21st century system that meets the needs of our passengers, customers and communities," he said.
What type of bridge will go in there?
The new bridge will be a vertical lift bridge, which means the bridge can be lifted up to allow for water traffic to pass below. On either side of the bridge will be two towers of 150 feet each, which is 100 feet shorter than the current towers. Officials said that this design will allow the bridge to "be more resilient and withstand extreme weather, load, and external forces."
Eucalitto said that the new structure will include some redundancies so that "if one track is out, we don't have to shut down the entire structure."
"No more track outages, no more delay—safe, fast, environmentally-friendly transportation," he said.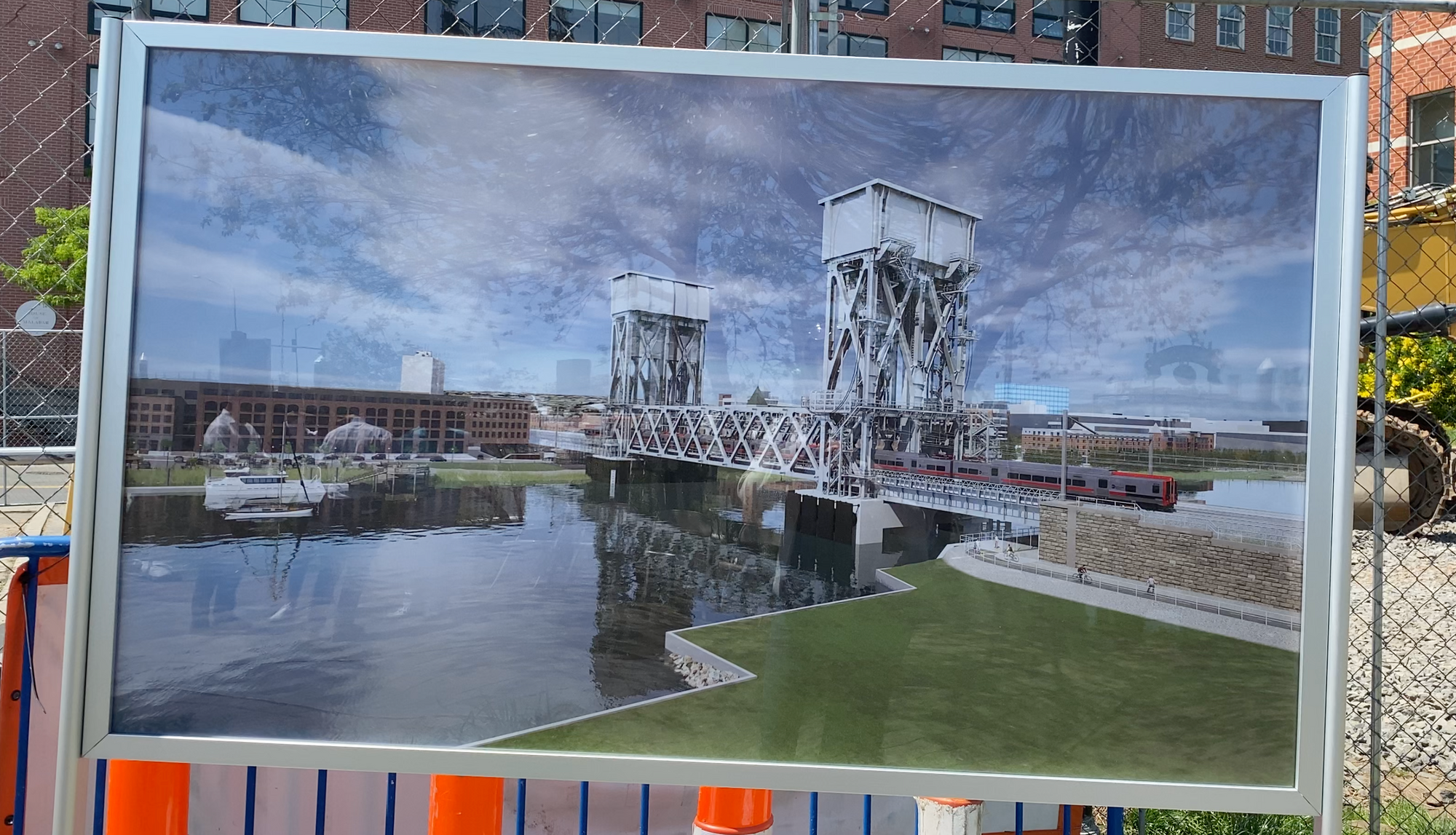 What are some of the benefits to replacing the bridge?
Lamont said that by upgrading the bridge, the speed restrictions on it can be removed, which will allow trains to move faster through the region.
"You slow down when you go over this bridge," he said. "And that slows down commerce that slows down what we're trying to do in this state. And we're going to be able to speed up transportation. We're going to take the Walk Bridge and turn it into the run bridge—you're going to be able to go that much faster."
Lieutenant Governor Susan Bysiewicz said this would be an improvement for both commuters and the Norwalk area.
"Our administration has been laser focused on improving the commute times to New York," she said. "So this is really important for that. This project is going to address traffic and pedestrian safety issues. And it's going to bring more tourism to Norwalk and this whole area, which is why this is so very important."
CTDOT is also coordinating the construction of other projects in the area to take advantage of some of the "planned track outages" due to the main Walk Bridge replacement. These other projects include: replacing four other aging Metro-North Railroad bridges over Strawberry Hill Avenue, East Avenue, Osborne Avenue, and Fort Point Street; realigning Fort Point Street; updating the East Norwalk Train Station; and reconstructing East Avenue between Fort Point and Winfield Streets.
There's also been some smaller projects, like improvements to the Danbury Branch Dockyard (located behind the SoNo Collection Mall), which are either already completed or close to it.
Himes said that this project will help improve transportation in the region.
"This is not just about stopping a broken bridge—it's about the next 100 years, where if we're going to grow, we're going to take cars off the highway," he said. "And of course, the way we do that is by putting more people on mass transit."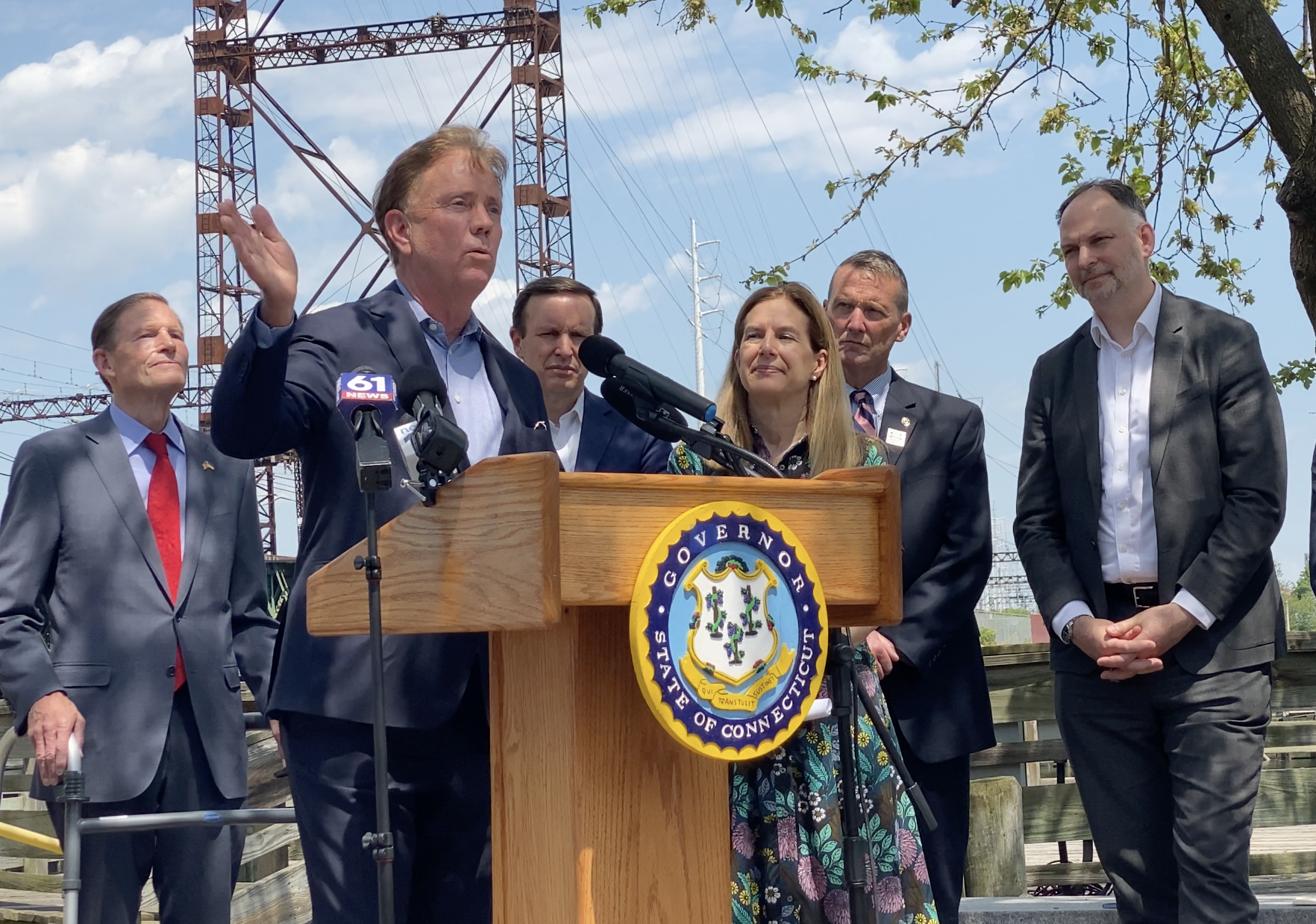 What will be some of the impacts to commuters and the local area?
Replacing a massive bridge that is located just yards from residences and businesses will definitely impact the Norwalk community, Rilling acknowledged, but said the city is working to mitigate the challenges as much as possible.
"We have apartment buildings here, we have a big business area right down here, what we call our 'Restaurant Row'—it's going to be critical that we do everything we can to mitigate the impact," he said. "People are concerned, but I think from what I've seen, I'm optimistic that the impact will be minimal."
Rilling said that he didn't have specifics yet, but that people could expect things like road detours to avoid construction work.
Himes said that local and state officials, particularly the city's Common Council members, will have to work with residents to get through the construction period.
"I know how much backlash you took from the people that you represent, and the truth is that they will be inconvenienced for years to come," Himes said. "Your leadership and you're working with them to make them understand that near term pain will be for some real long term gain."
Rail commuters will also be impacted, as throughout construction, two of the four tracks will be out of service, with work starting on one side and then the other, Rinaldi said. This will require some schedule adjustments, but details aren't available just yet.
"You're talking about a major project along a major stretch of rail where you're going to have to track closures for a good portion of the project, so there's going to be an impact, but we haven't worked out the schedule," Rinaldi said.
However, rail service is planned to continue throughout construction except for two weekends when the main structure will be floated down the river and put in place.
How long will this work take?
Work on the main section of the bridge is beginning now and is estimated to be officially completed in 2029. Some of the biggest parts of the project, including removing the towers and bridge structure, are estimated to take place in 2025, according to the Walk Bridge website.