Enterprise Reporting
Norwalk Officials Hear Update to Proposed Development Around Merritt 7 Station
Norwalk officials heard an update to the plans for Phase 1 of the North Seven development last week.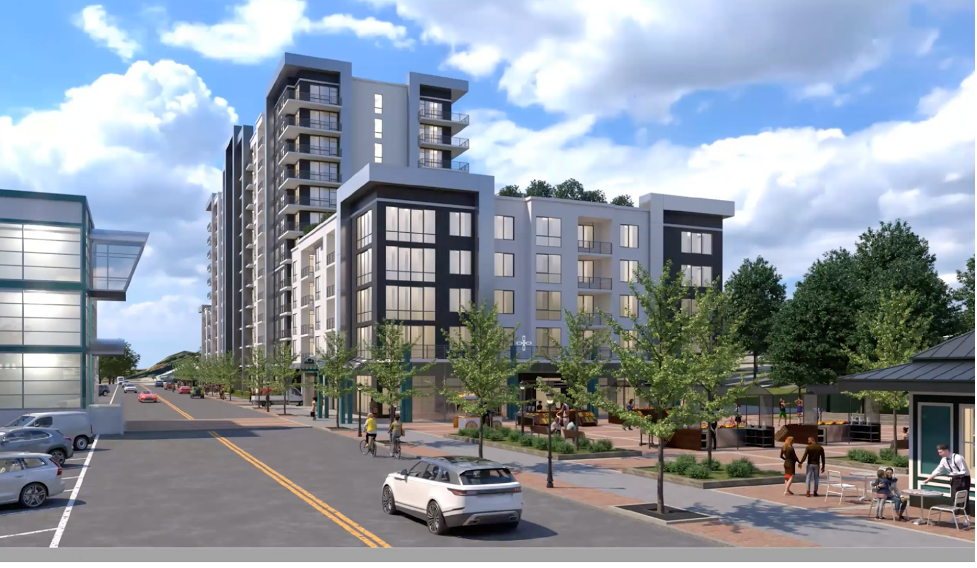 A larger town square, a dog park and less retail were some of the proposed changes to the North Seven planned development around the Merritt 7 train station in Norwalk.
Last week, Attorney David Waters, who is representing developer BLT, presented the proposed changes to the Norwalk Planning and Zoning Commission to get a sense of their thoughts.
One of the biggest changes was combining Building 1.1 and Building 1.2 into one building.
"What that does is allow a larger town square and then some green space and then a dog park," Waters said.
The change would keep the number of units about the same at 266, but it would also reduce the amount of retail significantly from about 17,000 square feet to 8,000 square feet.
"Putting in a lot more retail space and not being able to fill it would be a much worse situation than this situation," Waters said. "Having empty storefronts is the worst thing—having this type of activity is actually a much better alternative."
Waters said that they are adding a single story building with retail next to the dog park, in addition to retail on the ground floor of the building.  
"This will be your coffee shop, your newspaper pickup, whatever it may be—sandwiches and things like that—but this works for both commuters as well as people who are at the dog park," Waters said.
Waters said that the town square space would be at least 13,000 square feet in addition to about half an acre of green space which includes the dog park.
"There's been some discussion with your consultant of whether this configuration creates sort of a dead space or lack of activity where he would feel having that building in that location would have more of a street presence," Waters said. "He questioned whether what's being proposed here has enough activity."
But Waters highlighted how the dog parks in Harbor Point in Stamford, which BLT also built, have been popular and hubs of activity for the community.
"With our projects down here in Stamford, we didn't originally have dog parks," he said, noting that they eventually added one. "It became so overrun because every third apartment had a dog, expanded dog parks and number of dog parks because we could not keep up with the demand."
Steve Kleppin, the city's director of Planning and Zoning, also said that he thinks that the change would activate the area.
"In a traditional urban setting you want the close knit streets and his concern was the gap between the two buildings …wouldn't provide you with a reason to traverse this stretch, but I think based on what Attorney Waters has shown I think it actually accomplishes that just in a different manner," he said.
Commissioner Mike Mushak also highlighted how the new pedestrian bridge, linking Glover Avenue to Main Avenue would provide additional retail connections.
"You've got your live work play happening here," he said.
Transportation Connections
The North Seven development requires a lot of coordination with the state Department of Transportation. One of the areas Waters said that they've worked on already is adding a sidewalk connecting Glover Avenue and Main Avenue along the Route 7 connector. Waters said that they proposed adding the sidewalk and the plans are currently under review by DOT.
Next Steps
Waters said that they're working on some "fine tuning" of the design on the buildings, before coming back with an official application for a public hearing for Phase 1. But Planning and Zoning Commission Chair Lou Schulman said that he believed they would have to do more than fine tuning with the design to make it meet the guidelines for the area.
ICYMI: Check our video highlighting the overall plans for this region of Norwalk.