Stamford
A Look at Stamford's Proposed 2023-24 Budget
Mayor Caroline Simmons proposed a $654.7 million budget, an increase of 3.7% from last year.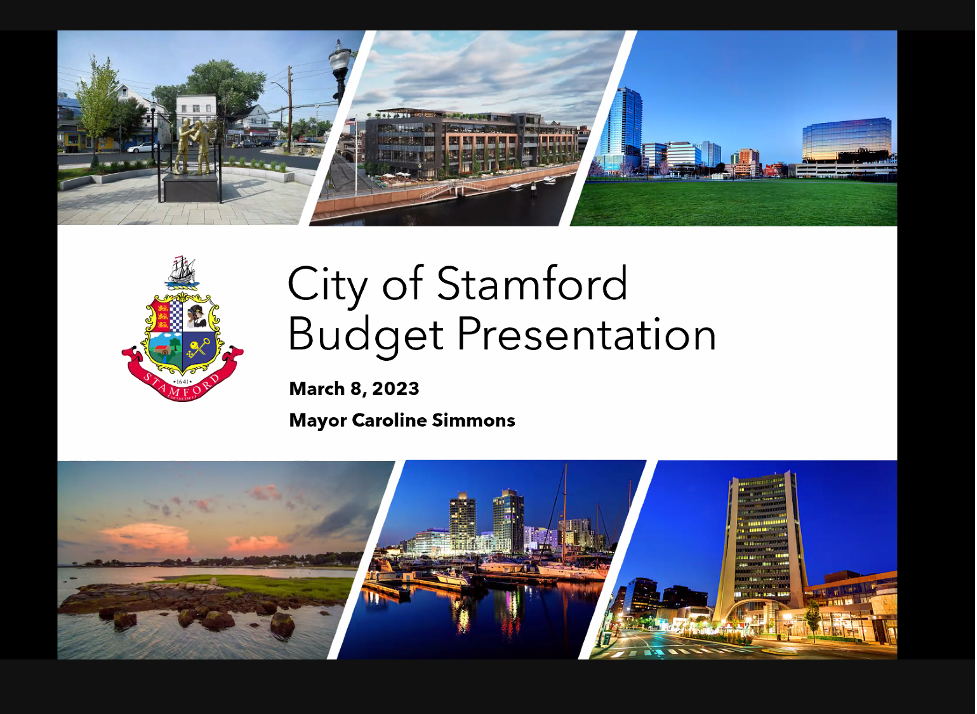 Investments in pedestrian safety, school facilities, parks, housing, and public safety top the list for Mayor Caroline Simmons in her $654.7 million proposed operating budget and her proposed $91.4 million capital budget.
Proposed Budget by the Numbers
The $654.7 million overall proposed operating budget is an increase of 3.7% from last year's adopted budget. On the city side—which includes everything except funding for the schools—the proposed budget is $329.2 million, 2.98% more than last year. The Board of Education side is $314.8 million, with an additional $4.6 million that the city spends to support school district activities, which combined is up 4.3% from last year. There's also an estimated $6 million set aside for contingency purposes.
On the capital side, Simmons is proposing to spend $91.4 million—of which about $56.2 million would be paid for with bonding and $35.2 million would come from other revenues, including federal grants.
Highlights from the Proposed Budget
Simmons outlined five key areas that both her proposed operating budget and capital budgets invest in:
Roads, sidewalks, and pedestrian safety: The budget includes funds for road paving, sidewalk work, and new projects that aim to make it safer for pedestrians. Simmons said that the number of pedestrian deaths, seven last year, was "unacceptable." "This budget includes investments that are essential to ensuring our transportation department has the funding it needs to implement road safety projects," she said.
School facilities: The proposed budget calls for more bonding to fund school construction projects, which Simmons said were essential. "Every Stamford student and teacher deserves to learn and work in a safe environment," she said. Her proposal also sets aside $20 million for a capital reserve fund for schools. The Board of Finance created the fund last year as a way to have cash on hand for school construction projects, particularly because the district needs to pay the construction bills while it waits for state reimbursement. "This reserve will allow for full payment of invoices," Simmons said. "I believe having this cash flow will be essential to meeting our needs."
Parks and Sustainability: Simmons said a goal was for all residents to "have a quality park within a 10-minute walk of where they live." The budget includes efforts to improve the more than 50 parks around the city, funds a city-wide tree inventory and replanting project, and supports sustainability related projects.
Public Safety, Health, and Welfare: The budget calls for "enhancing the 911 call center to meet the growing needs of our city," Simmons said.
Housing: The proposal adds a staff position to the Land Use Bureau focused on addressing housing in the city and provides $1.25 million to support the Oak Park 100% affordable housing redevelopment challenges.
Some of the projects supported by state and federal funding include:
$5.6 million from the state for infrastructure and streetscape improvements to the area around the Main Street garage
$3 million for upgrades ato the Stamford High School athletic fields
$2 million to construct the Astronomy Observatory Center at the Stamford Museum & Nature Center
$2.1 million federal RAISE (Rebuilding American Infrastructure with Sustainability and Equity) grant to revitalize the West Main Street Corridor
$2 million federal Safe Streets and Roads for All Grant for improvements to school sidewalks
Budget-Related Challenges
The proposed budget does call for a tax increase at a time when many residents are also seeing their home values rise due to the required property revaluation, which happens every five years. Simmons is proposing to phase in the increased values of people's homes onto the tax records over a two-year period, so residents aren't hit as hard in year one.
Simmons said that this will help "ease the burden of the property revaluation" and "mitigate major tax hikes" on residents.
Next Steps
Simmons presented her proposed meeting at a joint meeting of the Board of Finance and Fiscal Committee of the Board of Representatives on March 8. Next, individual departments will present their budgets to the Board of Finance and Fiscal Committee and answer questions from officials. Here's the full schedules for the Board of Finance and for the Fiscal Committee. Some key dates: