Stamford
Stamford Invests in Vision Zero Initiatives
Stamford Mayor Caroline Simmons outlined five main investments and projects the city is working on as a part of its Vision Zero initiative.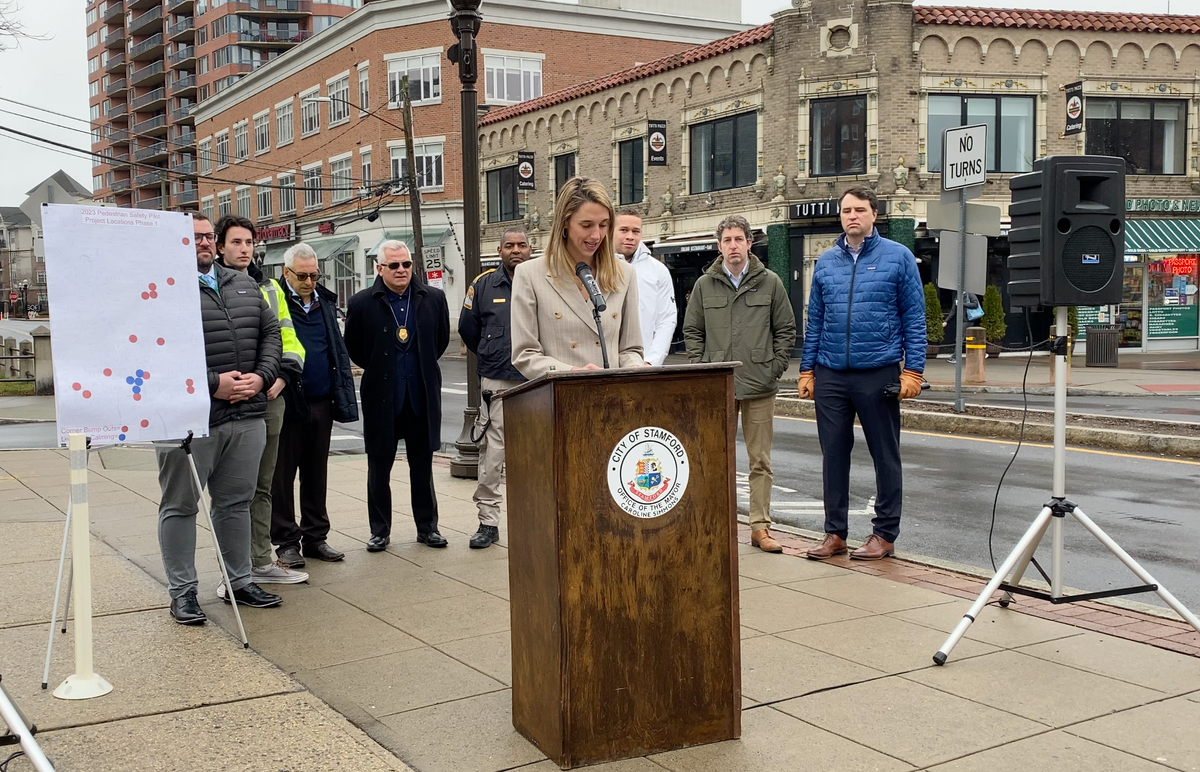 As a part of Stamford's plan to reduce traffic deaths and injuries on roads in the city, Mayor Caroline Simmons announced multiple new initiatives and investments throughout the city.
"I'm proud to be announcing five critical investments in our city's infrastructure, and specific projects that will contribute to our Vision Zero goals of making our cities safer for pedestrians," Simmons said at a press conference on Feb. 23.
The projects are a part of the city's Vision Zero Initiative, which aims to eliminate pedestrian fatalities and serious traffic crashes in Stamford by 2032.The investments and initiatives include both projects that Simmons is planning to include in her budget and grant-funded ones.
The city has received a $2.7 million Communities Challenge Grant for infrastructure improvements in the Latham Park area, which will:
Create a public plaza in the parking lot at Bedford and Forest Street
Reconstruct the intersection at Prospect Street and Forest Street
Upgrade bike lanes
Rebuild Walton Place to make it a "raised, shared street"
Improve stormwater systems
Simmons said that these would help "dramatically improve roadway safety in this area," particularly with the reconstructed intersection at Prospect and Forest which "has the highest rate of pedestrian crashes in the city."
Simmons is proposing in her budget that $1.2 million go toward citywide traffic signal improvements and an additional $1.5 million for roadway design and reconstruction efforts. She is also asking for $1 million in American Rescue Plan Act funds to fund bicycle and pedestrian infrastructure projects.
"With this funding, the transportation department will be able to execute projects that implement bike and pedestrian facilities as well as traffic management studies to provide an opportunity to comprehensively review the traffic flow in specific areas in Stamford," Simmons said.
Frank Petise, the city's transportation department's bureau chief, said that his department is working on 19 pedestrian safety pilot projects that involve either bump outs to make the distance pedestrians have to cross shorter or left turn calming measures.
"We look to implement these at 19 locations throughout the city, we've looked at areas that are around schools, parks, and businesses specifically," Petise said.

The city also has launched a Vision Zero Crash Dashboard to help track and analyze crashes throughout the city to see where hotspots are and if there are trends.
"What that dashboard does is it shows us crashes throughout the city, including serious injury and fatality crashes, and allows us to be more transparent with the public on how we're doing and where the hotspots are," Petise said. "And it's also good for us to use, because we can drill through the data and find the hotspots throughout the city."
Finally, the city will be partnering with the state Department of Transportation to conduct a Washington Boulevard safety audit between Hoyt Street and Station Place to examine ways to make the road safer.
"The [road safety audit] identifies short, medium, and long-term projects that we can initiate throughout the corridor," he said.
Petise said that they'll be holding a public forum related to the road safety audit in March or April to get feedback from residents about Washington Boulevard.
The safety audit follows a deadly crash that took place along the boulevard just a few months ago. In December, Giovanni Vega Benis and Yuliana Arias, two pedestrians, were struck and killed as they attempted to cross Washington Boulevard. The driver was both under the influence and speeding.
"This is unacceptable and we have to do better," Simmons said. "Our community in Stamford knows the pain of this type of loss."
Simmons said that they will "continue to honor their memory and keep them in our hearts as we seek to fulfill our Vision Zero commitment and ensure there are no more serious injuries or fatalities on our streets."
Part of a Focus on Traffic-Related Issues
Stamford's efforts come as communities across the state—and the country—are dealing with a "crisis on the roads" as the number of traffic-related crashes, deaths, and injuries, have skyrocketed.
"In Connecticut, and across the country, we are tragically facing a troubling rise in the number of pedestrian accidents and fatalities," Simmons said.
In Connecticut alone, the number of roadway fatalities and crashes has increased over the past few years.
"In 2022, there were 239 driver/passenger fatalities, which is an increase of 41.5% over the last 5 years, as well as 75 pedestrian fatalities, which is an increase of 31% over the last 5 years," Connecticut Department of Transportation Commissioner Garrett Eucalitto said in testimony to the legislature's Transportation Committee. "2022 has been the deadliest year on our roadways in decades."
The legislature is discussing recommendations from the statewide Vision Zero Task Force, which Simmons also voiced her support for. Stamford was the first city in Connecticut to establish a Vision Zero program, according to Simmons.
She said this was part of an effort to get constituents at all levels involved in making the roads safer— statewide officials, business leaders, and individual citizens.
"As we're pursuing state grants, we're doing everything we can to leverage all sources of funding," Simmons said. "We've also had a number of discussions with UConn Stamford, particularly since there's a number of students that walk on Washington Boulevard to cross over to downtown, so we're working with them on ways we can enhance pedestrian safety."
The Transportation Committee of the Board of Representatives is also turning its attention to traffic and pedestrian safety in the city. The committee will consider a resolution at its meeting on Wednesday, March 1 at 7 p.m. that aims to "advance and support the city of Stamford's Vision Zero Initiative."