Enterprise Reporting
'Crisis' on the Roads Prompts Southwest Connecticut Residents to Call for Action
More than a dozen residents and local officials from across southwest Connecticut voiced their support for the state's Vision Zero recommendations.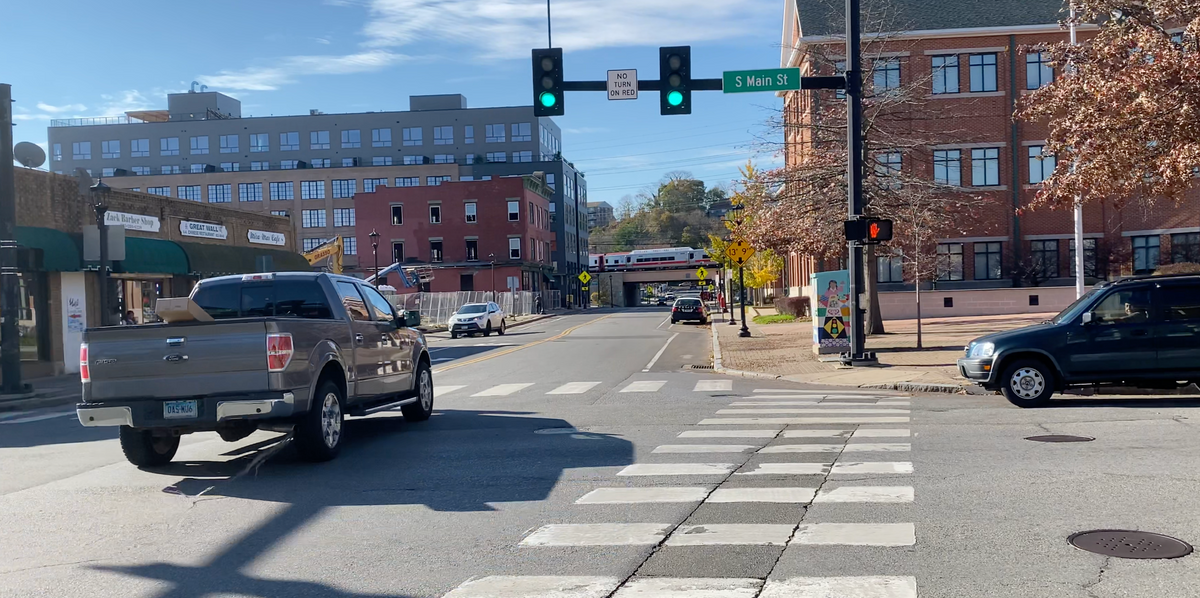 "An alarming public health crisis." That was how new Connecticut Department of Transportation Commissioner Garrett Eucalitto described the amount of traffic-related deaths on Connecticut roads.
"In 2022, there were 239 driver/passenger fatalities, which is an increase of 41.5% over the last 5 years, as well as 75 pedestrian fatalities, which is an increase of 31% over the last 5 years," Eucalitto said in testimony to the legislature's Transportation Committee. "2022 has been the deadliest year on our roadways in decades."
Eucalitto was testifying at a public hearing for House Bill 5917 "An Act Implementing the Recommendations of the Vision Zero Council."
The public hearing drew verbal and written testimony from more than 120 people across the state, including many from southwest Connecticut, who voiced concerns about the growing number of deaths, crashes, and injuries in the state and region.
"This is a horrific crisis we are facing across Connecticut," Stamford Mayor Caroline Simmons told the committee. "We've seen an alarming rise in the number of pedestrian crashes and fatalities…Whether you live in a small town or big city, pedestrian safety is impacting all of us."
According to data from UConn's Connecticut Crash Data Repository, a web tool designed to provide access to crash information that's collected by state and local police, our region was hit hard by traffic-related deaths and injuries.
There were 11 fatal injuries suffered in 2022 and 13 in 2021. In 2022, 106 people suffered "suspected serious injuries" from the crashes, while 117 did in 2021. More than 1,170 people had suspected minor injuries and an additional 1,338 were listed as having "possible injuries" from their crash in 2022. In 2021, 1,100 had suspected minor injuries and more than 1,380 additional people had suspected injuries from the crashes.
Overall, the region had 12,941 total crashes reported to the UConn repository involving 25,292 vehicles and 30,826 people in 2022. In 2021, the six communities in southwest Connecticut saw 13,102 total crashes reported with 25,577 vehicles involved and 31,482 people impacted.
Jerry Silber, a Stamford resident and member of People Friendly Stamford, a local community advocacy group that aims to promote walkability, safer streets, and more housing in the city, wrote in his testimony to the state legislature that these numbers, particularly the number of fatal crashes, should make the state take action.
"Both of my daughters went to Stamford High School. I was shocked a few years ago to hear that a Stamford High student was killed crossing the street to get to school," he wrote. "My daughters crossed that same street many times and I shudder to think that it might have been one of them. It is critical that we implement the recommendations of the Vision Zero Council before too many others die unnecessarily. And we need to do it NOW since in the last four years there has been a 30% increase in traffic fatalities."
A Look at Vision Zero and the State's Efforts
Vision Zero is a "strategy to eliminate all traffic fatalities and severe injuries, while increasing safe, healthy, equitable mobility for all," according to the Vision Zero Network, which is a nonprofit campaign that aims to help communities implement the goals of Vision Zero.
The initiative aims to rethink how traffic-related crashes, injuries, and deaths happen. Vision Zero "recognizes that people will sometimes make mistakes, so the road system and related policies should be designed to ensure those inevitable mistakes do not result in severe injuries or fatalities."
In 2021, the Connecticut Legislature established a Vision Zero Council to develop "statewide policy to eliminate transportation-related fatalities and severe injuries involving pedestrians, bicyclists, transit users, motorists, and passengers."
The council put forward numerous recommendations, which were included in "An Act Implementing the Recommendations of the Vision Zero Council." The proposed bill was in front of the transportation committee for an initial public hearing on the recommendations. The proposed bill includes:
Expanding the use of automated traffic enforcement cameras in areas that have a history of crashes and speeding /in areas that are designated as a pedestrian safety zone or a school safety zone
Requiring municipalities to adopt a Complete Streets plan, which aims to "ensure that the streets located in such municipality safely and conveniently serve road users of all ages and abilities, including pedestrians, transit users, bicyclists, persons using wheelchairs or other assistive devices and motor vehicle operators
Banning open containers in vehicles (except for vehicles for hire, such as limos and party buses)
Requiring helmets for motorcycle riders
Southwest Connecticut Weighs In
More than a dozen members of communities across southwest Connecticut either submitted written testimony or spoke to the committee, with the vast majority supporting the efforts.
Stamford Mayor Caroline Simmons said that her community has been hit hard by traffic-related issues, particularly following the deaths of two pedestrians crossing Washington Boulevard in December.
"The city of Stamford experienced a tragic loss two months ago when two pedestrians were tragically struck and killed by a driver who was under the influence and who was driving 86 mph on Washington Boulevard which is a state road that's one of the main corridors in our city," she said.
Simmons noted that she signed a Vision Zero initiative executive order in the fall of 2022, which started the city's work in improving its road safety efforts through engineering, enforcement, and design. However, she noted the need to work in partnership with the state to make some of their efforts possible.
"Many of our accidents occur on state roads, therefore we cannot achieve our goal of zero deaths alone," she said. "This bill underscores the commitment on this important issue."
Simmons encouraged them to "vote for this bill so we can save lives and make our streets safer for all."
Fairfield resident Sarah Roy said making the streets safer in her community has been a priority since she moved to the region in 2016.
"Our first week in our new home in Fairfield, which is located at the corner of a quiet road and a connector road, my then 6-year-old son and I decided to go out for a bike ride," Roy wrote in testimony to the committee, adding that they used to do this a lot when they lived in New Hampshire. "Ben automatically turned right out of the driveway, like he would have in [New Hampshire], but at our new house this meant turning onto the busy connector road and into oncoming traffic, which goes by our current house at 30+ mph. Horns were blaring, cars were swerving, and my little son was frozen in fear. By some miracle, Ben was not hurt that day, but he refused to ride his bike for weeks after the incident."
Roy said that this incident was a "turning point" for her as both a mother and a local activist.
"I couldn't stop wondering why the roads in my neighborhood–where hundreds of families and children and seniors and people with disabilities live–were designed to allow vehicle drivers to dominate the public space, intimidating and sometimes harming human bodies," she wrote. "Once I started researching this issue, I could not unsee the harm that car-centered road design inflicts upon us physically, emotionally, socially, and environmentally; and I will continue to demand more livable, equitable streets for all."
Dice Oh, a Stamford resident and a leader of People Friendly Stamford, emphasized the need for these recommendations.
"For too long our transportation planning regime has been oriented with the sole focus on moving as many cars as we can as fast as possible," Oh wrote. "This has resulted in a road design that is hostile to anyone outside of a car and results in a huge number of horrific deaths and injuries every year. We need common sense reform— speed cameras to slow drivers, better street design that accommodates pedestrians, more traffic enforcement—the whole gamut."
Stamford resident Chris Dawson, who is also a member of People Friendly Stamford, encouraged the legislature to support the bill, particularly the automated speed enforcement cameras.
"Who exactly are we protecting by not passing this provision? The top violator is someone who willfully and repeatedly speeds by schools, hospitals, construction sites, and busy intersections. Just why are we protecting that driver?" he wrote.
Laura O'Brien, of Fairfield, wrote that she supported the bill because she frequently sees drivers ignore traffic laws.
"Traffic violence is personal to me because I frequently have close encounters with vehicles running red lights, even some who drive around my stopped vehicle to get through a yellow light which is about to turn red," she wrote. "In addition, as a frequent cyclist and pedestrian, I have to be extremely cautious on the roads because of many motorists' bad behavior at stop signs and red lights. I believe the Vision Zero bill will improve safety as it includes several provisions that would make our roads safer for cyclists, pedestrians and drivers."
How Can You Get Involved?
Some communities are already implementing their own Vision Zero efforts. Stamford has a Vision Zero Task Force that meets monthly and is working to implement some of its ideas locally.
Other municipalities have groups such as the Norwalk Bike/Walk Commission and the Fairfield Bicycle and Pedestrian Committee that aim to promote safer streets for all users in their community. There are also local groups that aren't official city committees, such as People Friendly Stamford, that advocate for more walkability, pedestrian/bicyclist safety, and more.
You can also track the bill in the legislature and weigh in as it continues to move through the process.