Enterprise Reporting
Parts of I-95 to Close in Westport For Bridge Replacement
Drivers should avoid I-95 in Westport on Friday, October 20 to Monday, October 23.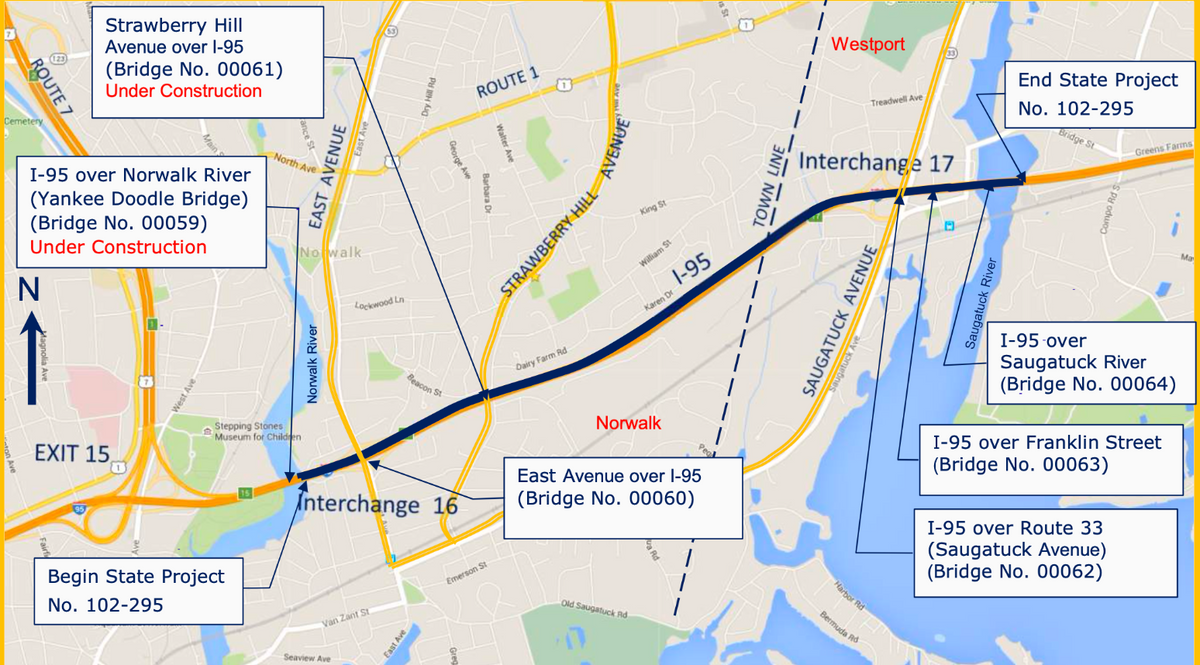 Residents of southwest Connecticut are warned to avoid I-95 in Westport for two weekends—Friday, October 20 to Monday, October 23 and Friday, November 3 to Monday, November 6—as work on I-95 will shut down parts of the roadway each weekend.
From October 20 at 8 p.m. until Monday, October 23 at 6 a.m., the northbound lanes of I-95 will be closed and traffic will be detoured to the southbound side, which officials say will "severely restrict traffic flow."
From Friday, November 3 at 8 p.m. to Monday, November 6 at 6 a.m., the opposite will happen, with construction closing the southbound side and detouring traffic to the northbound side.
The state DOT is using a "lateral slide" where the old bridge is removed and a new bridge that's already constructed is moved into place.
The new bridge, which runs over Saugatuck Ave., is part of a larger $100+ million project. The project aims to:
Upgrade the roadway to meet current standards
Address drainage deficiencies and highway flooding
Enhance rideability for drivers
Rehabilitate the bridges in the area
Reconstruct and expand the park and ride near Interchange 16
Improve stormwater quality treatments
Upgrade the Yankee Doodle Trail, which includes connecting the walkway along I-95 from exit 15 to 16 to existing pedestrian infrastructure in the area
Learn more at i95norwalkwestport.com.