Enterprise Reporting
What Are Some of the Challenges Communities Face With Paving?
While many officials note that paving is important, they also know there's multiple challenges with doing it effectively, including funding and weather.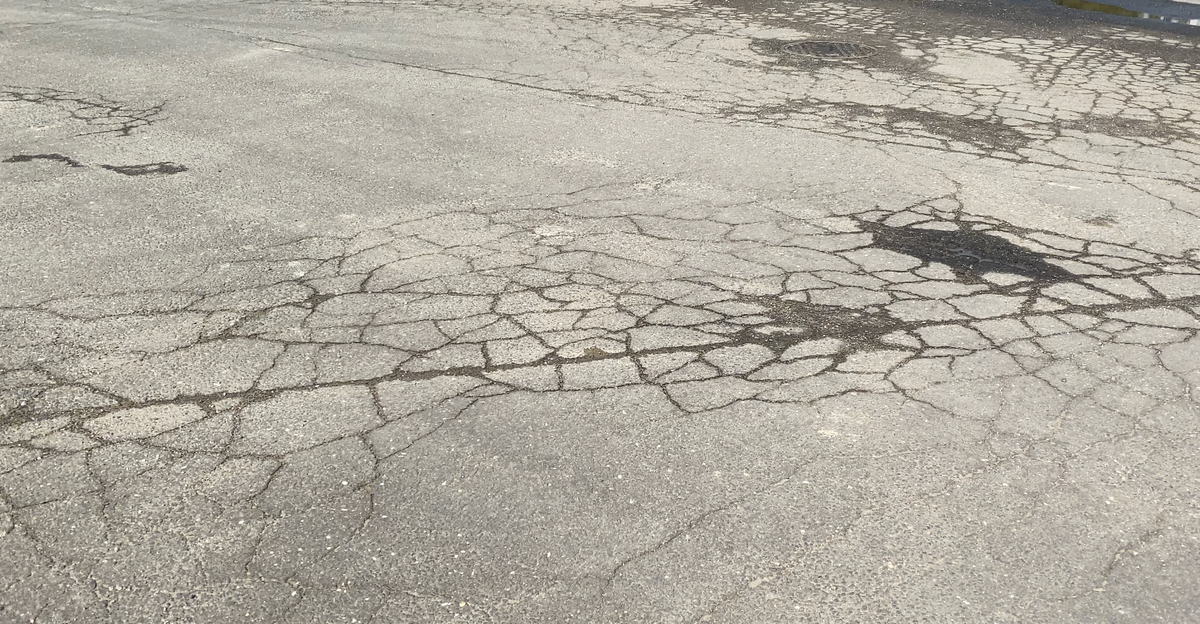 While all communities acknowledge that paving is an essential aspect of local government services, funding, weather, and pricing are just a few of the challenges communities face when they try to pave local roads. Let's take a look at how communities across southwest Connecticut try and overcome those.
The Cost of Paving
Some of the new paving-related projects have been moved forward, thanks to an increase in federal funding from the American Rescue Plan Act.
Fairfield is using about $1 million in American Rescue Plan Act funds to help pay for the first phase of its pavement management program, which costs more than $4 million.
But additional funding, or even consistent funding, can be hard to come by. Communities across the region annually spend tens of millions of dollars maintaining, improving, and updating their roads. And yet, paving budgets are often the first ones cut when additional funding is needed elsewhere.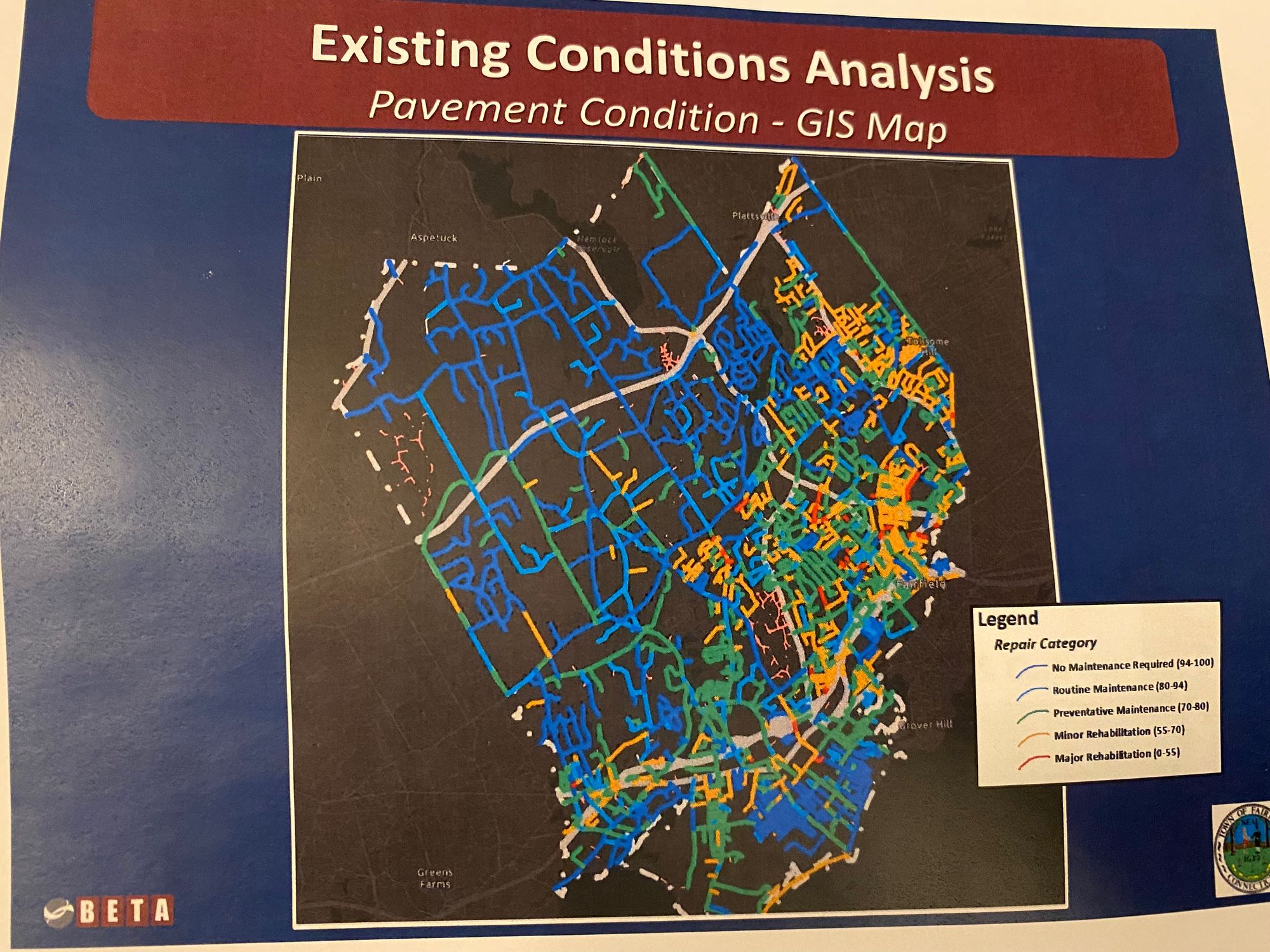 "What you find is generally highways and roads are the most valuable asset in any town, in any community, after the facilities at the Board of Education," John "Bucky" Marsilio, Fairfield's department of public works director, said. "And it's an asset that always, always get shortchanged. Why? Because you won't really notice it. You will notice it if you shortchange the Board of Ed $9 million, but if there's $2 million in the budget for paving, and you've got to close that gap, that's where you go."
This year, Darien decided to do no paving at all due to higher costs from inflation. Edward Gentile Jr., the town's director of public works, said that the cost of liquid asphalt, which is the base for making the asphalt that gets poured onto the roads, skyrocketed. In August 2020, the town paid about $430 a liquid ton for liquid asphalt. In August 2021, the price was $497 a liquid ton. That number was $512 a liquid ton in January 2022, and up to $730 for August 2022.
"It took basically 1.5 miles of roadway that I would have to eliminate from our paving program," Gentile said, because of the costs.
Instead of trying to get some done, Gentile has proposed delaying the paving program until April 2023. He's planning to use the school district's spring break to tackle the roads near the schools, and then complete as much as possible in the spring.  
"Whatever roads I'm going to lose off the list in April—I will push them as a priority for the usual July-August when the new funding comes in," he said. "It's probably going to take me a year to catch up."
In Westport, Peter Ratkiewich, director of the town's public works department, said he aims to pave about 10 miles of the town's 125 miles of road each year.
"Having said that, we don't always get 10 miles of road," he said. "Right now, the economy is changing things because the price of paving has gone up, so we get less miles for the dollars."
He recalled in 2007-2008, at the heart of the Great Recession, the town was only able to pave three miles of road that year.
"We paid the price for it," he said. "In 2008, when we only did the three miles, it probably took about seven years to catch up to on as far as the overall condition index (of the roads in town.)"
Utility Companies—A Double Edged Sword
Nothing is more frustrating for local officials and residents when utility companies—water, gas, electric—announce they're doing work on their utilities that requires digging up the local roads, particularly those that have been recently paved.
"We're very, very reluctant to release any more than a year, maybe two because, you know, we're hostage to the utility companies, if they come in and they begin a program," said Marsilio, the public works director in Fairfield.
That's why local officials said they try to communicate with the utility companies as much as possible to avoid that situation. Marisilo said that they try to communicate their paving plan to the utility companies about a year in advance. In Darien, Gentile said that they've been relatively successful in communicating their paving plans with companies like Aquarion and Eversource, and try to get them to "schedule their work on roads that are reaching their anniversary date, not going to a road that was just paved four years ago."
He said they've actually been able to slightly increase their paving, thanks to the contributions utility companies are required to give to the municipality to pave over the roads.
Other Limitations
The amount of paving a community can do is also limited by seasons. In Connecticut, the paving season runs from about March to November, because once temperatures drop, it's no longer possible to pave. If it's too hot, that can also be a challenge. Ratkiewich said his department limits their paving work in July and August.
"In the middle of the summer, it's really difficult to get it to cool, so you would do more parking lots that you can close, so you can just let it sit there and cool off, rather than roadways that people need to drive on immediately," he said.
The weather also plays a huge factor on the road conditions themselves.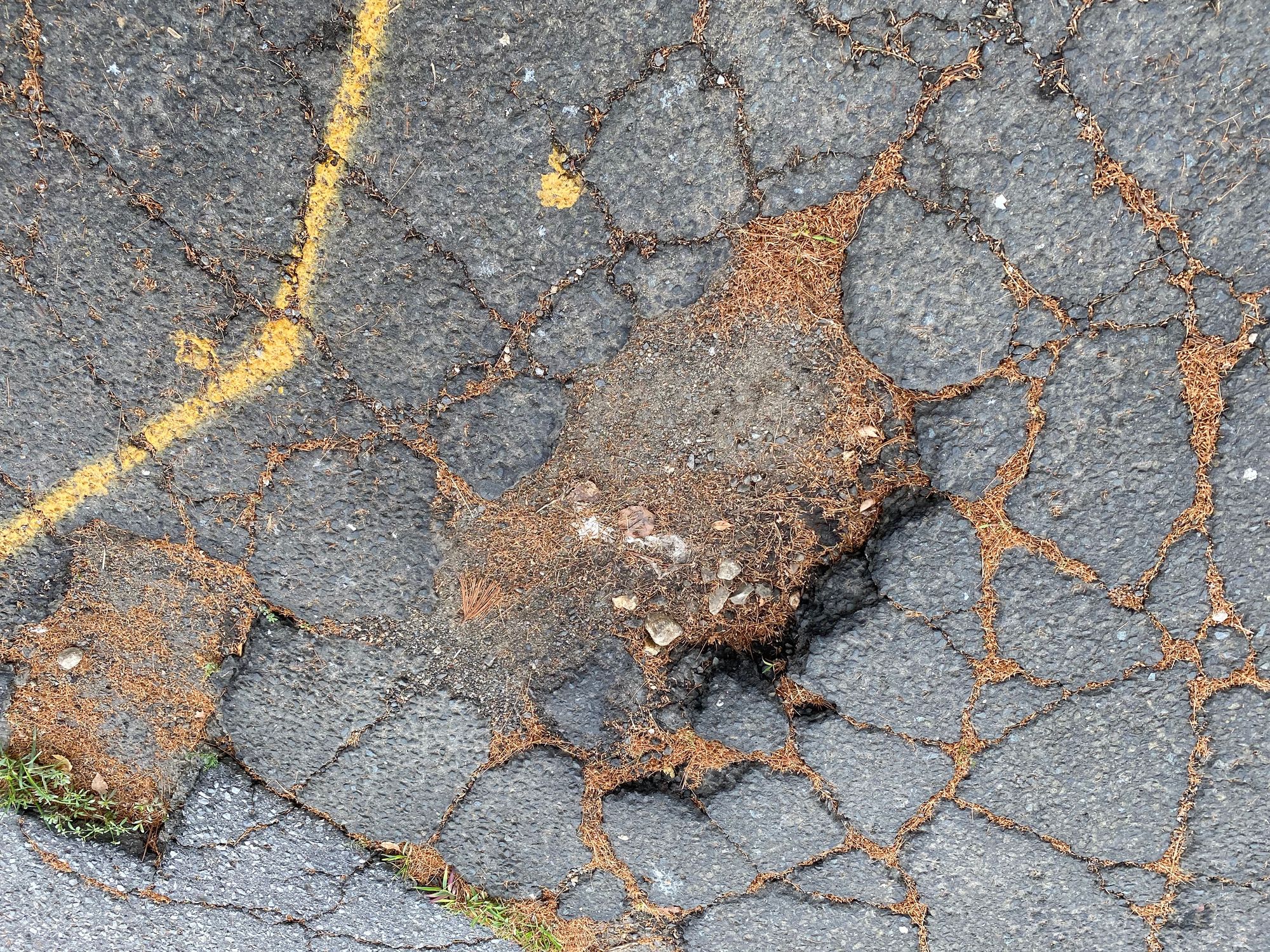 "The freeze–thaw cycle is the principal cause of potholes," Marsilio said. "The colder the winter, the deeper the frost gets into the ground, the more and deeper potholes you're going to have."
Increased pressures on a roadway, such as repeated flooding, can also cause stress on the roadway, creating more damage and need for repairs.
"Because we live in the northeast, we get a lot of potholes, because as the rains come down, or as the snow melts, the water seeps into some of the cracks in the road, and then all of a sudden, the water refreezes, and it makes potholes," Norwalk Mayor Harry Rilling said. "So that's that's a problem and we have to have a 'pothole patrol patrol' go out and find the potholes and repave them or fill them in."
Getting Involved
Residents are encouraged to report roadway conditions to their municipality and participate in the process. Here's how you can in each community:
Greenwich
Residents can contact the town's highway and roadway maintenance department at 203-618-3001.
Stamford
Residents are encouraged to report a pothole or suggest roads that can be added to the paving list through FixIt Stamford.
Darien
Residents can contact the town's department of public works at 203-656-7346.
Norwalk
Residents can use the "click and request" program to submit pothole or other roadway questions/complaints.
Westport
Residents can contact the department of public works at 203-341-1120 or via email.
Fairfield
Residents can submit a request through the citizens' request for service portal.