Enterprise Reporting
Westport RTM Restores Funding for Wheels2U Service
Wheels2U Westport, which is run by the Norwalk Transit District, will continue to operate after the Westport RTM restored its funding.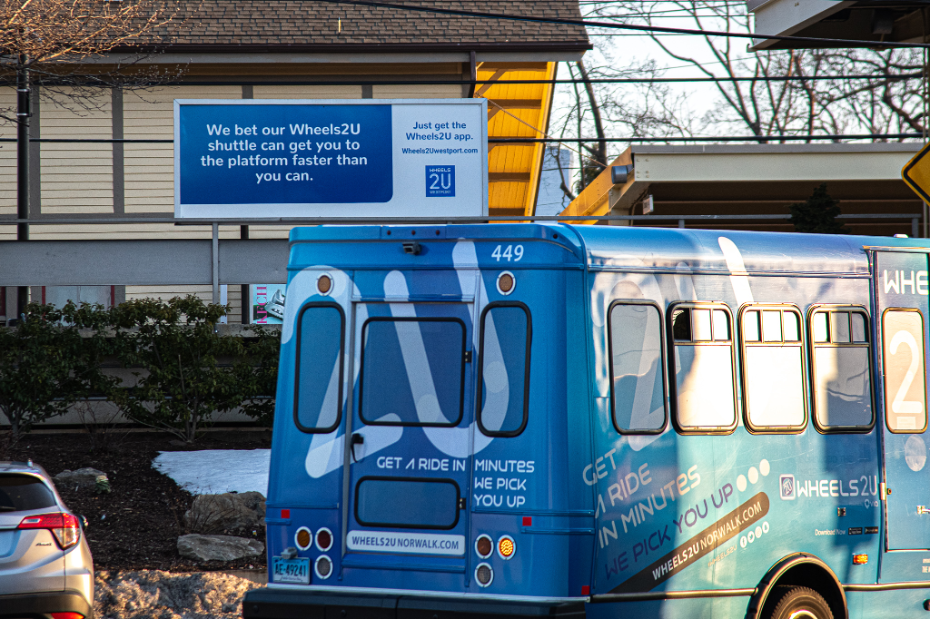 By a 33-1 vote, Westport's Representative Town Meeting (RTM) restored more than $290,000 to the Westport Transit District's budget for the upcoming fiscal year. The funding will allow the transit district to continue its Wheels2U, on-demand service, which takes riders to the two train stations in town and from the stations to other locations in Westport.
Peter Gold, a member of the RTM who also serves as the volunteer director of the Westport Transit District, thanked his fellow RTM members for restoring the funding, which was cut by the Board of Finance, as well as residents and business owners, more than 300 of whom wrote in support of the program.
"I want to extend my thanks to all those who wrote to the RTM in support of the restoration," Gold said in a statement. "Their emails really made it clear just how much the Wheels2U service means to all segments of the Westport population and to those who commute to work in Westport."
What is Wheels2U Westport?
Wheels2U Westport is an on-demand service that operates in Westport during the week and is run by the Norwalk Transit District, which supplies the vehicles, drivers, and administrative support. It runs from 5:45 a.m. to 10 a.m. in the morning and 4 p.m. to 9:30 p.m. at night Monday through Friday. The Wheels2U service replaced commuter shuttles that would drive a specific route around the town, whereas now through an app, residents can call a shuttle on-demand and it picks them up. The service costs riders $2 and the rest of the cost is subsidized through state and local funding.
Who uses Wheels2U Westport?
Many members of the RTM who spoke in support of the restoration said that they know the service is not just used by people who live in Westport to get to the train but also by reverse commuters who come to work in Westport and take Wheels2U to their jobs.
Julie Whamond, one of the newest members of the RTM, took Wheels2U to better understand it before voting on the restoration. She said she met an architect who commuted to Westport from Queens and didn't know how he would get to his job if the service was stopped.
Gold said that the service is on track to do more than 26,000 rides this year, which would surpass the 21,000 rides they were anticipating and more than the 18,000 rides from the previous year.
"It has a lot of benefits for everyone, users, the town, financial benefits," Gold said. "The good thing about the service is that the ridership has grown tremendously."
Even though the transit district also offers a separate service for those who are elderly and disabled, resident Diane Yormark noted that they also use Wheels2U to get around as it gives them more flexibility, since the other service requires at least 24 hours of notice. Yormark said her daughter has special needs and is moving back home and will need this type of service to get to and from her job.
"I really feel like we all take driving for granted," she said. "For people like my daughter, it's not the case."
Why did the Board of Finance cut funding to the Wheels2U program?
Board of Finance members, who have previously voted to cut funding to the program only for it to be restored by the RTM, said that the "business model isn't working."
"This is no longer an experiment; this thing has been going for 20 years," Board of Finance member Brian Stern said.
Stern was discussing commuter shuttles in general, as the transit district only switched to the on-demand Wheels2U program in 2020. He said that the objectives going into this were to help improve the environment and alleviate traffic.
"Improve the environment—that clearly has not happened," he said, adding that "we have buses carrying one person in them, 20 seats unoccupied, that is not environmentally sound. This experiment was supposed to improve traffic, it has not improved traffic at all."
"The idea of having a 'commuter to the station' bus service has failed," he said.
What's the future of Wheels2U and the Westport Transit District look like?
Some members of the RTM pushed back on those claims saying that the service has added riders, and that it's hard to increase ridership if the funding for even barebones service gets cut every year.
"We provide public transportation for the public good," said RTM member Dick Lowenstein. "There is no public transportation system in the country that operates at a profit."
Others, almost all of whom voted to support restoring the funding this year, said that they wanted a task force convened and/or a study done to better understand transportation needs in Westport.
RTM member Nancy Kail noted that there are pieces of legislation that would force the regionalization of transit districts, like Westport, in the future, so if they cut back now, that would leave them in a weaker position.
"I agree with you that the model needs to change—change is underway anyways whether we like it or not," she said. "I think we'll be much better positioned if we have a system in place to move forward in a way that Westport wants so that's one of the huge reasons that I supported Wheels2U."
Others voiced support for looking for ways to add services, like running minibus through town that teenagers and those without cars could use to get to their jobs, activities, etc.
"Opportunities to make it better, those opportunities exist," Gold said. "I'd be happy to take advantage of them but I need funding."
Gold also said that the district is exploring merging with either the Norwalk Transit District—which it already contracts with for its services—or the Greater Bridgeport Transit District. This would give the district about two seats on either governing board and allow them to vocalize their needs.
In the meantime, Norwalk Transit District is conducting an operational analysis of its routes and services, which Gold said will include Westport, so residents can voice their opinions there too.