Westport
Westport Leaders Unveil Proposed Budget
Westport First Selectwoman Jen Tooker and Superintendent Thomas Scarice gave the Board of Finance and members of the public their first look at the town's proposed budget for the 2022-23 fiscal year.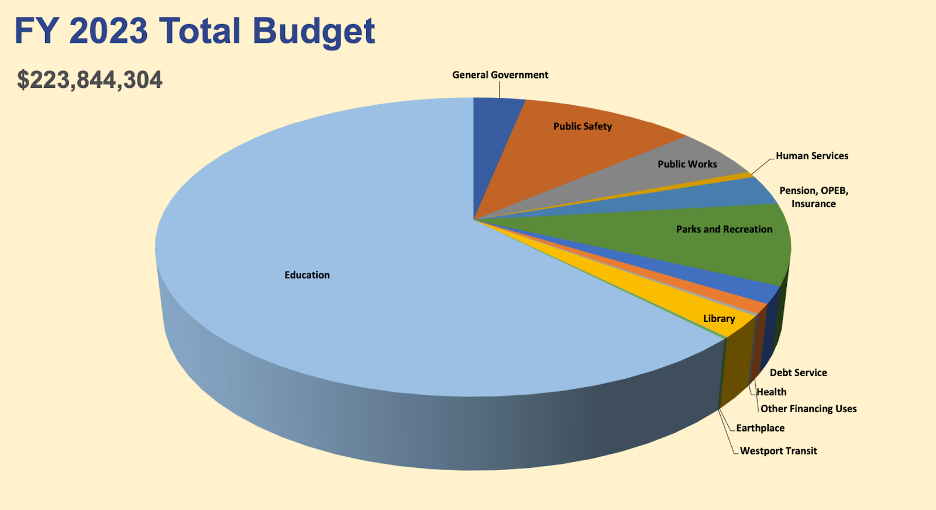 First Selectwoman Jen Tooker and Superintendent Thomas Scarice gave the Board of Finance and members of the public their first look at the town's proposed budget for the 2022-23 fiscal year.
Overall, the proposed budget for both the city and school district totals $223.8 million, with about 63% going to the school district, 34% going toward the town operations, and 3% going to "other funds," such as the library.
On the town side, Tooker proposed a $78 million budget, a 1.2% increase over last year. Of that, about 31% of the budget goes toward public safety, 25% goes toward pension and insurance needs, 16% goes towards public works, 9% goes toward parks and recreation, 9% goes toward general government, and the remainder covers human services, debt service, and other expenses.
Tooker said that the budget aimed to provide "a path for the future of Westport." She noted that the pandemic had changed so many aspects of people's lives—professionally, personally, mentally—and that the town would "not be returning to 2019." Instead, she said the focus of the budget is on adapting to those changes and investing in areas that could lead the town forward.
Tooker listed five key areas that the budget aimed to address:
Pedestrian safety and sidewalk improvements particularly to connect residents to the downtown and to their schools
Flooding mitigation strategies
Social and emotional well-being
Revitalizing the downtown
Upgrades to recreational facilities
Tooker particularly highlighted the work of Westport Together, an alliance "that unites Westport by strengthening the health and well-being of youth within our families, schools and community and nurtures positive youth development through advocacy, education, and enhanced community connections."
"Many of us are more vulnerable today than we were in 2019 for a variety of reasons," she said. "It's really important that we prioritize the social and emotional health of our residents."
Tooker noted that "delivering all these services" while also trying to be responsible to the taxpayers is a challenge, but she believed this budget focused on "productivity."
"We are keenly aware of external challenges," Tooker said. "We know we are trying to do a lot in a time of economic uncertainty."
On the school side, Superintendent Thomas Scarice presented a $130.3 million budget, or a 3.75% increase compared to last year. Board of Education Chair Lee Goldstein noted that they were expecting to have that increase go down slightly to 3.1% due to "health care savings realization," because they are switching health care providers, but they didn't have all these specifics just yet.
Scarice said the main increases driving the budget were:
Increased enrollment at the elementary school level due to families moving into town because of the COVID-19 pandemic
Addressing increasing special education needs
Contractual salary and benefit obligations
The district's priorities for the budget include:
Preserving positions related to mental health and supports
Preserving positions within the district's "instructional core"
Maintaining broad student course selection opportunities
Addressing technology replacement needs
Maintaining current services
Responding to the district's master plan facility study
Ensuring the safety and security of students and staff
Scarice noted that his administration has been analyzing programs for special education students to make sure they're working. He said that some newer programs have allowed the district to both save money and keep kids in their home school district. Still, he noted that the students' needs have increased.
"Not only is the number (of special education students) increasing, but the complexity is increasing," he said. "We have very, very complex learners coming to our school system."
Scarice also emphasized the need to continue to provide services to students who have been disproportionately impacted by the consequences of COVID-19.
"I don't think any demographic has been hit harder than kids," he said.
He also noted that he's heard from students that "they're tired of being a part of history," so he encouraged the community to continue to wrap its arms around their kids.
"There's no playbook for what we experienced," he said. "It's unfolding in front of us."
The Board of Finance will hold a public hearing on the Board of Education budget and also ask questions of the school officials on Thursday, March 10 at 7:30 p.m. The board will also hold a public hearing on the Board of Selectwomen's budget. They were initially scheduled for this week, but have been canceled for now.