Stamford
Stamford: Exploring West Main Street Bridge Options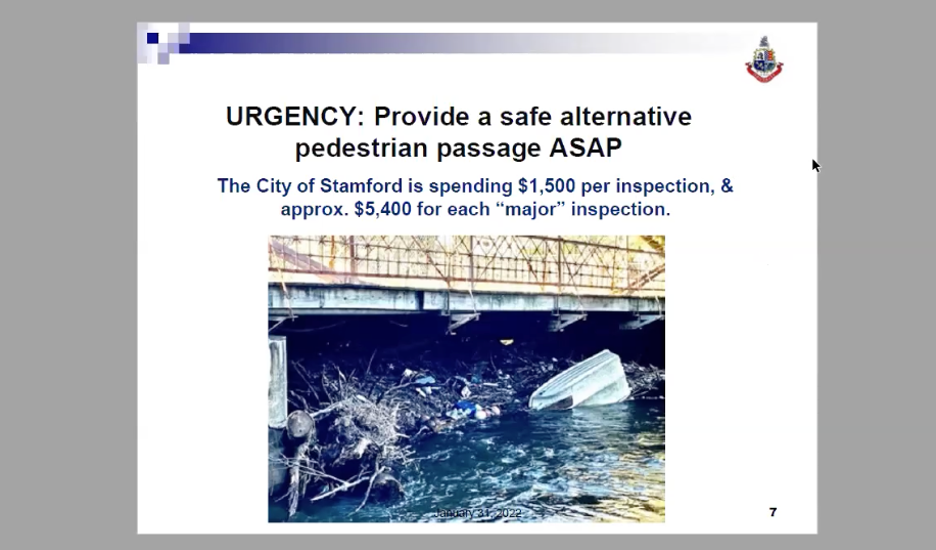 What are the options for reconstructing the existing—or building a new—West Main Street Bridge Project and what are the impacts of each plan? Finding out that information is the goal of a new proposed resolution of the Board of Representatives.
The hope is that by taking a fresh look at the options, putting all of the information together in one place, and hosting multiple community engagement sessions, the city can come up with a plan that works for the bridge and the neighbors who utilize it.
The Board of Reps' Operations Committee took another stab at writing a resolution calling the administration to create plans for the future of the bridge, which has been a controversial topic for years. The new resolution asks the administration to consider and provide information on four options for the future of the bridge:
Removal of the current bridge and replacement with a prefabricated pedestrian bridge without provision for preservation of the current bridge's historical elements.
Construction of a renovated/restored pedestrian bridge that would preserve historical elements of the current bridge with an option to also accommodate emergency vehicles.
Construction of a new pedestrian and vehicular bridge without provision for preservation of the current bridge's historical elements.
Construction of a pedestrian and vehicular bridge with provisions for restoration and/or renovation of the historical features of the current bridge.
For each of those options, the Board also calls on the administration to provide:
Cost and availability of grants/alternative funding sources
Time: Duration of construction
Public Safety, including consideration of street crime, pedestrian safety, and access to Stamford Hospital
Traffic Study: Analysis and impacts
Representative Susan Nabel, who helped draft the resolution that the Operations Committee passed at its meeting on January, said that this resolution aimed to "get us out of the quicksand," and "come up with a plan of action that we on the Board of Reps can endorse and help the city move forward."
Matthew Quinones, director of operations for the city and former president of the Board of Reps, said that the city is really invested in a community outreach plan to engage in "authentic discussions" around the bridge's future.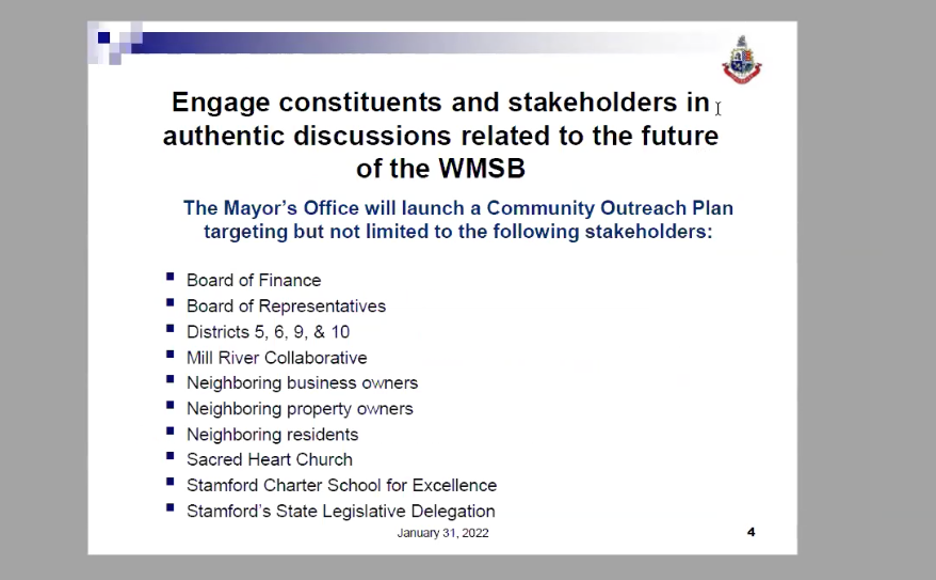 The bridge has been closed to vehicular traffic for many years due to "its unsafe condition," and is closed to pedestrians around storms for "fear of collapses."
The Board of Representatives will discuss this resolution and vote on adopting it at its Monday, Feb. 7 meeting. The city is still moving forward with the work to create a prefabricated pedestrian bridge to help "provide a safe alternative pedestrian passage ASAP," while discussions are ongoing. That project is seeking permitting and could get under construction later this summer, according to Quinones.