Stamford
Stamford: City Officials Investigate Allure Patio Deck Collapse; Representatives Raise Concern About Approval Process, Oversight
Stamford city officials are investigating what caused a patio deck to collapse at the Allure apartment building, while Board of Representatives members said that they would like the city's building approval processes to be examined.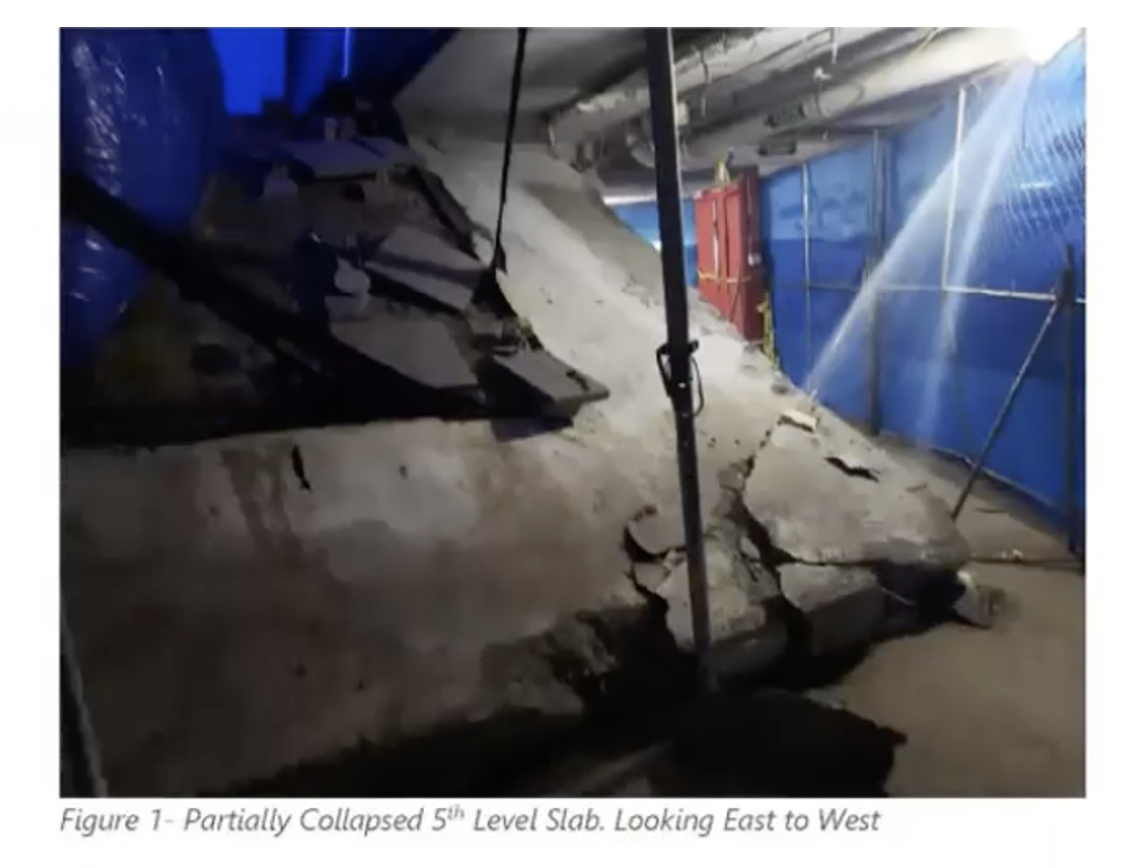 Investigations are ongoing into what caused the patio deck to collapse at the Allure apartment building, but preliminary findings show that the structure was not built exactly as it was designed, according to officials.
"Something was built differently than the design," Lou Casolo, the city engineer, said. "That's the kind of thing we want to know, that the owner wants to know, so this problem can be understood and remediated."
The collapse occurred at a part that had a "step," or a lower slab of concrete that was next to an upper slab of concrete. No one was injured in the collapse, which fell into the parking deck underneath.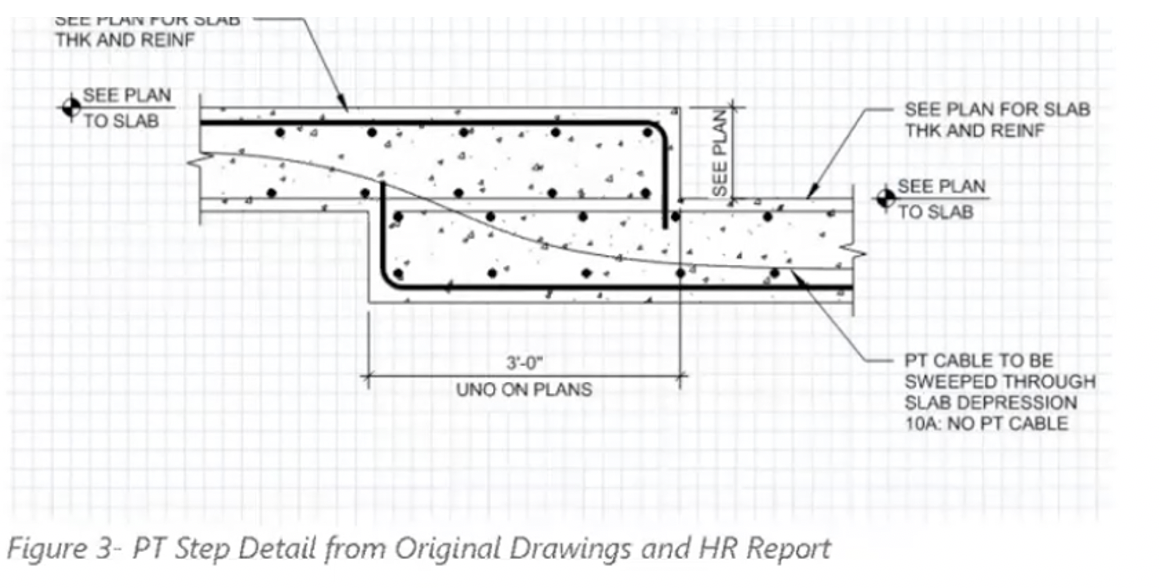 The design plans showed that there were supposed to be tension cables running all the way through both slabs, eventually connecting to the end of the building, according to John Cocca, an independent engineer hired by the city. However, in the part that collapsed those cables only ran through the lower slab and then stopped.
"The slab was not constructed the way that these details show for this step," he said.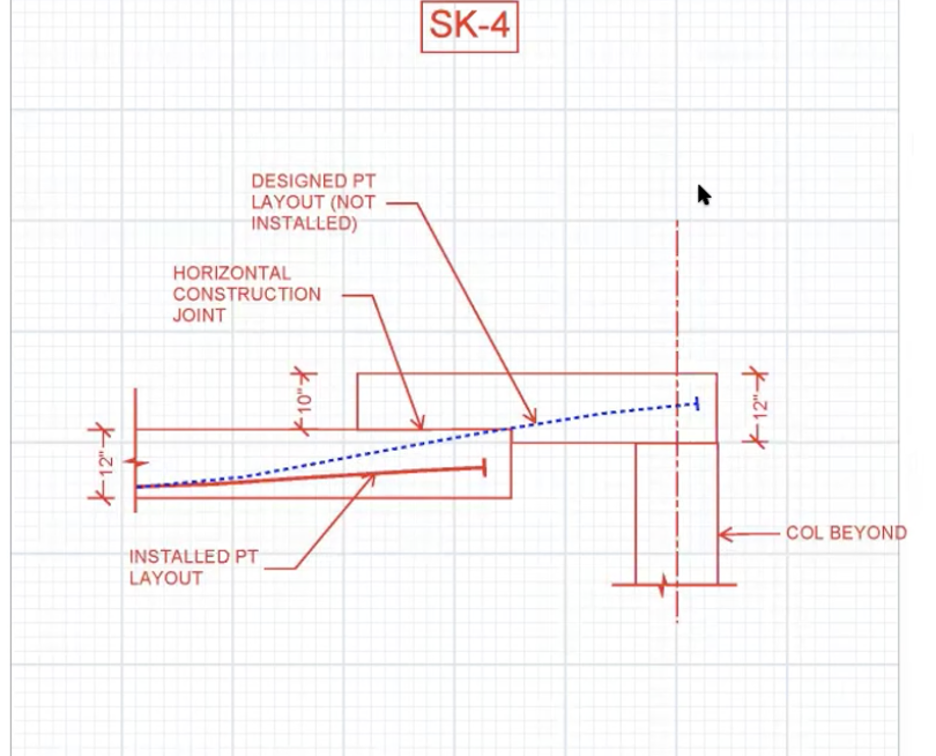 The blue dash line here shows how it should have been built, but the red diagonal lines shows what was actually done, Cocca said.
"Instead the tendons were stopped at the lower slab, and that's just not the way the structure was designed," he said.
Cocca did indicate that this was the only spot in the building where this type of "step in the slab" occurs, because there is a transition on that level that needed accommodations, such as waterproofing, making the step necessary. A letter from the building owner's engineer, Henderson and Rogers, also states that "the failed stepped slab condition within the interior bay is unique to this building and does not occur at any of the other Harbor Points P-block buildings."
Still, because there was an inspector on site, as according to the city's building code, something got missed.
"The 'as built' construction doesn't match the design drawings," Cocca said. "It seems that nobody caught that there was this discrepancy."
For now, the building owner, BLT, has added shoring materials around where the collapse occurred to make sure that the area remains safe.
City officials said that they're continuing to work with BLT, its engineering firm, and Cocca to understand what happened and determine what the next steps are. While representatives said they would like to see inspections at other properties built by BLT, Cocca said that, for now, his work is limited to what happened at Allure.
"We're looking into this collapse," he said. That will help "determine if there's a need to look at other properties," but right now, Cocca said "our scope is solely focused on the collapsed portion of Allure and not the other buildings that BLT has built."
Representative Terry Adams said that he was glad the city was responding in this way with an outside engineering firm to investigate.
"I look forward to (finding out) what was the problem with this and hope that they do forensic inspections on the other buildings to make sure that this problem doesn't repeat itself," he said. "It's a good thing no one got hurt."
Representative Bradley Bewkes called on the mayor to do more for the residents impacted by the collapse.
"I hope more attention is given to this—there's a lot of anxious families there that don't feel that they're getting information quickly," he said, adding that a town hall or more direct communication with them could help. "Anxiety is a serious thing."
Representative Bonnie Kim Campbell echoed that, stating that even though residents weren't physically hurt, they still could be affected by this.
"Although no one was hurt physically, I think we have people that have been affected emotionally," she said. "Somebody needs to check on people—we can't forget the human factor (which is) still a problem we're having in this city."
Examining the city's processes, other projects
Still, even with the city's response, members of the Board of Representatives expressed concerns about how this happened—a miscommunication, a mistake by the workers, an oversight by a building special inspector that's supposed to be on site, or something more?
They also have concerns because Allure isn't the only residential building in Stamford currently with issues. Residents of the Yale and Towne Lofts building have been asked to leave by the end of April due needed repairs after the property owners noticed the historic building was "settling." At first, in June 2021, Bharat Gami, the city's chief building officer, said that he was informed they were going to do some work in the building to address why it was settling, or sinking slightly into the ground, and find ways to "make the building stable." However, since then, the scope of work has increased, which is why residents have to leave.
Both buildings were initially built by Building and Land Technology (BLT), the largest property owner in Stamford—although BLT sold the Yale and Towne Lofts building in 2016. City building officials said that the two issues are separate, but representatives questioned if possibly there was something wrong with the process or if they should be taking a look at BLT properties in case others have issues.
BLT has developed, owned, operated, and managed numerous buildings in Stamford and other communities. The company is the developer and owner behind the Harbor Point developments, including Allure, Beacon, Escape, and NV @ Harbor Point, totaling more than 8.4 million square feet of mixed use development. BLT is also developing the "North Seven" area in Norwalk, behind the Merritt Seven office park, which includes The Curb and One Glover apartment complexes.
Other representatives noted how quickly BLT received its permits for this project after submitting its application. City officials said that usually major projects like this go through multiple pre-application reviews, so when the application is submitted, things can move quicker.
According to city officials, the application was officially filed on October 9, 2017 and the permit was issued on November 29, 2017. The building's final inspection passed on May 19, 2020 and then on August 20, 2020, the certificate of occupancy was issued.
Representatives noted that the city has been growing quickly and they haven't seen an issue like this, particularly with a newer building.
"I haven't heard, in our country, portions of new buildings collapsing within a few years of construction," said Representative Virgil de la Cruz. "That jumped at me."
"It makes me worried that there could be other problems in other buildings," Board Clerk Megan Cottrell added.
Bewkes said that they need to "make sure every part of our process is working" because in this case "something failed" and that's how this collapse happened.
Representative Nina Sherwood said that she hoped the city would use this situation to be proactive in inspecting both existing buildings and new construction to avoid that worst case scenario.
"We're really, really lucky no one got hurt," she said. "That's alarming, this is alarming. Had somebody gotten hurt, yes we would be doing the same things, (but there would be) a different sense of urgency that I don't sense. We need to really look at this and I think the city needs to be proactive."