Stamford
Stamford Weighs Allowing E-Scooters
The Stamford Board of Representatives' Transportation Committee is meeting on Tuesday, July 19 at 7 p.m. to continue this discussion.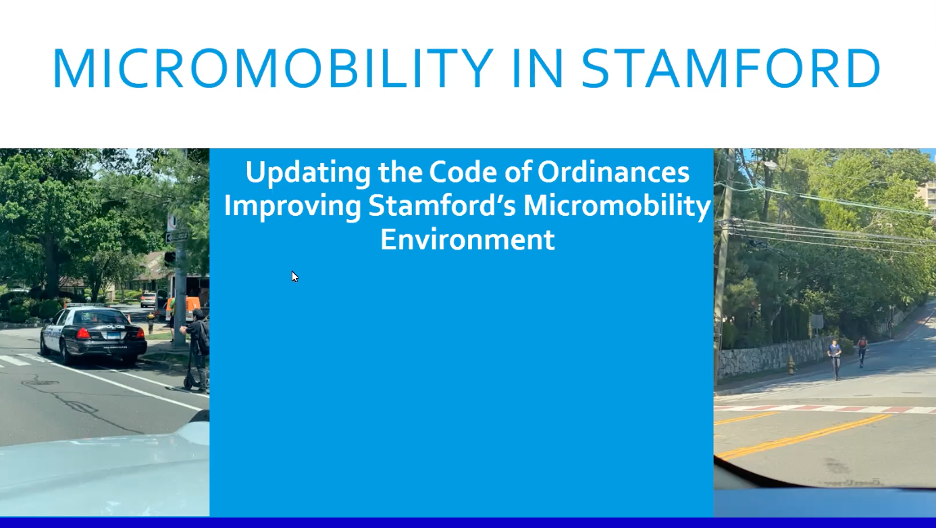 How do you get around Stamford—by car, bus, train, bike, foot?
The Transportation Committee of the Board of Representatives is weighing whether to allow e-scooters and other micromobility devices. The updates to the ordinance would clarify that "e-bikes and e-scooters are permitted to operate in Stamford," while continuing to prohibit "pocket bikes," such as minimotorcycles.
Representative Cara Gilbride, who co-sponsored the updates to the ordinance, said at the June Transportation Committee that "this isn't something going away."
"Users are growing rapidly," she said, noting that the goal was to "change the ordinance to create guidelines to keep users safe."
Luke Buttenwieser, who serves as a traffic analyst intern in the city's Department of Transportation, Traffic, & Parking, said that allowing these devices would improve access to public transportation and reduce vehicle dependency. He said these devices in particular are great for a "first, last mile tool," which describes how people get to and from public transportation hubs.
The devices would be allowed in the bike lanes throughout the city and not on the sidewalk to make sure that they aren't causing problems for pedestrians.
However, some representatives noted their concerns about cars and if these would cause more accidents on the roads.
Sgt. Jeffrey Booth, of the Stamford Police Department, said that they had a serious crash the previous month involving a scooter where the scooter t-boned a car and at least one person was seriously injured.
Representative David Watkins said that he had "some personal misgivings," about these devices, noting that there can be issues with pedestrians and issues with people who are disabled who might not see or hear them coming.
Others said they wanted to see the city have better bicycling and scooter infrastructure to protect both riders and cars.
Frank Petise, the city's bureau chief for transportation, traffic, and parking department, said that his department is working to create protected and separated bike lanes where possible, but that "takes money."
The committee will continue their discussion at its meeting on Tuesday, July 19 at 7 p.m.