Stamford
Stamford Mayor Outlines 'State of the City'
Infrastructure, the mental health crisis, and climate change were a few areas Stamford Mayor Caroline Simmons highlighted in her State of the City address in July.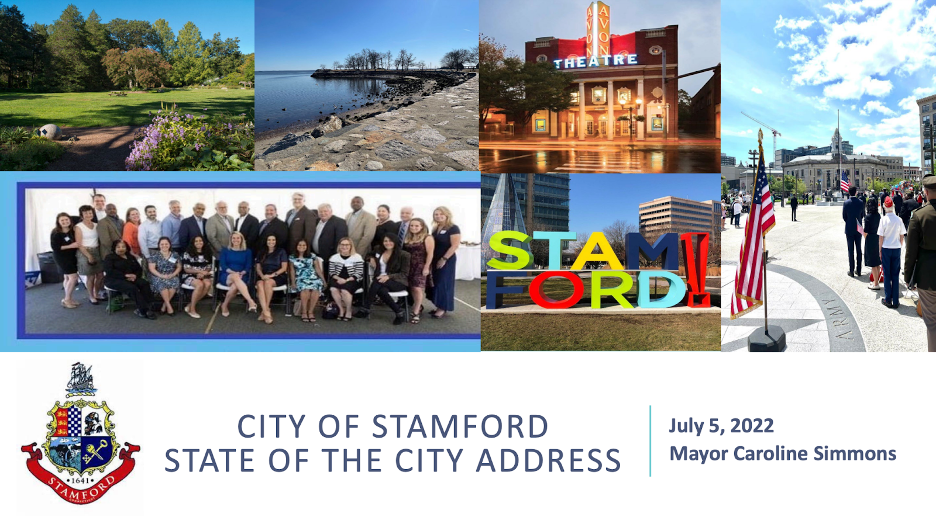 Investing in infrastructure, utilizing state and federal funds, and improving the city's technology and cybersecurity, were the key topics discussed in Mayor Caroline Simmons' State of the City this week.
Simmons was elected in November 2021 and was sworn in a few weeks later. One of her first tasks as mayor was proposing a budget. With some small alterations, the Board of Representatives and Board of Finance adopted a $626 million operating budget and a $59 million capital budget.
The budget "invests in essential services and community programs, commits to long-term fiscal sustainability, and supports public safety and road maintenance," she said.
It also included a $20 million capital reserve for school construction projects to help fund initiatives without having to borrow money.
Simmons said she wanted to note how "transformational and important this reserve is."
She also highlighted the additional funding the city allocated this year as a part of a "five-phase cybersecurity hardening project" that began in March. Three phases have been started, with the remaining two set to start in late summer.
"Cybersecurity is one of the top issues cities are facing," she said.
She said the budget invested in "key priorities," some of which include:
Advancing economic prosperity and making Stamford more affordable and equitable
Investing in the infrastructure and quality of life
Making government work better for residents.
State Support
In addition to city funding to make those priorities happen, she noted the city had received more than $15 million in state funding since she took office including:
$8 million+ for Atlantic Street, Summer Street, and Magee Avenue for road repair
$950,000 for brownfield remediation, which includes the removing or sealing off contamination within a property in order to use it again
$2.5 million work on the Stamford Museum and Nature Center Observatory and Northrop Field
$950,000 for renovations to the Palace Theatre
$2 million from the state's Open Space and Watershed Land Acquisition Grant Program
$2.5 million from the Connecticut Community Challenges Grant to support entrepreneurs and jobs in the South End
$2 million for renovations and upgrades at the Stamford High School Athletic fields
One of the biggest pieces of state funding the city received was for its schools. Stamford received an 80% reimbursement rate for the construction project at Westhill High School, up from the 20% school construction normally is reimbursed at, which means $206.4 million of funding for the project will come from the state.
The city, along with Norwalk, also received an increased reimbursement rate of 60% for all school construction projects going forward.
"We are very proud to increase the funding for our schools," she said. "This is really transformative."
Simmons noted that the city was able to accomplish this because it "had a plan ready" to invest in its schools.
Federal Funding
Simmons noted that it was an "historic time for our country and state" in terms of the federal funding available. So far, the city has been awarded the following federal grants since December 2021:
$1.8 million through the Outdoor Recreation Legacy Partnership Grant for Boccuzzi Park
$2 million for the Safe Routes to School program that aims to improve walkability and safety around schools
$45,000 from the Department of Agriculture to launch a pilot composting program at Bartlett Arboretum
$550,000 from the Department of Justice to add a social worker to the police department to respond to mental health crises
She noted her administration was "rigorously pursuing federal funding to support our infrastructure needs."
Mitigating Climate Change
One of the biggest initiatives of the Simmons' administration has been focusing on addressing climate change and its impacts. She's created the Mayor's Climate Council which focuses on "reducing our City's carbon footprint, creating more resilient infrastructure to mitigate the effects of climate change, and to launch sustainability initiatives."
One of the items the council has already worked to implement is an air quality monitoring system which aims to detect "where there's poor air quality and take action to improve health" for the residents, Simmons said.
She thanked the Board for approving funding in the budget for a city-wide storm drain study to help see where the trouble spots in the city were.
"Rising sea levels and storms like Hurricane Ida have put a burden on local residents," Simmons said.
The study will help the city "look at where the gaps are and where we need to make improvements."
Improving the Roadways
Simmons also highlighted the Pave Stamford Initiative, which aims to increase the amount of road paving and sidewalk work the city does each year. More than 40 roads have been identified as a part of the Tier 1 paving list for this year, and five schools—Newfield, Davenport, Northeast, Springdale, and Julia Stark—will receive sidewalk restorations this year.
"We know this is something that we all hear about from residents," Simmons said, adding that safe roads are a quality of life and public health issue.
More than 100 road paving requests have been submitted by residents since Pave Stamford was launched in March, Simmons noted.
Economic Goals
Simmons said they want to make sure Stamford "remains competitive" and "attracts jobs to the city."
She noted three initiatives the Office of Economic Development was doing to meet those goals:


Addressing the Mental Health Crisis
"Mental health is the top issue we hear about," Simmons said. That's part of why the city now has a Youth Mental Health Alliance, which is a collaboration between the city, Vita Partnership, nonprofits, and human service providers to "address the mental health issues facing Stamford youth."
In southwest Connecticut, many nonprofits and community organizations have been working to address the mental health crisis in the area.
The city has also created a mental health resource page that includes community resources for people in need.
"The mental health resource hub is the first step because we heard people say they don't know where to go for help," she said.
This is all in an effort to be more responsive to the needs of residents, Simmons said. The city has launched three "citizen service hubs" so far where she and members of her administration go into neighborhoods in the city, with the fourth coming up in the East Side later this month.
"The goal of these citizen service hubs is to bring government services directly into the community," she said.
The mayor is required by the city's charter to give a state of the city address to the Board of Representatives once a year.