Stamford
Stamford Education Committee Explores Long-Term Facilities Plan
Stamford Board of Reps members got an update on the school district's new facilities plan.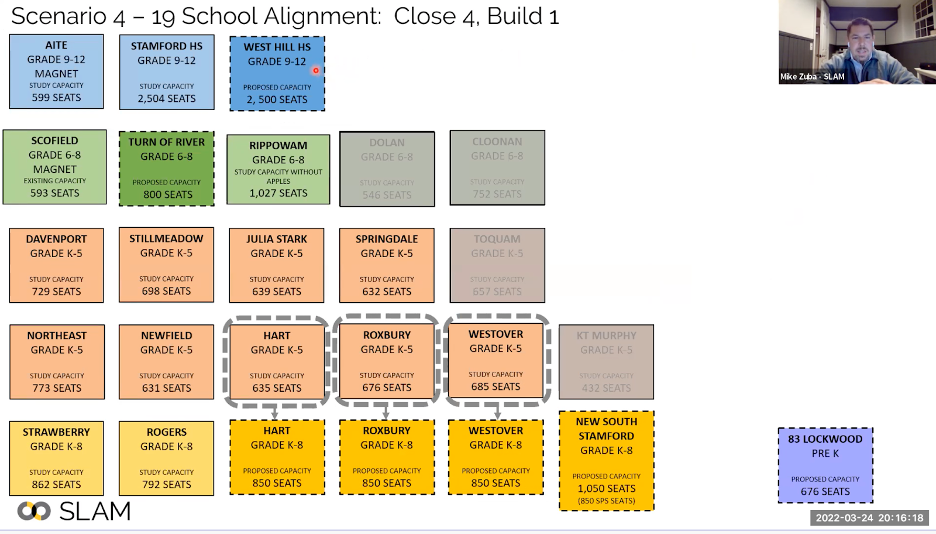 More than $660 million of facilities needs have been identified in the city's school district, according to the district's facilities master plan developed by SLAM Collaborative. Now that the needs have been identified, the next steps include prioritizing the projects, determining how many the city can do, and figuring out how to pay for them all.
That's why Megan Cottrell, chair of the Board of Representatives' Education Committee, had the consultants give her committee an in-depth presentation on the plans, describe the community feedback received so far, and detail possible next steps. Cottrell said that they needed to "make sure our branches of government communicate on this plan."
After the initial presentations in late February, the team has made a few changes including removing Cove Island Park as a potential site for a school after pushback from the community.
According to preliminary survey results from more than 560 respondents, community members said that the schools needed "updated technologies," "better climate control," and "greatly improved maintenance."
The survey noted that 71% of respondents said it was important for students to go to a school that's close to their home. Other survey responses included:
82% said that it was important temporary classrooms were replaced
95% said it was important that HVAC systems be upgraded at all schools
86% said it was important technology was updated
SLAM Collaborative said it intends to use that feedback to help as it continues its work of prioritizing needs and helping the district determine what can be done and when.
Plan Highlights
The most notable part of the plan calls for closing four schools and building one new one, along with major improvements at Westhill High School and Turn of River Middle School.
Dolan and Cloonan middle schools would be closed, along with Toquam and KT Murphy elementary schools. Hart, Roxbury, and Westover would be transformed from K-5 schools into K-8 schools, and Hart and Westover would become intradistrict magnet schools. There would be a new 1,050 seat South Stamford school, which would be an interdistrict school—meaning that 25% of the seats would go to students outside of Stamford.
That South Stamford school would then be eligible for an increased reimbursement from the state, which could cover up to 80% of the project.
This realignment would help address some schools that were underutilized and some that were overutilized, while also taking schools offline that needed substantial work, Kemp Mohardt and his team from SLAM Collaborative described.
The plan has identified more than $660 million in facilities needs. Mohardt estimated that the city could bond about $300 million over 10 years to help pay for these projects. How to cover the rest is still a work in progress. The city is working with its state legislative delegation to get the state to reimburse as many of the projects as possible, and city staff members are also working to identify other potential sources of funding.
Cottrell raised some concerns about this, particularly the rate for Westhill High School.
"I'm not understanding how we're going to get that money for Westhill," she said. "I'm concerned we're focusing on the 'best' solution."
Cindy Grafstein, who works for the city as a part of the Stamford Asset Management Group, noted that Westhill would be discussed this legislative session as a part of the state school priority list—which details what projects are eligible for construction reimbursement—so they could find out about funding soon.
"It's certainly possible that we know in the next couple of months," she said. "We understand that we need to let this play out particularly with Westhill."
After the district finds out that information, it can better determine what work can be done, how much of it will be paid for locally, and if they need to make adjustments, she said.
This week, on Tuesday, March 29 at 6:30 p.m., the Planning Board at 6:30 p.m. will receive that presentation and have a chance to ask questions about the proposal.