Stamford
Stamford Board of Reps to Consider Resolution Calling for Speed Cameras Near Schools
The Board of Representatives will consider a resolution calling on the state to allow Stamford and other municipalities to use automated speed safety cameras.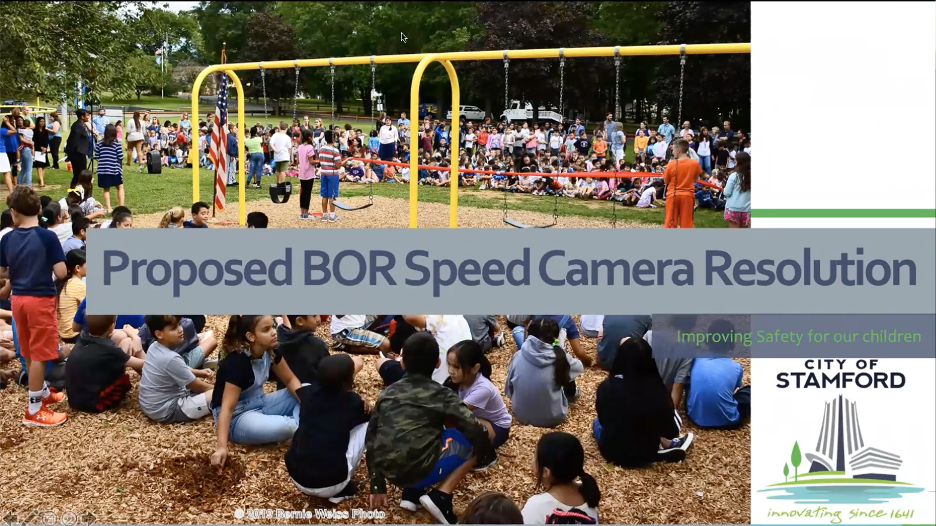 Representative Jonathan Jacobson, from District 12, told the Board's State and Commerce Committee in June that speeding was "the most pressing issue in my neighborhood."
That's part of why Jacobson and more than half of the 40 members of the Board of Representatives have drafted a resolution calling on the state to allow local municipalities to use speed cameras near schools. The resolution passed the Board's State and Commerce Committee unanimously and will be in front of the full board at its Tuesday, July 5 meeting.
The resolution calls on the state legislature to "enact a statewide law permitting the use of automated speed safety cameras within a reasonable distance of school property."
Ted Jankowski, the city's director of public safety, health and welfare, said that currently there's no law authorizing automated speed enforcement cameras, which are those that take pictures of cars going over the speed limit in certain areas—usually marked by a "photo enforced" sign.
There is a pilot program to test them out in work zones to help protect construction workers along state highways, but that would be the first use of the automated enforcement cameras, Jankowski said.
"We should similarly be looking to protect our teachers and children," Jacobson said.
He cited the pilot program as one reason why he thinks "the time is right" for Stamford to pass this resolution and "continue our role as leaders in the state."
He said that he expected "a big push" from Stamford and other municipalities in the next legislative session to call on lawmakers to allow for these cameras to be used, particularly near schools. Jacobson also noted that there are "billions of dollars" for speeding camera enforcement in the infrastructure bill that President Joe Biden signed in November 2021.
"I believe now is the time to take action," he said.
Frank Petise, the city's bureau chief for transportation, traffic, and parking department, said that his department is "always looking to make the streets safer."
"Studies show that speed cameras do lower speed," he said.
Across the country, there is a "traffic fatality pandemic," according to Luke Buttenwieser, who serves as a traffic analyst intern in the city's Department of Transportation, Traffic, & Parking.
Almost 43,000 people died in traffic fatalities nationwide in 2021—a 16-year high—up from 36,096 just two years before in 2019, Buttenwieser said. Pedestrian fatalities were up 13% in 2021 and fatalities in speeding-related crashes were also up 5%.

"We are going down a bad road in terms of roadway safety in America," Buttenwieser said, adding that it was a "saddening and distressing high this last year" in terms of roadway fatalities.
The state also saw a 31% increase in traffic fatalities from 2019 to 2021, with 327 deaths in 2021 compared to 249 in 2019.
While overall crashes in 2021 have declined in Stamford, from more than 4,400 in 2019 to more than 3,600 in 2021, the percentage involving injuries has ticked up to 20% of accidents in 2021.
"That is rising and that is something we all want to try to reduce and that's why we're here today," Jankowski said.

In 2021, there were at least 10 crashes within .25 miles of a school that involved a pedestrian. Across the city, more than 5,000 students walk to school, Jankowski said.
The full board will vote on the resolution on Tuesday, July 5 at 8 p.m.