Election
Preparing for Primary Day 2022 in Connecticut
Before you head to the polls on Tuesday, August 9, check out our overview of Primary Day in Connecticut.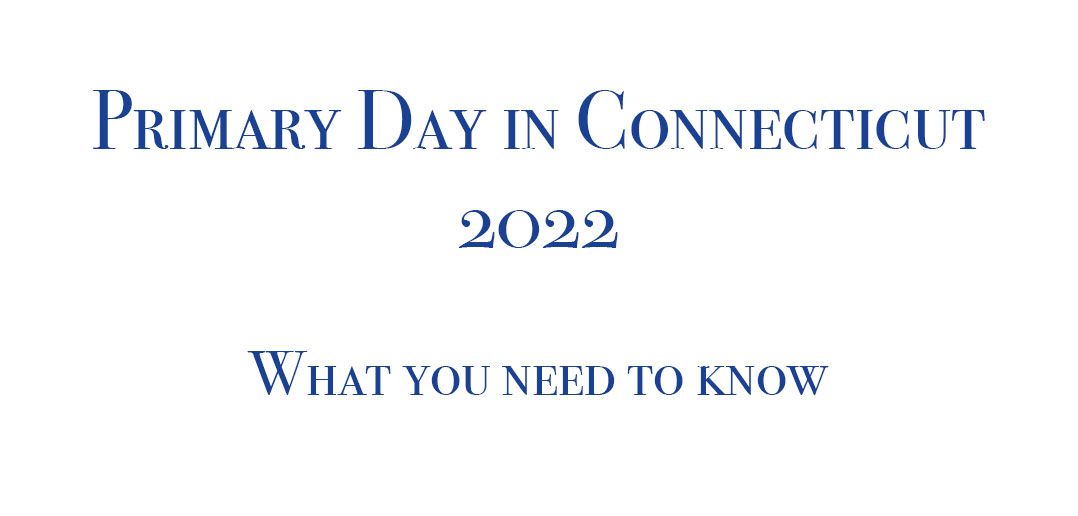 On Tuesday, August 9, registered voters (with either the Republican or Democratic Party) can vote in primaries for federal and state elections. Let's answer some of your questions about the day.
Am I eligible to vote?
In order to vote on Tuesday, August 9, you must be a registered Republican or Democrat and then you can vote in your party's primary. There is no same-day registration in Connecticut for a primary election and unaffiliated voters cannot vote in primaries.
What races can I vote in?
The biggest question—and the most complicated one—which races are on the ballot this Tuesday. Let's explore the federal and state races.
Federal
Republican voters will vote on which candidate they want to face U.S. Senator Richard Blumenthal (a Democrat) in the fall. There are three candidates on the ballot:
Themis Klarides, of Madison. Klarides is an attorney who served in the State House of Representatives for more than 20 years, including as House Minority Leader from 2015 to 2021. She was the highest ranking woman in the state legislature at that time.
Leora R. Levy, of Greenwich. Levy is a businesswoman and philanthropist who was nominated as an ambassador to Chile by former President Donald Trump. Levy was endorsed by Trump.
Peter Lumaj, of Fairfield. Lumaj is an immigration and real estate lawyer.
CT Mirror has done extensive coverage on this race.
Republican voters in Congressional District 4 (which includes all of the communities in our coverage area) will also decide who they want to face off against U.S. Representative Jim Himes (a Democrat) in November. The candidates are:
Jayme Stevenson, of Darien. Stevenson served as the First Selectwoman of Darien for more than 10 years.
Michael Ted Goldstein, of Greenwich. Goldstein is a physician.
State
Republican and Democratic voters will both get to choose their candidates for Secretary of State.
The Democratic candidates are:
Stephanie Thomas, of Norwalk. Thomas is currently a state representative for the 143rd district, which includes Norwalk, Wilton, and Westport.
Maritza Bond, of New Haven. Bond currently serves as the director of health for New Haven.
The Republican candidates are:
Dominic Rapini, of Branford. Rapini works for Apple's Consumer Electronics Division and coaches Pop Warner football.
Terrie E. Wood, of Darien. Wood currently serves as a state representative for the 141st district, which includes parts of Norwalk and Darien.
Learn more about the race from CT Mirror.
Democratic voters will also choose who they want as a candidate for State Treasurer. Their candidate will face off against Harry Arora in the fall.
The candidates are:
Erick Russell, of New Haven. Russell is a partner in the Government Finance Department at the law firm Pullman & Comley.
Dita Bhargava, of Greenwich. Bhargava serves as the Chief Operating Officer of Catalan Investments and is the former vice chair of the CT Democratic Party.
Karen DuBois-Walton, of New Haven. Dubois-Walton has worked as the chief administrative officer and chief of staff to the mayor of New Haven, before leading the New Haven Housing Authority.
Learn more about the race from CT Mirror.
Here's a full list of the Democratic candidates on the ballot in communities across the state and here's a full list of the Republican candidates on the ballot across the state.
When can I vote?
Polls will be open on Tuesday, August 9 from 6 a.m. until 8 p.m.
Where can I vote?
That depends on where you live. Here are links to information about your polling place by municipality.
Please note: Ahead of the 2022 General Election in November, Coastal Connecticut Times will be putting together a Voters Guide based on questions you have. If you want to get an early jump on participating, please email us at coastalconnecticutimes@gmail.com