Enterprise Reporting
Millennial and Gen Z Residents Speak Up Across Southwest Connecticut
We've attended and listened to multiple meetings from around the region over the past few weeks and noticed a trend—more younger residents attending and speaking out. Here's what they had to say.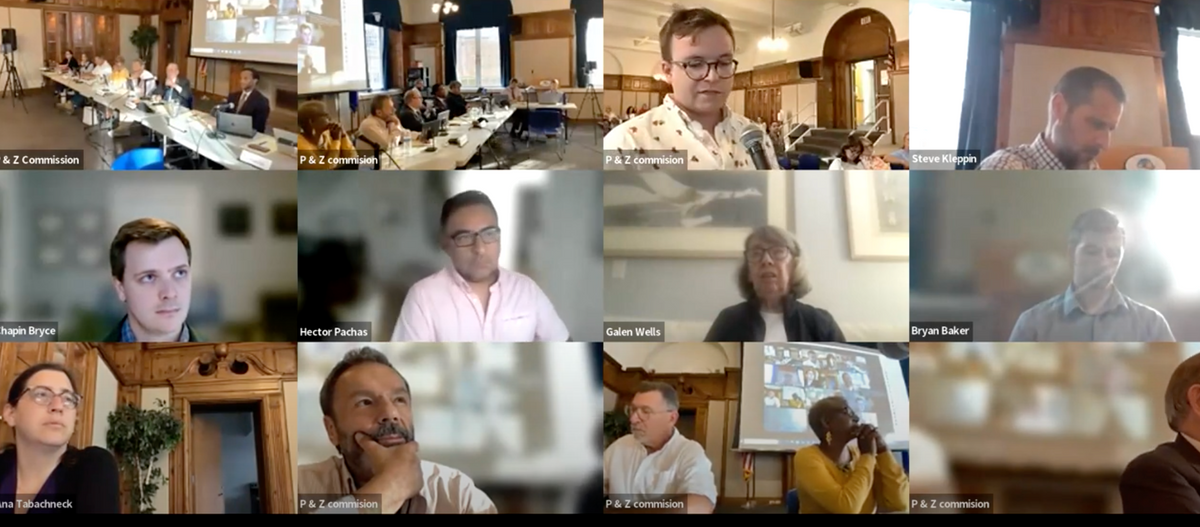 Over the past few weeks, we've noticed a trend at meetings across the region—more residents between the ages of 20 and 40 were speaking up at public hearings and local board meetings.
Across southwest Connecticut, there are more than 97,000 residents in this demographic in southwest Connecticut, according to 2021 data from the American Community Survey. The populations vary across the region, as Stamford has 42,344 residents between the ages of 20-40, or about 31.3% of the city's population, as of 2021. In Norwalk, there are 25,375 residents between the ages of 20-40, or about 27.8% of the city's population.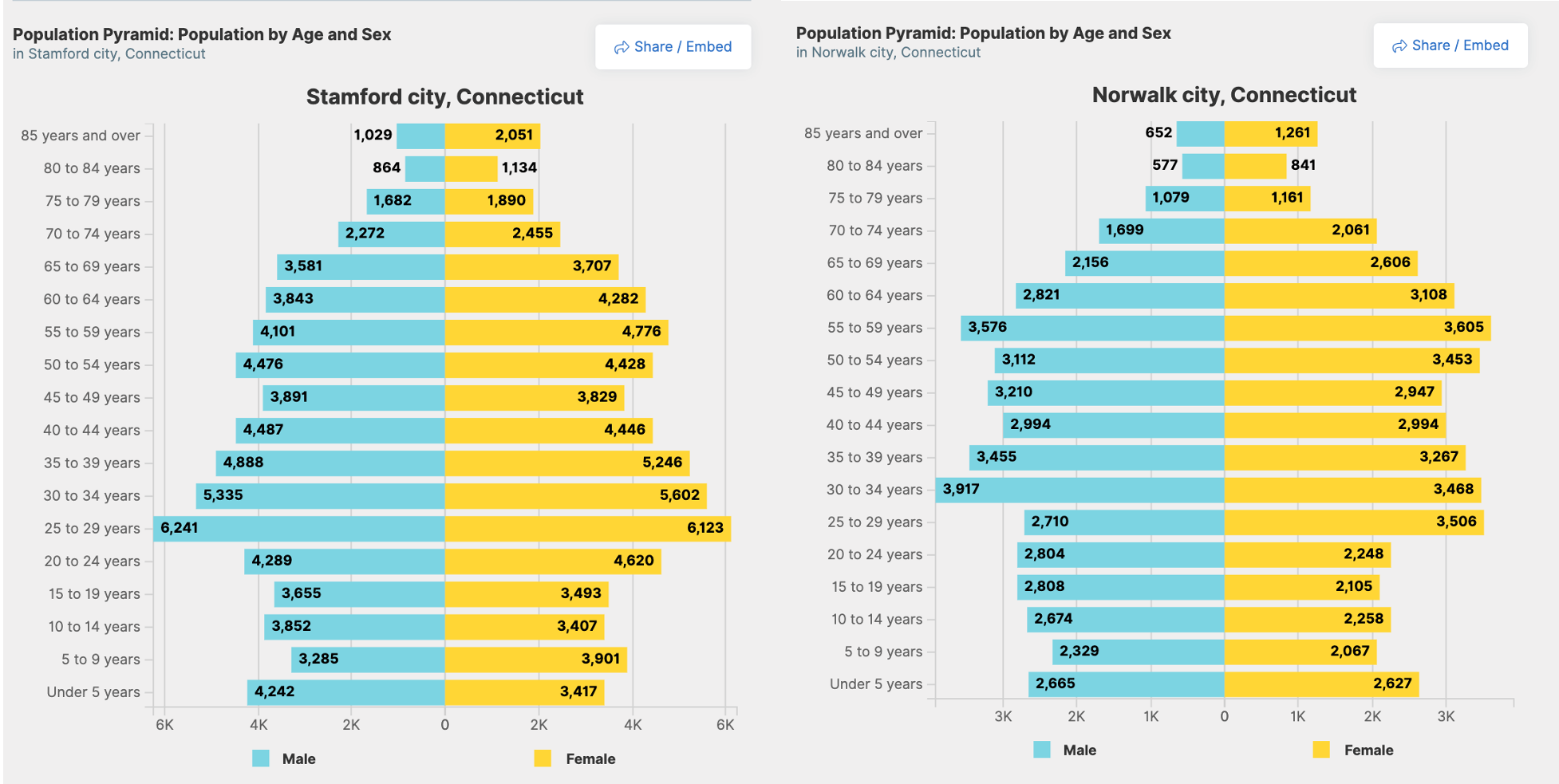 In Westport, there are just 3,322 residents in this age group or just 12% of the town's population. In Darien, there are 3,327 in this age group, or 15% of the town's population.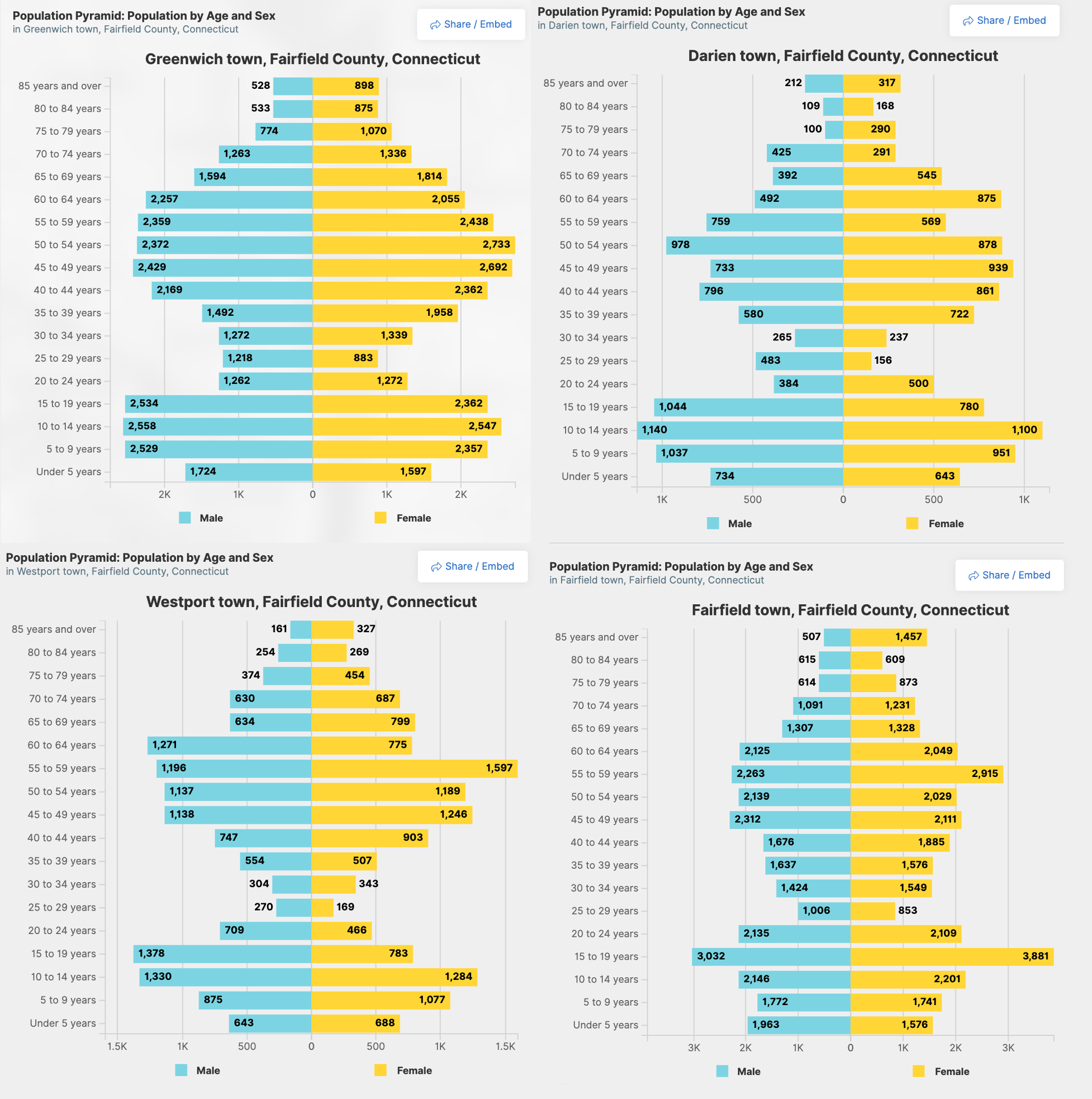 Often times these residents and their perspectives aren't represented at local government meetings, something Norwalk resident Tanner Thompson, who also is the chair of the city's Bike/Walk Commission, highlighted when he spoke at the June 21 Planning and Zoning Commission hearing.
"I am trying to speak on behalf of a demographic that is a little bit underrepresented in this room and that's young people," Thompson said, adding that there are many residents in the city who like him—he's 29—are under 40 years old. "I would ask you rhetorically, how many of the people in this room are under 40?"  
Norwalk resident Steve Alquesta, who spoke at the June 28 Planning and Zoning Commission hearing, noted that meetings can be challenging for young parents and professionals to make.
"They may have to work multiple jobs, they may have children to take care of. It's hard even for someone my age to get out of work and get to a meeting at 6 o'clock," Alquesta, who said he was 37. "So I would ask the members of the board to take that into consideration."
But over the past few weeks, more residents in this demographic have been speaking at local meetings, sharing what issues matter to them, such as housing, environmental sustainability, inclusiveness, and transportation, as well as what their vision is for their community.
Housing Cost and Access
The biggest issue that many younger residents spoke about was housing. More than a dozen across the region said that they are concerned with the lack of housing options available around the region—particularly home ownership opportunities for those around their age.
"I feel like it's difficult for folks in my generation to afford a place to live," Alquesta said. "Housing prices have risen so much, I think primarily due to the lack of housing supply."
In Stamford, proposed changes to the city's charter have been at the heart of a lot of controversy, which spurred some younger residents to speak out.  
Some background on the Stamford charter: The initial proposal called for a variety of revisions, but one that related to housing was changing the requirements to file a petition against a proposed development. Currently in Stamford, residents can gather signatures of landowners in the area around the development and petition the Board of Representatives to appeal the approval for a new development. The proposed revisions initially called for changing that to allow for 300 landowners citywide to be enough to petition a development. However, as CT Mirror reported on June 23, Stamford Mayor Caroline Simmons advocated for—and was successful in—getting language added to the state bond bill that barred this from going into effect. While many residents were against this move from the mayor, some of the younger residents said they wanted to see the city's growth continue.
Brett Hillsberg, a Stamford resident, argued that the city's proposed charter revisions would hinder its growth, particularly not building enough housing. Hillsberg said that he started working in Stamford nine years ago, and has lived there for five.
"Since then the city has grown and changed so much for the better. I'd like to see it continue to grow and change with me in it," he said. "Now these charter changes are threatening what got us to this incredible position in the first place....We can't attract more businesses and people if we don't have enough housing to keep up with demand."
Across Connecticut, home prices have risen dramatically over the past few years. Chris Giolitto,  a realtor with William Raveis based in Norwalk who works with a lot of first-time homebuyers, said that he's seen this play out on the ground.
"I have clients that are in that age group that can't find anything that they feel like they have a chance to [make an] offer on because of where the price is going to go," he said. "It's very hard right now, it's borderline impossible to find a $500,000-$550,000 that's pretty much move-in ready."
Giolitto showed using the company's calculator that the median sales price for a single-family home in Norwalk in June 2023 was $660,000. In May/June of 2020, the sale prices were in the mid to high $400,000 range.
Paul Fox also spoke up at the June 21st Planning and Zoning Commision's public hearing. Fox, who lives in Norwalk, said that he believes there's a need for "affordable, walkable housing in Norwalk," particularly due to the price increase that Giolitto showed.
"I would really like to be able to afford a house in Norwalk someday and if things continue as they have been, that's never going to happen," he said. "There is definitely a huge shortage of housing in Connecticut, not just in Norwalk, but especially in Norwalk and prices have just become ridiculous as a result. But I think that the commission should really consider the dire need for walkable affordable development in Norwalk."
Many said that they wanted to see their local governments do what they could to help increase housing, particularly "missing middle housing," like duplexes, and provide housing that is close to public transit.
"I've been renting an apartment in South Norwalk for almost 3 years and I would love to own property and start a family here in Norwalk, but as we discussed it's a challenge to find affordable housing," said Norwalk resident Emily Burnaman, who noted that she grew up in Norwalk and moved back. "I believe the proposed zoning updates would help people in situations like mine to find more affordable housing and improve walkability and access to public transit that I personally rely on."
Desirable Neighborhoods
Not all residents in this demographic, however, agreed with adding more housing. Some focused on why people choose where they want to live. Meredith Doyle, who said she and her husband were first-time home buyers in Norwalk, noted that they specifically sought out a single-family home after renting in Brooklyn and then Norwalk.
"I don't agree with the neighborhood that we moved into—and I'm sure very many others that you've identified—as being changed from single to two-family," she said at the June 21 public hearing in Norwalk. "We specifically sought out this neighborhood and single-family neighborhoods because we wanted to grow our family and also wanted to have open space."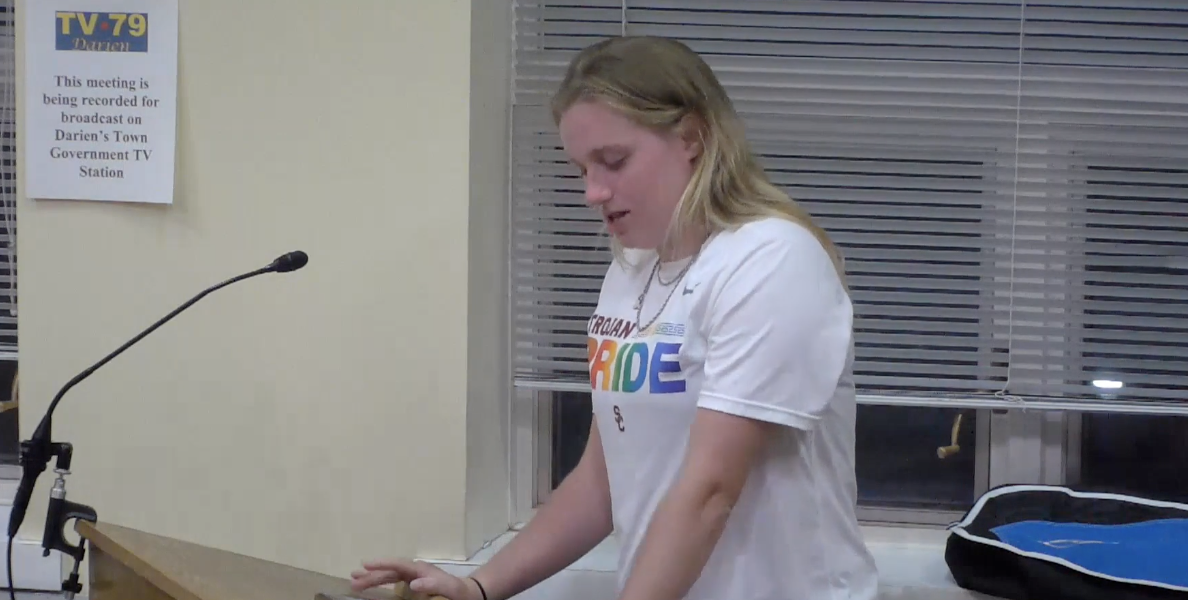 Inclusive Communities
But even in the communities with smaller percentages of these residents, they've also seen some local millennial and Gen Z residents attend and speak out at local meetings.
In June in Darien, residents asked the town to raise the Pride flag, calling on the town's leadership to help show support for members of the LGBTQ+ community.
Maggie Ramsay, who is 19 and a rising sophomore at the University of Southern California, said that she's been an active member of her community, through playing lacrosse and soccer and now interning at the Darien Community Fund.  
"I'm not telling you these things to brag," Ramsay told the Board of Selectmen in June. "I'm telling you these things so that you have an understanding that queer people like myself are not a small irrelevant group of people who do not contribute to this community, but people who should be recognized and valued for their contributions to a society that has never celebrated their existence."
Ramsay said that she experienced hate for being part of the LGBTQ community while in school in Darien, and wanted to speak out so other youth didn't have to go through it.
"While I was in high school, I was slurred, pushed, shoved, had a can thrown at my head, a drink splashed in my face, and even parents who told their kids that they couldn't be friends with me anymore," she said. "Our town made it hard for me to live, let alone thrive."
She wanted to see her community take strides to being more inclusive and raising the Pride flag at town hall was a small way to do that.
"Not flying the Pride flag sends a message to our LGTBQ+ youth that they do not matter, that their identity and place in society does not matter. Maybe they matter in these other towns, but they don't matter here," Ramsay said.
Sophie Howard, who said she graduated from Darien High School in 2020 said that she too experienced discrimination for being a member of the LGBTQ+ community.
"Even if you do not come out publicly, you are in danger when you are queer," she said. "If you decide to be yourself, if you decide to be happy in your body, if you decide to show people the inner you that you think is so beautiful, if you decide to dye your hair red, decide to wear a rainbow, decide to dress a little too gay you are immediately in danger."
Howard said that a way to address this is to normalize being LGBTQ through actions, like flying the Pride flag.
Stamford resident Zachary Oberholtzer said at a public hearing on the city's charter revision that he wanted the city to do away with its petition process entirely, which allows for residents near a proposed development to, if they get enough signatures from property owners, petition and appeal the development.
"Stamford must eliminate its petition process," he said. "The petition process was put in place in the early 1950s to perpetuate and maintain racial segregation. The petition process is meant to limit both the number of multifamily units in the city and restrict their locations."
He added, "It is disturbing to me that the preferred tool this board reaches for is exclusion time and time again.
Safer Streets for Bicyclists and Pedestrians
Traffic is also a problem raised by younger residents and studies have found that they are also driving less than the older generations. The Washington Post reported that, based on data from the Federal Highway Administration, 60 percent of 18-year-olds had a driver's license in 2021, which is down from 80 percent in 1983.
Those who spoke out said that they'd like to see better pedestrian and bicycle infrastructure so residents don't have to always rely on a car to get around.
"Almost everyone in Norwalk drives, about 96% of transportation is done by car. But why do you think that is?" Thompson said at the June 21 hearing. "Do people like driving? Do people like sitting in traffic? Everyone I talk to said they would walk more, bike more, or take transit more if it made sense, but given the way our city is built, it doesn't make sense."
He noted that Norwalk had originally been founded on walkable neighborhoods, but with the development over the last 50-70 centered around the car, those have been lost.
"We have the opportunity to legalize the building blocks of walkable neighborhoods, like townhouses and corner stores," Thompson said. "We have the opportunity to legalize, in more places, housing that's inherently more affordable than a single-family home, like duplexes and apartments. In a very literal sense, we have an opportunity to save the original walkable neighborhoods of Norwalk. But more importantly we have the opportunity to literally build a more sustainable future."
Better Environmental Protections
Sustainability is also an area younger residents would like to see more attention focused. Stamford resident Gabby Silver said that she would like to see the city, through its current charter revision process, do more to address environmental sustainability in the city, instead of other recommendations, like allowing the Board of Representatives to hire its own lawyer.
"That could be spent on a lot of efforts, including environmental sustainability," she said. "[There were] zero revisions to environmental sustainability, which actually fails the spirit of the preamble [to the charter]—it says, "As a waterfront community whose wellbeing is inextricably tied to that of sustainability of the Long Island Sound, the City shall commit to a healthy, sustainable, and resilient environment and to safeguard against the effects of adverse weather and sea level rise."
She stated that the only recommendations were to allow for more public participation and not actually address resiliency and sustainability in the city.  Last year in Greenwich, younger residents, in particular recent high school graduates, advocated for the town to do more to address climate change. Right now, the town is developing a plan for resiliency in the community, thanks to their efforts.
Becoming More Active
Millennial and Gen Z residents are also becoming more active in their communities through joining local advocacy groups and even becoming part of local boards and commissions.
Many of the residents who spoke at the Norwalk and Stamford hearings have been combining their advocacy into local efforts, such as Sustainable Streets in Norwalk and People Friendly Stamford, both of which encourage more walkable neighborhoods, more housing, and safer streets.  
In Norwalk, Josh Goldstein, an at-large council member who is a millennial, emphasized the importance of younger people getting involved, as he helped nominate Nicholas Pappas, a fellow millennial, to the Bike/Walk Commission.
"I also think, and this is something that for obvious reasons I've advocated for for a long time, to have more younger people involved in boards and commissions throughout the city," he said at a June 13 Common Council meeting. "And Nick is going to provide a valuable contribution to the Bike/Walk Commission."