Enterprise Reporting
CTDOT Unveils Recommended Plans for Merritt Parkway-Route 7
Check out Alternative 26, the state's preferred plan to address the Merritt Parkway, Route 7, and Main Avenue connections in Norwalk.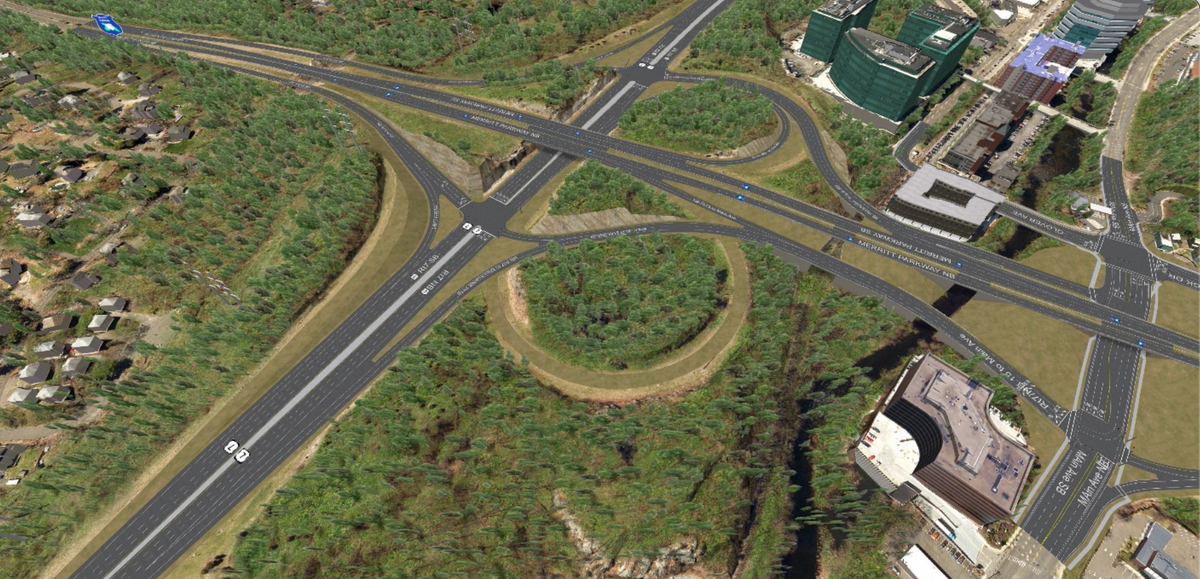 This article (written by Kelly Prinz) was originally published on NancyonNorwalk as a part of a partnership between CCT and NoN.
Connecticut Department of Transportation officials and their consulting team unveiled their recommendation for the Route 7/15 project, which they say will improve traffic operations in the area, address safety issues, and be in line with the Merritt Parkway's historical features.
Residents had the chance to see—and comment on—what the state is calling "Alternative 26" at an open house and public hearing on Wednesday, August 16, which drew more than 40 people.
John Eberle, of Stantec Consulting who is the project manager, said that the goals of the project are "improving the roadway system linkage between the Route 7 and 15 interchange … improving the mobility for vehicles at both Route 15 intersections and the Main Avenue intersections … improving mobility for motorists, pedestrians, and cyclists … and improving safety at the interchanges."
Proposed Alternatives
Officials examined three options as a part of the environmental impact report they had to put together for both the state and federal government—Alternative 26, Alternative 21D, and a no build.
Eberle said that both Alternative 26 and Alternative 21D would both have the same effect on traffic, provide the same additional benefits to pedestrians and bicyclists, and have similar levels of noise.
Alternative 26 was recommended for three main reasons: it costs about half as much as Alternative 21D, it has fewer structures and miles of roadway, and it's more in line with the historical design of the Merritt Parkway.
Alternative 26 would eliminate the tight loop ramps at Exit 40, where more than 300 crashes occurred over a three-year period of 2015-2018, and provide the connection to the Merritt Parkway from Route 7. The project would add two traffic lights to Route 7, reclassifying it from a freeway to a signalized arterial road.
In comparison, Alternative 21D would have more free flowing ramps, and not add signals to Route 7, but would require significantly more bridges to make all the connections between Route 7, Main Avenue, and the Merritt Parkway.
Eberle said that Alternative 21D would include 14 bridges to Alternative 26's 7, have 5 crossings over the Norwalk River, compared to three for Alternative 26, and cost about $240 to $260 million, compared to $140 to $160 million for Alternative 26.
"It's significant savings going with Alternative 26," he said. "The [environmental impact report] is recommending that Alternative 26 move forward into design as the preferred alternate, for all the reasons that we've already talked about—less impact of natural resources…ease of construction."
Gary Sorge, vice president for community development and transportation at Stantec, also noted that there will be an "added buffer and woodlands" around the roadway with Alternative 26.
"Alternative 26 is more advantageous—it has a more compact footprint…the amount of pavement, the number of bridges is dramatically greater in Alternative 21D as opposed to Alternative 26," he said. "There's reduced maintenance and you have fewer structures."
Public Response
About 15 members of the public spoke, with many advocating for the inclusion of the Norwalk River Valley Trail in these plans. Right now, the proposal for the NRVT would be to send it along Perry Avenue outside of the project area, but residents argued that it should be routed as a part of this.
Resident Ben Hanpeter, who said that he rides his bike to work in Wilton from his home in South Norwalk and is very familiar with the area, said that NRVT will "one day make up the backbone of the whole region's bike network."
"But a chain is only as strong as its weakest link," he said. "The current proposed route on Perry Ave will put trail users in with mixed traffic, and I think that will make it a much less attractive option for a lot of people."
Hanpeter said that it would be feasible to incorporate it into this work and it would provide "vital regional connectivity."
"I think this project provides a once in a generation opportunity to provide a safe, grade separated route through the project area that all users will feel comfortable using," he said.
Tanner Thompson, chair of the Norwalk Bike/Walk Commission, praised CTDOT for many parts of the project.
"The fact that connections are being made, it's going to make people's lives easier," he said. "I think that re-characterizing Route 7 is the right move … the fact that the project is going to alleviate some of the traffic and pressure on Main Avenue is a huge win for pedestrian safety, bike safety because that's a very unsafe corridor right now."
But he said that they were missing an opportunity if they didn't include the NRVT route because it would help provide more "non-car" infrastructure to the area.
"It is critical, regional connectivity and it will make the project more holistic," he said.
Resident Paul Chenard called the NRVT a "regional spine" for the bicycle network.
"It really lends itself to being a good corridor—people can go to jobs and businesses on the north side," he said. "It's great for recreation, not just cyclists, but pedestrians… it provides a lot of economic activity."
Resident Joanne Horvath voiced her support for Alternative 21D, because she felt adding the lights on Route 7 as a part of Alternative 26 would cause more traffic problems.
"I think that too many rear end collisions would result since motorists are extremely impatient, especially in densely populated Fairfield County," she said. "If you add traffic signals to Route 7, the road becomes like the existing Main Avenue. The purpose of the expressway is to avoid the traffic signals, traffic signals which create further backups which already exist at the A.M. and P.M. rush hours."
Others, including Thompson and Hanpeter, asked the DOT to consider turning the proposed lights on Route 7 into traffic circles, which Thompson said have "a much better safety record," while providing some traffic calming.
Wes Haynes, executive director of the Merritt Parkway Conservancy, noted that the nonprofit was vehemently opposed—and litigated to stop—to earlier proposals, but were in favor of Alternative 26.
"We strongly support Alternative 26," he said. "The compact interchange between Route 7 and the Merritt is clearly preferable in terms of conserving natural features, wetlands, wildlife habitat, and minimizing impervious cover with the watershed. At least half the size of all previous proposals, the significant cost savings to taxpayers are an important benefit."    
Heather Dunn, president of the Norwalk Association of Silvermine Homeowners, thanked the CTDOT staff for their work. She noted that it was essential to coordinate all of the projects in the works that are either already impacting Norwalk or will soon.
"My biggest concern is that we are getting slammed in Norwalk," she said. "I just want to make sure that, as much as it can be, 95 is done being constructed. I know there's another project for Grist Mill to be continued on which is a separate DOT project group, and It doesn't seem like there's a lot of coordination and timing. We have the Walk Bridge being constructed. Norwalk really needs help with coordinating that so it's not happening all at once for us."