Enterprise Reporting
Behind the Scenes: How Amy Taber and Her Team Keep the Traffic Moving in Norwalk
Amy Taber has been recognized for her work in Norwalk as she was invited by the International Municipal Signal Association (IMSA) to be a part of a team that creates the curriculum for their training programs.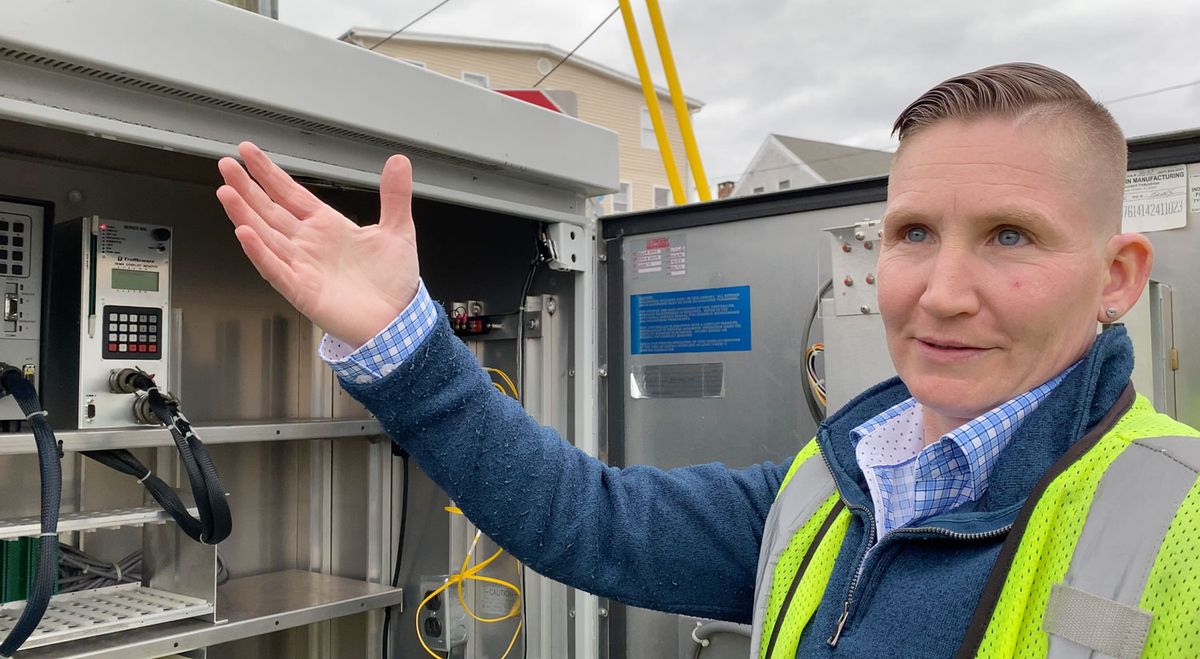 Ever wonder what happens when a traffic light malfunctions and starts blinking or when someone hits a sign pole and knocks it down? In Norwalk, enter Amy Taber, the city's traffic maintenance supervisor.
Taber and her team are responsible for the signals at the roughly 90 city-owned intersections, roadway signs, crosswalks with rapid flashing beacons, speed radar signs, road striping and more.
Taber's work and dedication in Norwalk has recently been recognized nationally. She was invited by the International Municipal Signal Association (IMSA) to be a part of a team that creates the curriculum for their training programs.  
"To really have our peers recognize the work that is being done, and particularly recognize Amy's leadership as a supervisor in the traffic world was a huge compliment to her work, and a huge compliment to the city in general," Jim Travers, the head of the city's department of Transportation, Mobility, and Parking, said.
He also said that Taber is one of few women working in this type of role as well.
"I've been doing this for a long time, and I don't know of any other women in this field in Connecticut," Travers said.
A Windy Road to Norwalk's Transportation Department  
Working in traffic wasn't initially part of Taber's goals. When she graduated high school, she was trying to figure out what she wanted to do.
"I kept going back and forth—I started at a local college, and I was like 'oh maybe, I can become a teacher,'" she said.
But after a few classes, she knew that teaching wasn't for her. So she decided to go to school in Oklahoma to become a truck driver, which she did for five years across different parts of the country, including in Arkansas. After about five years, Taber said she was looking for another challenge so she decided to move back to Connecticut and go to school for electrical work.
"So I was going to school for electrical full time, working a full-time job and a part-time job," she said.
Taber said that after she got her certification she worked for 10 years in the electrical trade, but the industry had a lot of turnover.
"You would work for a company and then you would get laid off," she said. "You'd work for another company for a year, and then you get laid off. So there was a lot of that throughout my whole entire career working in the electrical field, in the trade. The last time that I was laid off on a job, it started getting tougher finding jobs, especially in the wintertime."
She saw a job posting with the state's Department of Transportation, and decided to apply. She got the job and has worked in traffic for more than a dozen years, doing everything from traffic signals to highway lighting.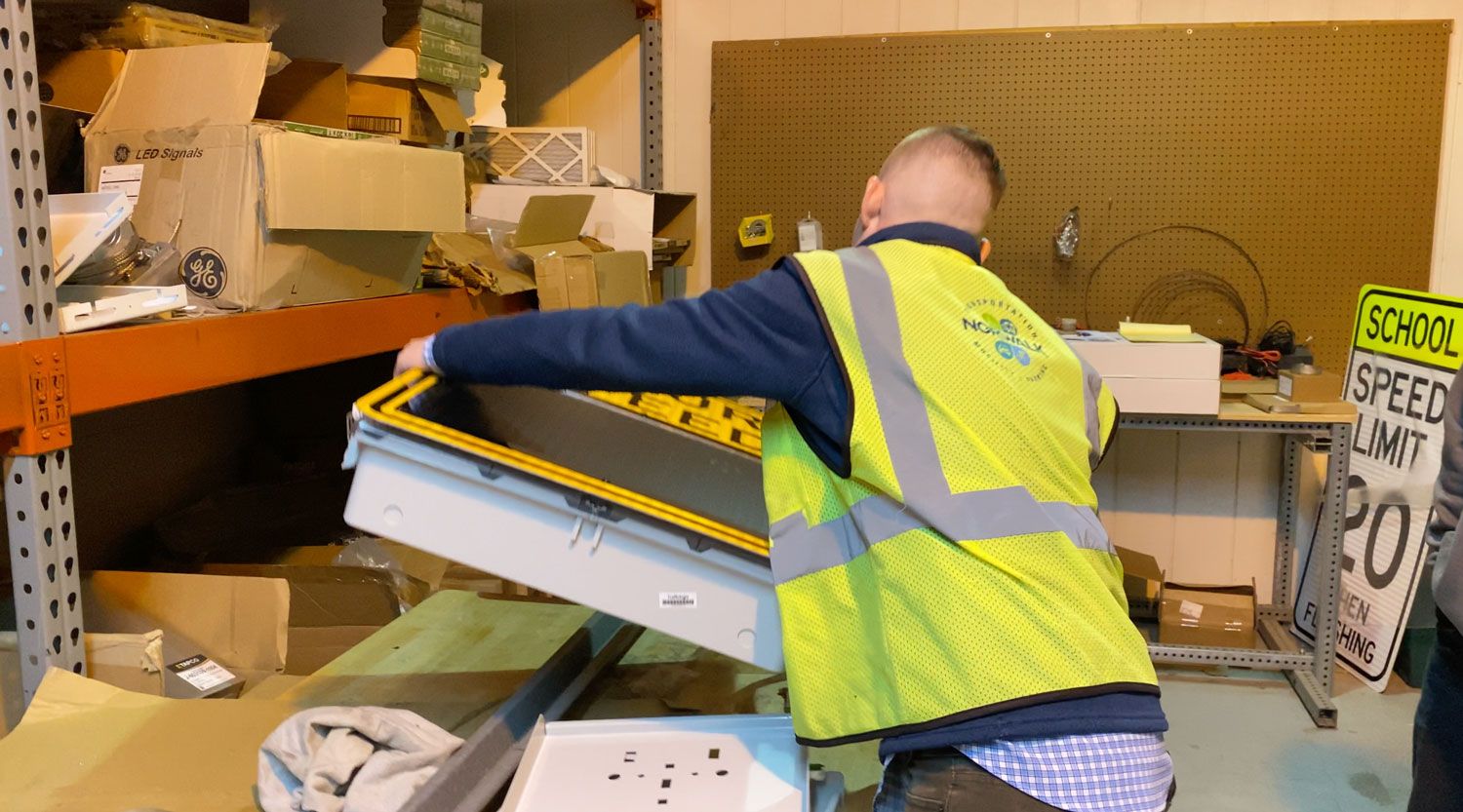 Day-to-Day on the Roads
Taber said the work she and her team do varies day-to-day, from dealing with a technological glitch that might cause a traffic light to flash or a more serious challenge, such as a car knocking down wires that power a signal at a main intersection.
Her team is responsible for about 90 intersections that fall under the local transportation department in Norwalk, with an additional about 60 intersections that are on state roadways, according to Travers.
"Which makes it challenging, right, because when we are responding to resident inquiries, we have to make the determination, is it a city signal, is it a state signal?" Travers said. "Amy does a wonderful job of coordinating that and communicating that with our friends at ConnDOT, and keeping the system in a state of good repair. But I think where Amy excels is a level of customer service, being really responsive to residents."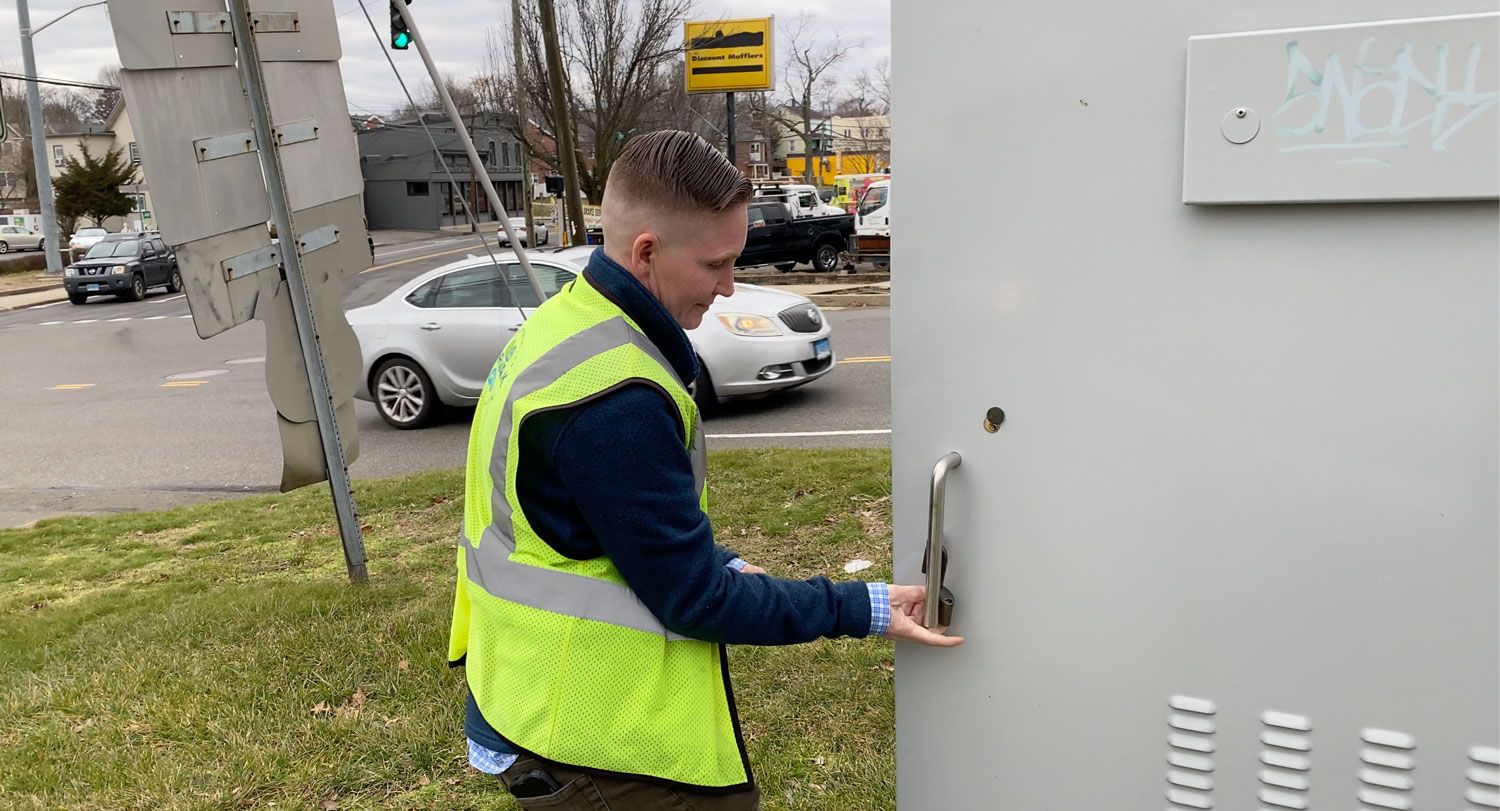 A lot of Taber's work is driven by conditions on the roads and concerns from residents. For example, if multiple residents complain about speeding in an area, Taber and her team will work with the traffic analyst to put out temporary speed radar signs that collect data on how fast people are going, how many cars are using the road, etc. to see if there's an adjustment, such as a speed limit change, that needs to be made.
Taber said her top priority is working to keep all roadway users safe. Pedestrian and bicycle safety—she's an avid rider herself—are two of her main concerns.
"I like to know that the public is safe walking across the street, because when I hear about pedestrians getting hit every day, it's terrifying, because I run, I ride my bike, and the last thing I want is to have to always continuously look back and make sure that somebody's not going to run into me," she said. "So pedestrian and public safety is a priority for me. I want to make sure everybody's safe here in Norwalk."
That's why she said she often tries to drive the streets of Norwalk and suggest new ideas based on the streets and the conditions she observes.
"One of the locations is on Fillow Street—we have a couple old flashers where they push the button, and they walk across the road, but I want to upgrade it to rapid flashers," she said. "I think it looks nicer, and it's safer for the kids walking across the road, the parents walking across the road.
Their job also varies with the weather—for example in January, Taber and her team were planning to install some new signs near Ponus Ridge Middle School, but that had to be delayed since the ground was too soft from rain to put them in. And the team is on call when things happen—such as when drivers crash into a traffic box or a pole that messes up the traffic signal.
"You have to act quick at times, especially when it's an emergency," Taber said, such as when a storm knocks out power to a signal or a crash takes out the signal.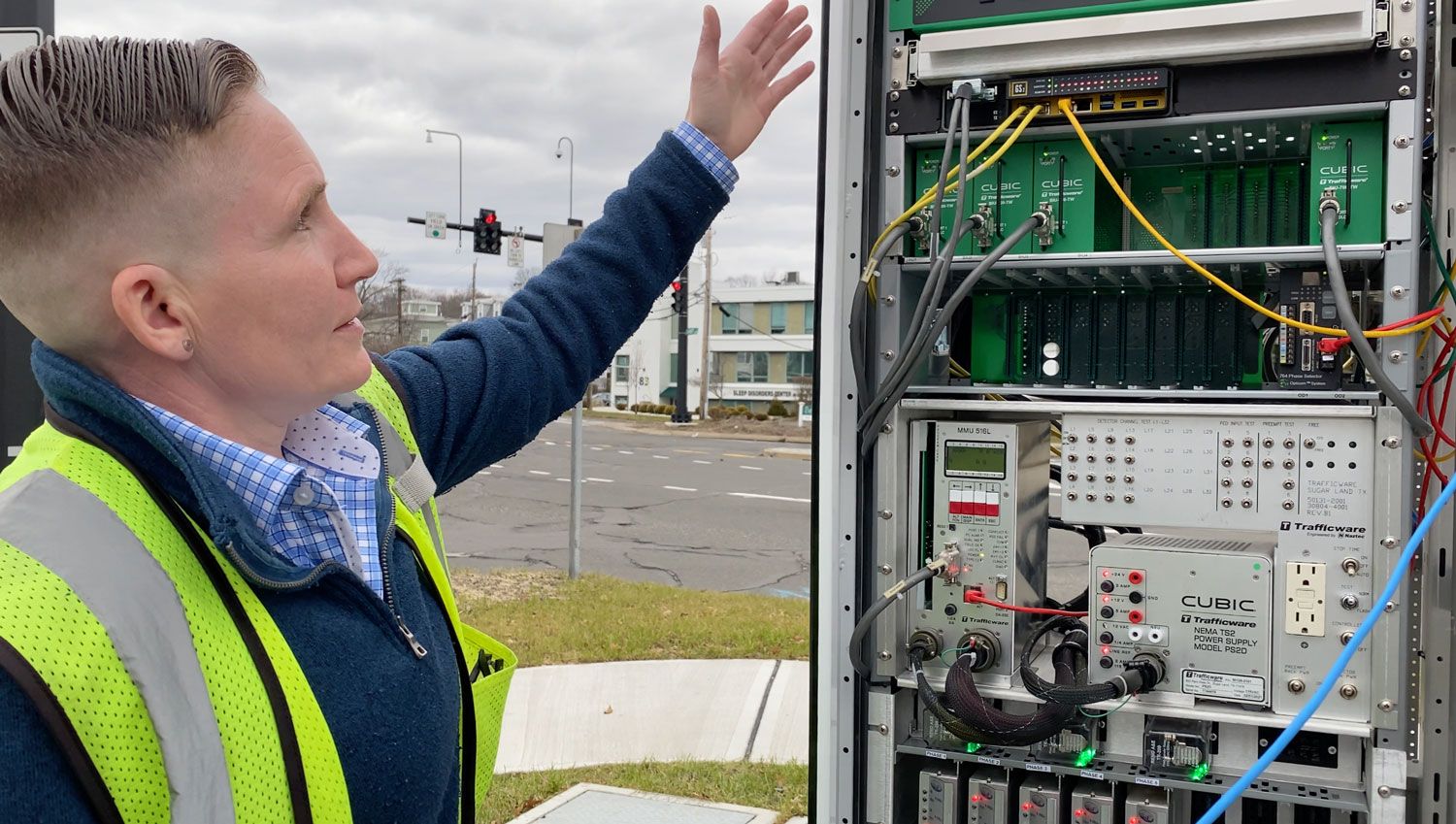 Collaborating Across the Country
Taber said that she was honored to be asked by IMSA to be a part of their redesigned curriculum and training programs.
"I never got to actually stay somewhere and give input and create something from what was there before," she said. "IMSA is redoing all of their training, so traffic, traffic signals, signs and markings, traffic construction."
She said she was a part of the traffic construction team. They met in Denver for the launch and to start their work, but they're still building out the curriculum and training processes remotely.
"It's nice—there's five of us, and it's different getting input from different states. Kentucky does it this way, and Arizona does it that way, so it was nice getting input from different people around the United States on how they do things."