Enterprise Reporting
Behind the Scenes at the Norwalk Transit District
The Norwalk Transit District operates fixed routes, on-demand microtransit, paratransit (door-to-door services) and more.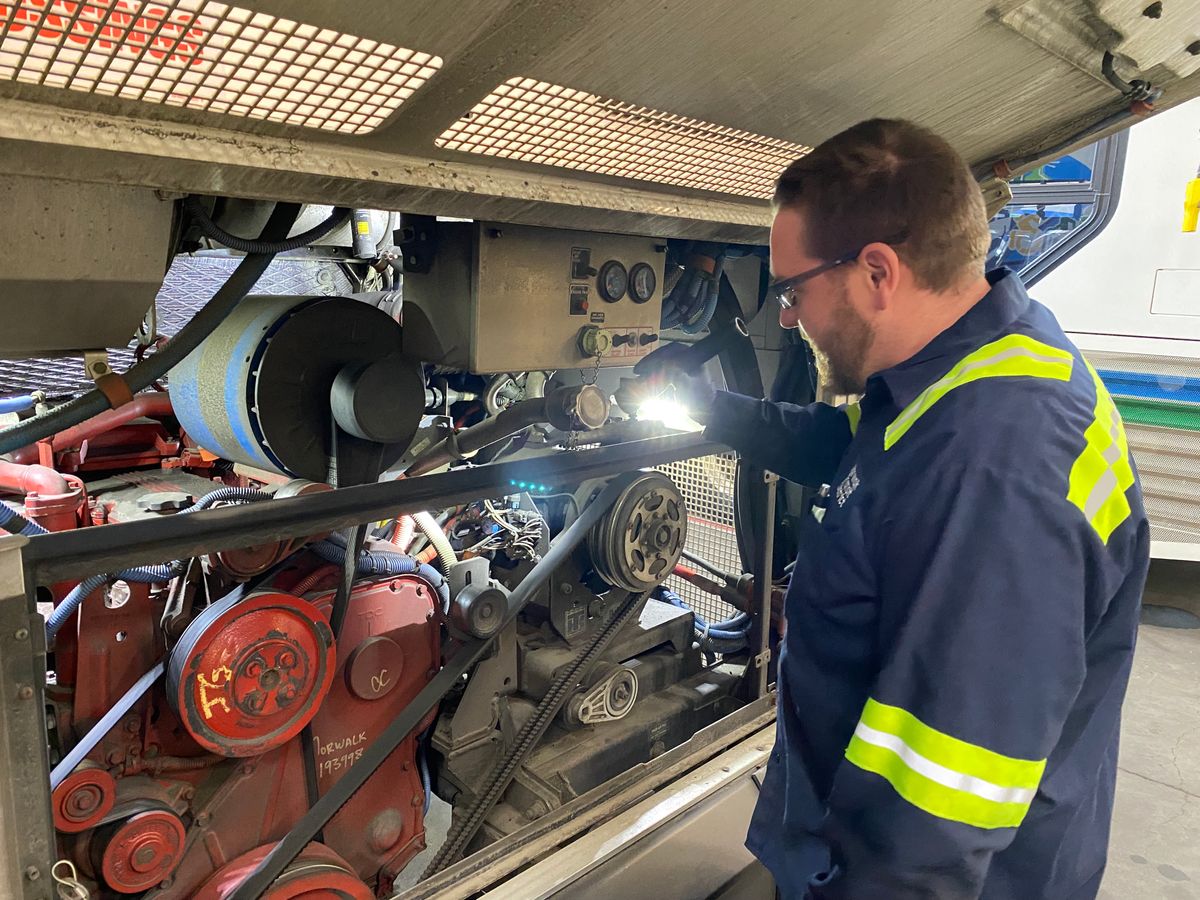 Matt Pentz has worked at the Norwalk Transit District for more than five years, serving as its chief financial officer, before he was promoted to CEO at the start of 2023.
During his time at the district, it's been anything but normal, with the COVID-19 pandemic impacting many parts—ridership, finances, and drivers. Pentz was named CEO earlier this year, and soon after legislation was proposed to dissolve the district and turn over its services to the state.
Still, Pentz, who lives in Norwalk, emphasized that despite the challenges, his main goal as CEO is to make sure the buses run safely and on time.
"Safety number one, on-time performance number two, clean buses number three—we want the rider experience to be good," he said. "We want people to have a good experience riding our buses."
That work starts at the district's main Wheels Hub on Wilson Avenue. There, buses move in and out, getting fuel and maintenance onsite. The fixed route buses, along with the paratransit vehicles, commuter shuttles, and microtransit vehicles, all come through the hub.
The transit district provides a variety of public transportation services not only just in Norwalk, but in communities from Greenwich to Westport. These include:
The main fixed route Wheels buses throughout the city of Norwalk and slightly into Wilton
A fixed route partnership with the Greater Bridgeport and Milford Transit Districts to operate the Coastal Link bus service seven days a week between Norwalk and Milford
Commuter shuttles in Norwalk and Greenwich
On-demand microtransit, Wheels2U, for Westport during the week to get people too and from the train station and in Norwalk from Thursday to Sunday
Paratransit services for elderly and disabled residents in Norwalk, Stamford, Westport, and Wilton.
On the first floor of the hub, La-Keba Hamilton, the district's transportation manager, and her team work to keep the district running— coordinating drivers, routes, and schedules. It can be complicated as different vehicles and services require different drivers.
Leslie Grattan, an HR advisor with the Norwalk Transit District, said that "it's a little bit of a Rubik's Cube" getting the scheduling down, but that they're lucky to have Hamilton who does a lot of that work.
"We are on scheduling every single week, because there's so many moving pieces—certain drivers on the ADA side, we may have passengers who really need some extra help with their wheelchairs, and then we have our fixed route drivers that are doing longer runs," she said.
Pentz, who worked as the finance director for the district before getting promoted to CEO earlier this year, said that the district has navigated extreme challenges, including driver shortages, while needing to keep the buses running during the pandemic.
"We have been essential service providers throughout the pandemic," he said. "We have been up against driver shortages…[but] we've never missed trips because of driver shortages."
Grattan added that the drivers are "really good about backing each other up and helping each other out when there are challenges."
They also have a utility driver scheduled each day who can fill in if someone is out or a need pops up, Grattan said.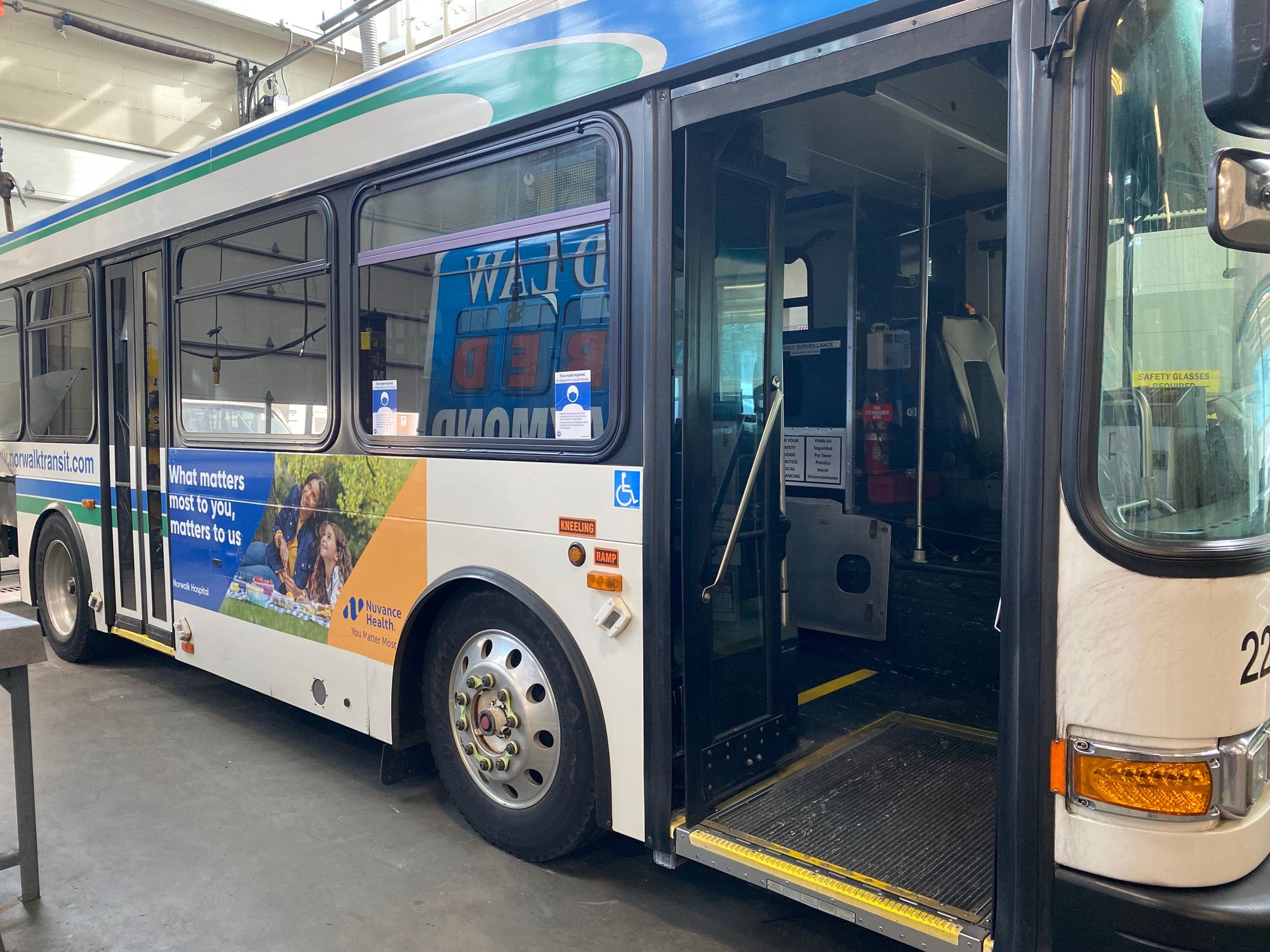 Looking Ahead
Pending the results of the legislation, Pentz said ideally as CEO, he'd like to work to continue experimenting and innovating with new methods of public transportation and to increase community engagement/partnerships.
For example, he cited a desire to experiment with Wheels2U in Norwalk. Pentz said that the service, which launched in 2018, saw steady growth before the pandemic, but it's leveled off since.
"Wheels2U Norwalk, good story before the pandemic—we were the first in the state to launch microtransit, and we're watching it every week and ridership goes up and we're just about at 500 riders a week and then the pandemic happens," he said. "And we've tried to get it back out, and it's just not recovering."
Pentz said that they're working with marketing efforts and potentially extending the hours to try and make it more available to people.
"We want to get that back," he said. "We're experimenting right? We're trying different things."
Pentz said that they believe "the multimodal approach is really the way of the future," so they want to continue to look at microtransit and review its fixed routes.
"When I look at local transit, I look to where we can enhance [multimodal transportation]; reach different parts of the city, first and last mile [transportation], and see if we can reach the schools a little better," he said.
He also said that he'd like the transit district to be more involved with the city, particularly with discussions around development and how they can work together, especially with new developments and buildings going up.
"We want to be their partners and we want to make sure there's a solution that works for everybody," Pentz said. "We move a lot of people—over a million riders on the fixed route system. Our priority is our ridership and our customers."
Grattan also said that community engagement and partnerships are key to the future.
"One of the big initiatives is working with Open Doors here in Norwalk," she said, citing the local homeless shelter and resource provider. "We are forging a partnership. We are working to try and hire some of their clientele who have the appropriate CDL license or mechanic training. We're looking into some ways to help each other."
She also said that Open Doors is working on launching a day program that the transit district is working to partner with them on to provide transportation.
"We can get more people who need service access to service," she said.
The district is also working with local groups like the Norwalk Bike/Walk Commission on events and better coordination. For example, Grattan said they'll be participating in the celebration of the Norwalk River Valley Trail event where they'll be doing demonstrations on how to load a bicycle properly on a bus.
Tanner Thompson, chair of the Norwalk Bike/Walk Commission, submitted public testimony to the state over the transit district bill and said that he believed "bus service in Norwalk could be so much better."
"Many have argued that the Norwalk Transit District isn't currently meeting the local needs of Norwalk—and I agree," he said.
However, he also highlighted Pentz's appointment as a step in that direction.  
"The Transit District has a new CEO, Matt Pentz, whom I have worked with in my role as the Chair of the City's Bike/Walk Commission and am excited to see take the lead. Matt has been very proactive in improving the rider experience and collaborating with City agencies—two things that are desperately needed," Thompson said.